Hire a Car at Cancún Airport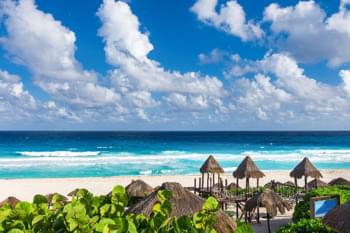 Dream beach of Cancun
You are landing in the Summer 2020 at Cancún Airport (CUN) and would like to explore the Yucatan Peninsula and Cancún by hired car? If so, it is best to hire a car directly from home at one of the suppliers at Cancún Airport in order to take advantage of the best prices for online bookings. Compare prices of car hire companies at Cancún Airport and choose the car hire company that best suits your holiday destination. Through the months June, July, August and September you are expected to be welcomed with temperatures up to 33 degrees on your arrival at the airport.
Where is the pick-up station for the hired car at Cancún Airport?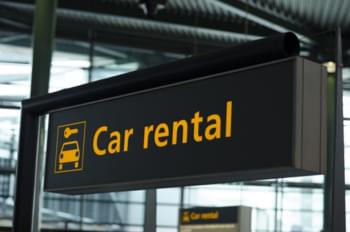 Hired car stations - convenient located
Whether you arrive at Terminal 1 or Terminal 3 depends primarily on your airline or your country of origin. Most likely, however, you will enter Mexican soil in Terminal 3 and, depending on the car hire company, you will be able to pick up the documents for your hired car either at the airport in Terminal 2 near the baggage carousel or in Terminal 3 near the exit. However, since some car hire companies do not have their own pick-up station in the airport building, it is possible that an employee of the car hire company is already waiting for you at the exit and will drive you to the company's offices outside the airport building in a shuttle.
Our tip: Use the free shuttle bus between the terminals to get to your destination faster.
Which Car Hire companies are there at Cancún Airport?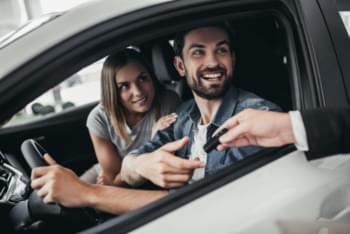 Pick-up your hired car 24/7
Although you could theoretically access the rental cars of around 24 car hire companies at Cancún Airport, not all companies have a pick-up station and counter in the airport building. Therefore, it is advisable to book a hired car in advance by comparing prices. This guarantees you the cheapest car hire on arrival.
We have put together a small selection of the car hire companies in which you can hire almost any car that comes closest to your imagination, from small cars to SUVs, below:
Argus Car Hire
AutoEscape
Europcar
Hertz
National
Cancún Airport Car Hire - exploring the airport
Spending your holiday only in the hotel complex and in the resort is almost too bad if you have already flown halfway around the world. Take your hired car on a journey of discovery around Cancún and set off for the fantastic Mayan pyramids in the surrounding area. But also some of the other sights we have listed below are worth a visit with the hired car:
Croco Cun Zoo
Cenote La Noria
National Reef Park
Ecopark Kantun Chi
Ruinen von Cobá
Die Maya Ruinen Ek Balam
Is there a petrol station at Cancún Airport?
Have you decided to hire a cheap hired car with a fair tank arrangement and have to return your car with a full tank? Then you don't have to worry, as there are several petrol stations in the vicinity of the airport that are open 24 hours a day. However, as some of these are very frequented, it is advisable to fill up the car at an early stage in order to avoid delays.
Trips with your Hired Car - starting at Cancún Airport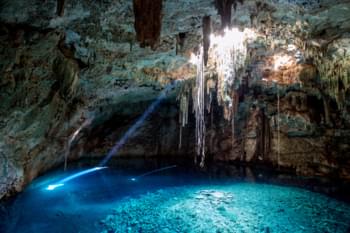 Famous Cenote in Yucatan
Due to its convenient transport connections, you can reach the centre of Cancúns by hired car via the federal motorway 307 in less than 20 minutes and can relax directly after your arrival on one of the beautiful beach stretches. If, however, after a few days of exploration, it is worthwhile to make a diversion to Cancún to visit its sights and museums, such as the Museo Maya de Cancun or the El Parque de las Palapas. Don't miss out to visit the famous Cuzama Cenote!
Cancún Airport - all information at a glance
With more than 20 million passengers per year, Cancún Airport is one of the largest airports in Mexico, so you don't have to sacrifice any comfort. Return to one of the snack bars or restaurants, store your baggage in one of the small lockers, use the free WLAN or book one of the VIP rooms with a large conference table if you are away on business.
Our tip: Please check whether your ticket includes the airport tax of approximately $48 before you depart, or have it ready when you leave so that you do not experience any delays in your departure.