By hired car to the most beautiful beaches of Cancún
Also in Summer and Fall 2020 Cancún welcomes you with by turquoise-blue sea, snow-white beaches and a gigantic heritage of Mayan culture and invite you to take your hired car from Cancún on the Yucatán peninsula in the eastern part of Mexico on an exploration tour. Compare all car hire deals in Cancún and the surrounding area with driveboo.com before you start your trip and book your car hire online in no time. Be able to drive to the most beautiful sights on the peninsula, whose fascination will not stop impressing you.
Hire a car at Cancún airport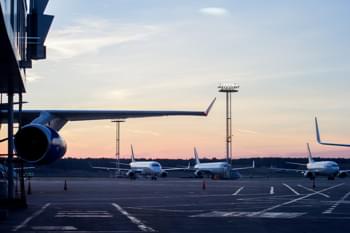 Hired car directly after arriving the Airport
If you don't want to get behind the steering wheel of your hired car after your long-haul flight, you will find a wide range of car hire companies in city centre Cancún. However, it is worth considering hiring a car at Cancún Airport, as you will not only have access to a larger fleet of vehicles, but also to multilingual staff. You are expected to arrive Cancún in around 25 minutes from the airport.
Our tip: If you don't only want to drive along the enchanting beaches, but also visit the very remote Maya Pyramids, then hiring an off-road vehicle with greater ground clearance is worthwhile, as the routes go over rough terrain.
Advantages of airport car hire:
Reduction of transfer costs
multilingual staff
More extensive vehicle fleet from small cars to off-road vehicles
longer opening hours
interesting offers
Without these insurances you should not hire a car
Even if you are a safe driver and the road conditions in and around Cancún are quite good, it is not unlikely that you will end up on an unlit road at night in a rough pothole. This could be one of the reasons why you should decide for the most extensive insurance cover available. If possible, always take a comprehensive insurance without excess, opt for a third party liability insurance policy with the highest possible sum insured and book, also if possible, a theft insurance policy and a glass and underbody protection insurance in order to be adequately covered in the event of an accident.
Important information about driving a hired car in Cancún
Alcohol limit is at 0,8 ‰
Obliged to carry two warning triangles with you
Tolls: yes, on most major roads and motorways
Crossing the border with a hired car is forbidden
No parking on roadsides with red marking
In Mexico, speeding or sneaking are only some of the things you should avoid in order to not get involved in a long conversation with a joyful "Transisto" (traffic policeman). To ensure that your driving pleasure is not impaired, you should take note of the statements above.
What to do after an accident with the hired car?
Avoid travelling after dark if possible, as not only the notorious artificial bumps and potholes in Mexico can become an obstacle at night, but also several drunk pedestrians, cyclists and motorists with whom you should never risk a collision. In the event of an accident, however, experienced Mexican connoisseurs recommend that you do not stop, but immediately go to the hotel and contact the embassy.
These speed limits apply in Cancún
When is a trip to Cancún worthwhile?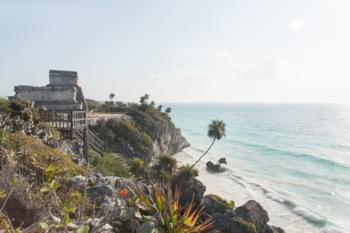 Ruinas de Maya in Tulum
Cancún is clearly a popular tourist destination all year round. However, as it can get unbearably hot on the one side, particulary in May. On the other side there can be up to 13 rainy days per month until the end of September. We recommend a trip from October to the end of April. Divers who want to get close to whale sharks in the Gulf Stream should choose to stay between May and September. But no matter whether summer or winter, you should not renounce the hiring of a car, in order to explore the most beautiful pyramids on the peninsula stress-free and independent.
On Cancún's roads by hired car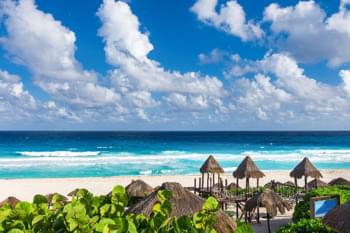 Dream beach of Cancun
Cancún, one of the dream destinations for many people all over the world, is of course worth a visit, first and foremost because of its enchanting beach stretches. Enjoy the sweet idleness on the beach and book a diving course. Try your hand at surfing or take a boat tour. There are plenty of options. If just sunshine and relaxation isn't doing it for you, a shopping trip and a visit to the Maya Museum help for diversion.
You should not miss these highlights in Cancún:
Playa Delfines
Avenida Kukulkan
Parroquia de Cristo Resucitado
La Isla Shopping Village
Museo Maya de Cancún
El Parque de las Palapas
Zona Arqueologica El Rey
Hiring a car in Cancún – With your hired car towards inland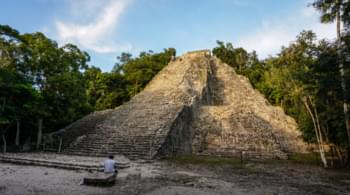 Coba: another town of the Mayas
Okay, visiting a crocodile farm or a liquor factory can bring variety to your holiday, but without visiting some of the impressive temples of the Mayas, you should not fly home. Take the appropriate maps with you in the jungle and embark on a journey of discovery a la Indiana Jones and immerse yourself in the high culture of these still existing ethnic groups. Particularly worth seeing are the temple pyramids and palace buildings in the Campeche region or the temple town of Chichén Itzá in Yucatan. In addition, the remains of about 8,000 buildings with the temple of the seven dolls in Dzibilchaltún (Yucatan) near the town of Mérida, whose buildings almost seem to look like one.
Our tip:
With more than 80 temples and ruins on Mexican territory, it is almost impossible to visit all these fascinating historical sites. Therefore, it is best to prepare a route at home in effect you won't lose any time during your stay.