Hireal car Nova Scotia: On the road in eastern Canada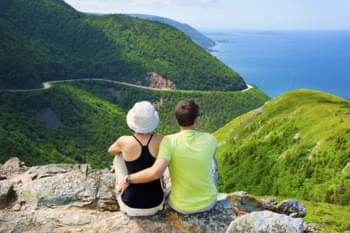 Enjoy the landscape in Nova Scotia
Are you planning a trip through Nova Scotia in Canada? This is best done with a hireal car. When you travel through Nova Scotia in a hireal car, you get to know Canada in your very own way. Drive flexibly with the hireal car to your desired destinations in Nova Scotia and stay there as long as you like. Nova Scotia is a province on the Atlantic Ocean and stretches across a peninsula. If you are travelling by hireal car in Nova Scotia, you will certainly see some seals and puffins. Look forward to exciting sights in the capital Halifax and fabulous nature in Nova Scotia.
How do I find the right hireal car for Nova Scotia?
We recommend that you book your hireal car for Nova Scotia online in advance. On Driveboo.com you can compare the offers of the car hire companies transpahirely and find the best price. You can also use the search mask to select the desired hireal car model, equipment features and other options. Like that you can be sure that your hireal car for Nova Scotia will fit your individual wishes and needs.
When booking your hireal car, make sure that you take out fully comprehensive insurance without excess. In the event of damage, you will not have to pay any further costs.
You can pick up a hireal car in Nova Scotia at the following locations
In the following table you will find an overview of locations with car hire companies where you can collect the booked hireal car. We also show you the distance from Nova Scotia's capital Halifax.
What do I need to look out for in Canada with my hireal car?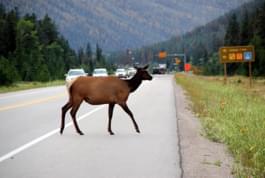 Beware of animals on the road
Right-hand traffic
Maximum speed: 50 km/h inner cities, 80 km/h out of town, 100 km/h on motorways
Per mille limit: in principle 0.8, but may vary in some provinces
Obligatory to wear seat belts
Attention: In Canada, animals often cross the road unexpectedly!
These are the highlights in Nova Scotia
As you are always flexible and independent of public transport with a hireal car, you can explore the highlights of the province of Nova Scotia comfortably on your own. In any case, these must-sees should be on your list: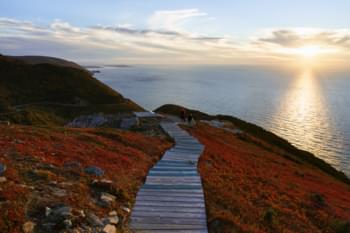 Skyline Trail in Nova Scotia
Cape Breton Highlands National Park: The Cape Breton Highlands National Park is located in the north of Nova Scotia and has to offer almost everything. From cliffs to long white sandy beaches to golf courses you will find anything your heart desires. Embark on a trekking or hiking tour, play golf or just relax on the beach. With a bit of luck, you can also see some wild animals such as coyotes, black bears and bald eagles on one of your tours.
The capital Halifax: In the capital Halifax a visit to the Halifax Public Gardens in the heart of the city is recommended. Here you will find a small oasis with hundreds of dahlias, fountains, statues and trees amidst the hustle and bustle of the city. Afterwards you can stroll through the Seaport Farmer's Market at the harbour and stock up on some delicacies. Also make sure to visit Pier 21, the Canadian Museum of Immigration.
Skyline Trail: The Skyline Trail is located in Cape Breton Highlands National Park and can be easily reached by hireal car. The circular trail leads over grass and moss to a viewing platform from where you can enjoy a magnificent view of the Nova Scotia countryside. The last part of the Skyline Trail consists of a long wooden staircase. With a bit of luck, you may be able to see bears and moose in their natural habitat on your walk.
Roadtrip Canada: explore the Nova Scotia area by hireal car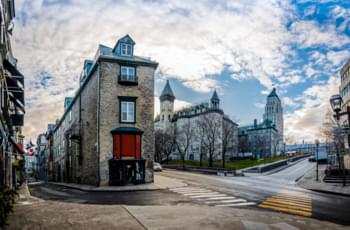 Discovering Vieux-Québec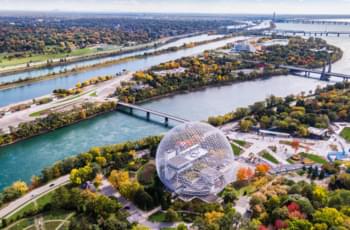 View of Montreal with Biosphere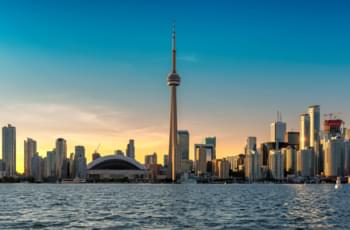 Skyline Toronto
Québec
The first destination on your road trip could be Québec. You can reach the eastern Canadian metropolis from Halifax after a 10-hour drive by hireal car. Once you've recovered from the trip, you can take the hireal car to the Montmorency Falls. History lovers can also take a trip to the Château Frontenac and the Musée de la Civilisation. You can end the evening with a walk through Vieux-Québec, Québec's old town.
Montreal
Once you have visited all the highlights on your list for Québec, the journey by hireal car can continue to Montreal. The trip will only take about three hours with the right hireal car. Montreal offers a unique blend of Canadian and French culture. Here you will find the best of both worlds. Drive to highlights such as Mount Royal, the McCord Museum and the Montreal Biosphere.
Ottawa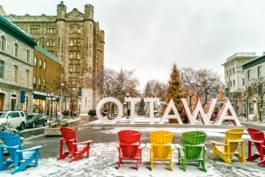 Unterwegs in Ottawa
Ottawa, the capital of Canada, lies directly on the Rideau Canal and is often underestimated. You can hire a car in Ottawa to drive to historic sites, national attractions and government buildings. If you'd like to get something to eat afterwards, you can explore Ottawa's famous and varied food scene. For example, try the typical Canadian lard pastry "Beavertail", which you can pimp with numerous toppings such as smarties, cinnamon or whipped cream.
Toronto
The last destination of your road trip could be Toronto. Visit the Canadian National Tower, from where you can enjoy a gigantic view over the city. In the case of good weather you can even see as far as the USA. Don't miss the Distillery District if you like beer, good food and history. The old industrial area is located in the east of city centre Toronto and offers numerous cafes, restaurants and other shops. Treat yourself to a cup of coffee and enjoy Toronto!