Hireal car Massachusetts: Discover the place "at the great hill"
Book a hireal car on Driveboo.com and set off on your journey through Massachusetts. Explore the capital Boston and the famous universities of Harvard and MIT and drive your hireal car to one of the Boston Red Sox baseball games. Massachusetts has something for everyone, from nature lovers to cityfans and culture enthusiasts. The best way to get to your favourite places is by hireal car. On Driveboo.com you can compare the prices of the providers and book the right hireal car at the best price online. Whether a convertible, an SUV or a sports car - with the right hireal car your trip through Massachusetts is guaranteed to be unforgettable!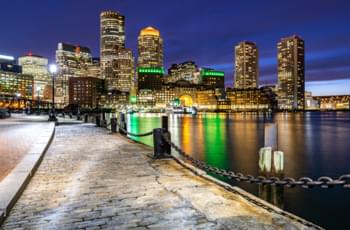 Boston at night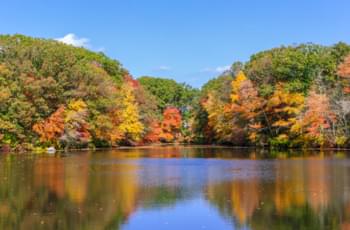 Autumn landscape in Massachusetts
Car hireal Massachusetts: These are the stations for your hireal car
Book the right car in advance on Driveboo.com. Collect it directly from one of the stations in Massachusetts. You can find car hire companies at the following locations:
Massachusetts Airport: Flexibility from the very first moment with a hireal car
If you want to be flexible in Massachusetts right from the moment you arrive, you should pick up your hireal car at the airport as soon as you land there. This will save you the hassle of waiting for public transport. You can pick up a hireal car at the following Massachusetts airports:
Nantucket Memorial Airport (ACK)
Which hireal car is best suited for a road trip in Massachusetts?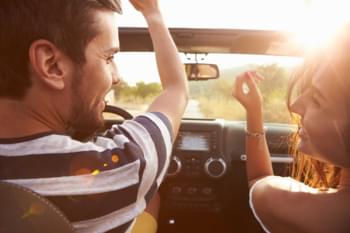 Get yourself a convertible
On Driveboo.com you can choose the car of your dreams. If you are more of a nature-fan and want to travel a lot off-road, then an SUV is the perfect choice. You can also select the all-wheel option. In this way you are guaranteed not to get stuck. Will you travel to Massachusetts with the whole family? Then you will certainly have a lot of baggage with you. Why not book a minivan? It has enough space for suitcases, bags and everything else you need for your trip. Are you freshly in love and want to impress your crush with a fancy model? Then you should definitely consider a convertible or a luxury car. As you can see, you will find the right model for every occasion on our portal.
Since unforeseen damage to your hireal car can even happen to careful and experienced drivers, we recommend that you take out fully comprehensive insurance without excess. In this manner you can enjoy your journey stress-free, as there will be no further costs for you.
Do you already know the one-way hireal option?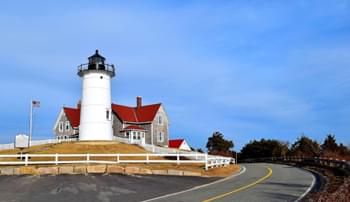 On the road in Massachuetts
The most convenient way to travel in Massachusetts is with a hireal car. If you don't want to visit just one of the cities but are planning a road trip, the one-way hireal is the perfect solution. Pick up the vehicle at the location of your choice and simply return it to another location. This way you can customize your trip through Massachusetts. Book your hireal car in advance online on Driveboo.com and start your adventure relaxed!
Visit popular cities in Massachusetts with a hireal car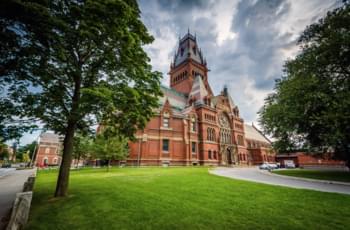 Visit Harvard University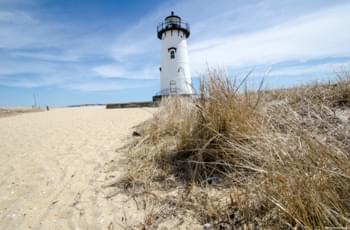 Lighthouse of Edgartown
Boston
In the capital of Massachusetts, Boston, there are many things to experience. Here you will find numerous cultural and entertainment centers. Stroll through parks, enjoy a bite to eat in one of the cafés, and check out the casinos and nightclubs in the evening. Of course, you should also visit the colleges and universities. Harvard Elite University has many galleries, exhibition centres and historic museums housed in many old educational institutions.
Edgartown
Edgartown lies on Martha's Vineyard and is an idyllic summer destination. Stroll along North Water Street and see the historic captain's houses. If you'd like to take a rest, you can do so at one of the many beautiful beaches. One of Edgartown's highlights is the Edgartown Harbour Light - one of the island's five lighthouses.
Lenox
Located in the west of Massachusetts, Lenox is a vibrant small town worth visiting. In summer you can picnic in Tanglewood or stroll through the neighbourbonnet. Lenox is only 2.5 hours from Boston by hireal car.
OTHER CITIES WORTH SEEING
Beach chairs in Cape Cod
If you book a hireal car, you can reach all popular destinations in Massachusetts independently and flexibly. Don't forget these cities on your personal list of places to visit:
Cape Cod
Plymouth
Newburyport
Salem
Framingham
What sights should I not miss in Massachusetts?
Massachusetts and especially the capital Boston provide a huge variety of sights. Get into your hireal car and drive through the famous neighbourbonnets. On rainy days you can visit one of the museums. Or take a walk along the harbour promenade. You won't be bored in Massachusetts. What you should not miss at all: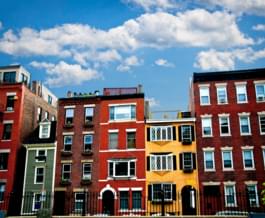 Unterwegs in North End
Freedom Trail
North End
Fenway Park
Boston Harbor
Bunker Hill Monument
Museum of Science
Newbury Street