Car hire at Madrid Airport (MAD)
Many holidaymakers come to Spain every year - and in order to enjoy their holidays in a relaxed and flexible way, it is a good idea to book and receive your hired car directly at Madrid Airport (MAD)! Compare the offers of countless reputable car hire companies at Madrid Airport through our independent comparison portal and get the best and cheapest offer. This makes the transition from flight to holiday a pleasant and fast experience - you don't have to do anything else except accepting the keys of the car hire at Madrid Airport!
Autumn in Madrid with a hired car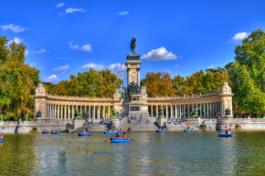 Even in autumn, the Spanish capital Madrid can impress. Take a long walk through the Parque del Retiro, walk along the Manzanares River and soak up the great autumn ambiance of the city. On a rainy fall day, cosy up in one of the many cafes in the famous writer's district around Calle de las Huertas and watch the city's action. Alternatively, you can visit one of the great museums in Madrid, such as the Prado Museum or the Reina Sofia Museum. On weekends you should not miss a visit to the "El rastro" market. Here you will find everything your heart desires, from antiques to food options.
Madrid and its Barajas Madrid Airport
With 3.2 million inhabitants, Madrid is the largest city in Spain and the third largest metropolis in Western Europe after London and Berlin. Madrid has been the cultural, geographical and political centre of Spain for centuries. In the city with over a million inhabitants there are ecclesiastical dignitaries as well as all important military and administrative authorities. Madrid has international and national importance as a centre of finance and trade. The city also boasts several colleges, six universities, as well as numerous museums, theatres and other cultural institutions. Madrid lies in the Meseta, the plateau of Castile and is divided by the Manzanares, a small river.
Important information about Madrid Airport (MAD) and your hired car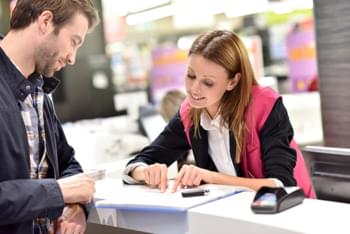 Get your hired car at the airport
The airport is located about 12 kilometres northeast of the city centre.
The name of the airport is Barajas, its IATA code is MAD.
You could travel comfortably from the airport by hired car to Madrid if you have booked a suitable car on our comparison portal in good time before your departure.
You can hire vehicles in every category from us not only extremely inexpensive, but also equipped with all the extras that are important for you.
After landing at Madrid Airport (MAD), all you have to do is find your car hire company and pick up your car at the airport's pick-up point.
Find your car hire at Barajas Airport (MAD)
Every car hire company listed on our website is present at Madrid Airport in at least one of the terminals, and many providers even have counters in several arrivals halls. If you have booked with us at a reasonable price, you will find the location of your car hire company in the reservation confirmation. Irrespective of which terminal you arrive at, the shuttle buses will always take you quickly to the terminal where your car hire company is located. Flights with Lufthansa or Air Berlin are usually handled in Terminal 2. Immediately after picking up your baggage, you will discover a map showing every counter of the hired car provider. Just take the shuttle bus to the right terminal, where the car hire with the rental contract is already waiting for you. The buses leave MAD Airport every five minutes during the day, only at night you have to wait up to 20 minutes for a shuttle.
Book a cheap Hired Car with Driveboo - your advantages
On our comparison portal you not only hire a suitable vehicle at an extremely low price. You already choose important accessories, the best possible insurance package, ideally unlimited mileage and, if necessary, the most favourable one-way hire. The latter is particularly useful if you want to pick up your hired car at Barajas Airport and return it to another airport in Spain at the same car hire company. In addition, our portal also provides you with information on the tank regulations as is customary in Spain.
This means that you have to hire a fully refuelled car and return it with a full tank. You should therefore ask your car hire company whether there is a petrol station at MAD airport. In addition, you must inform the provider of any additional driver when taking over the hired car. You cannot do this via our website, as the additional driver must identify himself to the car hire company with ID and driving licence.
Car Hire Spain: information on road traffic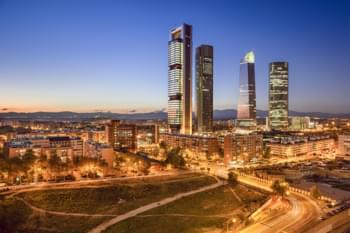 Road traffic in Madrid at night
Most of the roads in Madrid and at MAD Airport are in excellent condition, there are only a few regions in Spain where you would have to hire a jeep to explore. With regard to traffic rules, in Spain the penalties for offences are much higher than in other countries. In this context, it is imperative that you ask your car hire company whether the hired car is fitted with a yellow safety vest, otherwise 90 euros could be due in the event of an emergency.
In addition, you will have to get used to the Spaniards' often hot-blooded driving style and, for safety reasons, you should fold in the exterior mirrors when parking your hired car. For journeys throughout Spain, the following also applies: When a blue sign with the inscription "Por su seguridad - Control de velocidad"appears, immediately step off the accelerator.
What parking regulations apply in Spain?
Book a cheap hired car and explore the Madrid area
Madrid is full of historical palaces, museums and monuments, but if you want to see more of Spain, you should use your hired car to explore it. Below are some destinations that can be reached quickly and comfortably by car. Car hire at MAD Airport can give you even more information about Madrid's surroundings.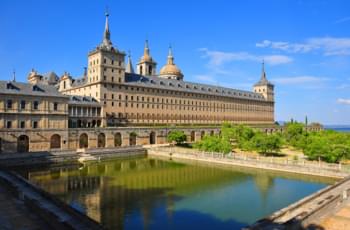 El Escorial Castle Madrid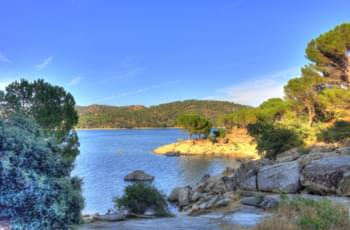 San Juan Reservoir
By hired car from MAD airport to El Escorial Castle
Spanish splendour is offered to you in the generously designed castle complex El Escorial, about 60 kilometres outside Madrid. You should not miss the impressive mixture of church, monastery and castle. You do not leave the capital on the M40 to the airport, but follow the A30 and later the A6 to San Lorenzo. El Escorial is astonishing in its vast dimensions, with a huge library of tremendous value and a royal burial chamber, as well as a monastery and church. You can explore the absolutely worth seeing castle complex on your own or take part in a multilingual guided tour.
Take a trip to the San Juan reservoir on hot days
Spain is known and loved for its high summer temperatures. Since Madrid is not situated at the sea, the locals are looking for cooling off at San Juan, a reservoir about 70 kilometres south. The ten-kilometre-long lake is located near the village of San Martín de Valdeiglesias and can be reached within an hour by hired car via the M40 and M501. On weekdays, secluded beaches with parking lots, restaurants and boat rental companies await you. Since the route to the lake is not well signposted, please ask your airport car hire company for information on how to get there.