Hire a Car at Kona Airport (International Airport)
Are you landing at Kona Airport (KOA) and would you like to explore the largest island of Hawaii by hired car? Then hire your cheap hired car directly at the airport, as you have immediate access to the rental cars of currently seven car hire companies and are mobile right after your arrival. Compare the car hire companies at Kona Airport with Driveboo from home, before you start your journey, and choose the car hire deals that best suits your needs from our extensive fleet of vehicles ranging from compact cars to sports cars. You can also fly to Hilo International Airport which is the other international airport.
How do I get to the Kona Airport pick-up station?
At Kona Airport you don't have to walk far to reach the counters of the car hire companies, which are not located in the terminal, but in a separate building, which is accessed by a free shuttle bus directly after the baggage claim area or exit.
Spend the winter in Kona in the sun
The weather in Kona is fantastic all year round. So how about a trip to Kona in winter? Even though it might rain from time to time, you can still look forward to sunshine in Hawaii in winter. Jet to the most beautiful beaches during your winter holiday by hired car or take a hike to the top of Mauna Kea. You can experience so much during your winter holiday in Kona. Go diving, look for the most beautiful waterfalls and enjoy the beautiful starry sky when it gets dark. What are you waiting for? Book a flight and travel to Kona, Hawaii, in winter.
Which car hire companies are there at Kona Airport?
With a passenger volume of more than 3 million passengers per year, Kona Airport is busy almost all year round, so you don't have to do without the services of international car hire companies. We have put together the following list of car hire companies that have settled in the airport grounds of Kona Airport:
Alamo
Avis
Budget
Dollar
Enterprise
Hertz
National
Thrifty
Is there a petrol station at Kona Airport?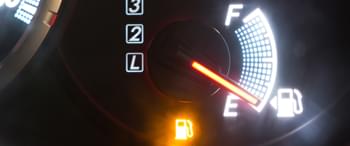 Petrol stations at Kona Airport
If you would like to hire a car at Kona Airport, then you should make a good decision if you decide to hire a car with a fair fuel system, as there is no petrol station on the airport grounds and you are not in danger of having to search for a petrol station right after your arrival. The nearest Shell petrol station is located 11 kilometres away in Kailuna-Kona, so you should leave early enough to avoid being pressed for time when you return your hired car if it is a little crowded at the petrol station.
Hire a car Kona International Airport (KOA) - welcome to paradise
Whether USS Arizona Memorial, Waimea Canyon or Haleakala Crater, with Hawaii, the largest island in the Pacific Ocean chain of islands of the same name, you have chosen one of the top destinations that has something to offer everyone. Visitors interested in art and culture should definitely make a diversion to the royal palace, the Iolani Palace, while nature-loving travellers can expect a multitude of guided walks through the national parks. However, if you don't want to spend your holiday in one place only, you will find below a table with different distances which may help you to find your way around the island.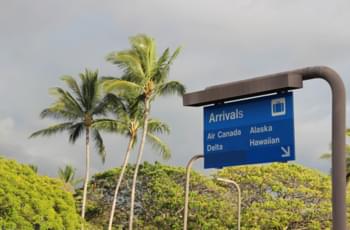 From Kona Airport around the island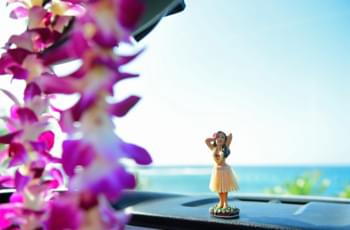 Driving a hired car in Hawaii
Car Hire destinations from Kona Airport
Taxi or shuttle bus - how to reach your destination
Would you like to take a taxi to your hotel to get some rest? At Kona Airport you can also take advantage of various taxi companies that will take you to your destination around the clock. In addition, you can also take advantage of the Speedishuttle company, which operates mainly on routes to and from Kona, Waikoloa, Mauna Kea.
Airport Kona Airport - some general information
With only about ten shops, duty-free shops and restaurants, the services at Kona Airport are not exactly large, so don't get hungry on your way to the airport. However, you can still buy some souvenirs if you have completely missed to buy a little something for friends and acquaintances during your stay due to the many natural beauties.
Car hire at Kona Airport: a special kind of round trip
Have you always wanted to take a look inside the crater of an active volcano? Then you are in the right place on the largest island of Hawaii and you should take your hired car to the Jaggar Museum to see the crater of Halema' Uma' U. From there you can take a look at the crater of Halema' Uma' U. But also the trip to the hot springs near Puna on the east coast should be on your agenda, if you want to do some excursions.
Another highlight of your trip could also be a visit to one of the farmer's markets, where mainly regionally grown produce is offered. A culinary highlight, on the other hand, is a trip by hired car to Kuaiwi Farm, which is not only specialized in growing coffee, avocados, bananas and pineapples, but also in the production of high-quality Hawaiian chocolate.
If you feel at home in the water, you can look forward to a nightly dive with stingrays or go whale watching.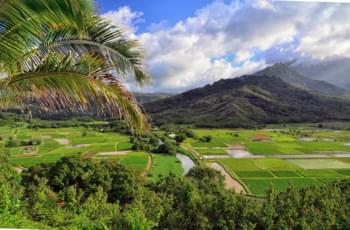 Green fields in Hawaii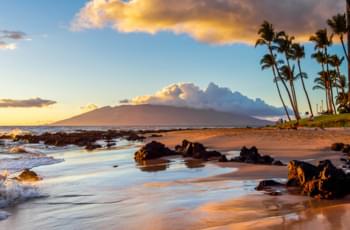 Sunset on the beach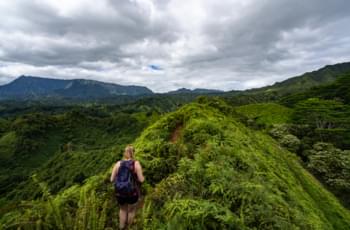 Breathtaking nature