Hire a car at Hamburg Airport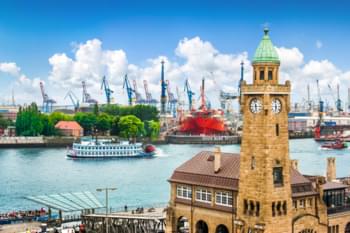 Harbour of Hamburg
If you want to set off with a hired car from Hamburg Airport and explore Hamburg, you'll find a diverse range of things to do and entertainment. Over 60 theaters, more than 100 music clubs, about 60 museums and countless concerts as well as events invite culture lovers and night owls to an eventful trip with a hired car from Hamburg airport.
The fresh fish on offer in Hamburg means that fish lovers in particular get their money's worth in quaint harbor restaurants or elegant city restaurants. It is practical if you book your car in advance online at Driveboo in the car hire comparison and pick up your hired car directly at Hamburg Airport. This way you save time and money when picking up your car from Hamburg Airport car rentals.
Experience Hamburg in autumn and winter with car hire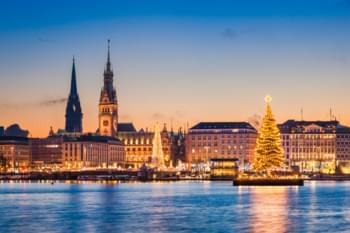 The fall and winter have so much to offer, especially if you spend them in Hamburg and have a hired car to boot. With your hired car you can flexibly get to various events and happenings around the Christmas season in Hamburg. For example, what do you think of the following highlights? Look forward to a fantastic autumn and winter in Hamburg!
Hamburg Christmas Market
The Great Winter Spectacle (musicals & shows)
Hamburg Fairy Tale Ships: November 25 to December 23
Hamburg Christmas Parade: On all Sundays in Advent
Information about Hamburg Airport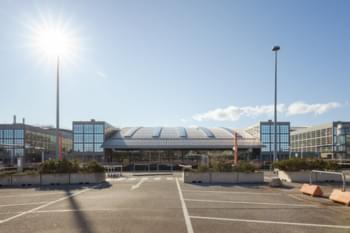 The airport of Hamburg has the IATA code HAM. It is located in the village of Fuhlsbüttel, around 25 minutes by hired car from Hamburg city center. It is also divided into two terminals and the main building. Arrivals are via level 0, while departures are accessed via the first level. Baggage handling facilities are located in the basement. If your baggage is lost or stolen, the Airport Office can help.
Hamburg airport: how to get to the car hire?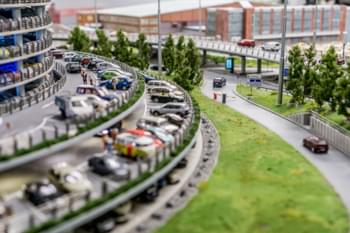 Collect a hired car at HAM airport
If you have booked a hired car online cheaply and would like to pick it up at Hamburg Airport, you can do that at the counters of the respective companies for car hire, to receive the vehicle keys as well as papers. You will find a total of seven renowned car hire providers at Hamburg Airport in Terminal 2. The walk from the security center to the car hire agencies takes about five to six minutes, depending on the volume of people. In the basement is the entrance and exit to the airport S-Bahn.
Hire a car cheap online - Hamburg Airport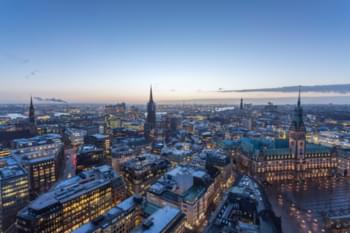 If you want to be flexible on the road in Hamburg from the first moment, the pickup of the hired car directly at the airport Hamburg is suitable. Some car hire providers offer you a 24-hour handover service for your hired car after a prior booking. You will receive the key via special key boxes, for which you will receive a code to open.
Alternatively, you can also receive the hired car in Hamburg's city center. In this way, you can take a relaxed cab to your hotel after a tiring flight and pick up your hired car at the nearest pick-up station the next day at your leisure.
In any case, pay attention to any previous damage during a vehicle handover. These must be listed and described in detail in the handover document. With photos you can document these additionally.
Where can I refuel my hired car in Hamburg?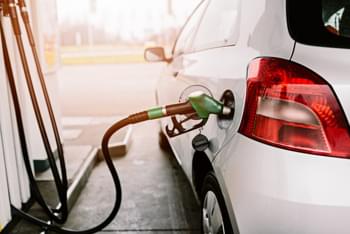 Be aware of the refuelling policy for your hired car
If you hire a car online before starting your trip cheap, there are usually offers for a so-called fuel regulation available. About this you can decide whether you want to hire your car with a full or nearly empty tank.
If you hire a car cheaply without a full tank, it is important to know that you can already find a fuel station at Langenhorner Chaussee 38 in about 700 meters distance. Here you drive from the Car park of the car hire via Flughafenstraße in the direction of Langenhorn and automatically reach Langenhorner Chaussee.
Make sure that any refuelling arrangement that has not been adhered to should be recorded in writing by the car hire company. As a rule, you must return the hired car with the same tank content again at the pick-up station or at the airport Hamburg, with which you have received it. However, if the hired car contains less petrol than booked online, you do not need to return the hired car with a full tank.
Hire a car cheaply and depart from the airport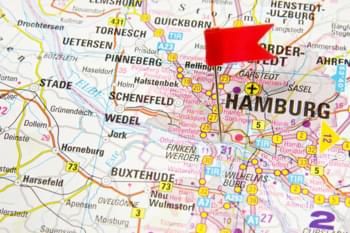 Departure from HAM airport
Hamburg Airport is conveniently located in the northern city area of Hamburg. In just a few minutes drive, you can reach the A7 via the B33 in the direction of Neumünster, Kiel and Flensburg. Via the B4, you will soon reach the A7 in the direction of Hannover, Bremen as well as Lüneburg.
Directly in the airport building is the final stop of the airport S-Bahn, which runs regularly and reaches as far as Hamburg's main train station. Via the B433 and the Saarlandstraße you can reach the main station with the hired car from the car hire company in about 20 minutes. With the S-Bahn the way takes about 35 minutes. There are a total of four bus lines (26, 274, 292, 606) that connect the city center of Hamburg with the Airport HAM.
What are the traffic rules to follow in Hamburg?
Right-hand traffic
Mandatory seatbelt use
Children under 12 years & 150 centimeters tall need a child seat
In built-up areas, maximum speed: 50 km/h
Rural roads: 100 km/h maximum speed
Motorways, maximum speed: 130 km/h
These sights you should not miss in Hamburg with hired car
Hamburg has so much to offer that you can hardly see everything in a short time. With a hired car you are always flexible and time-independent on the road. Then you will find Hamburg Airport an optimal starting point to begin a sightseeing tour with countless attractions.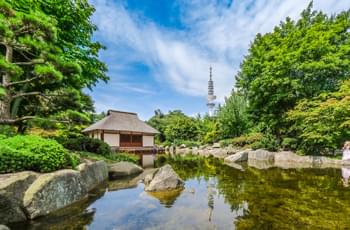 "Planten un Blomen"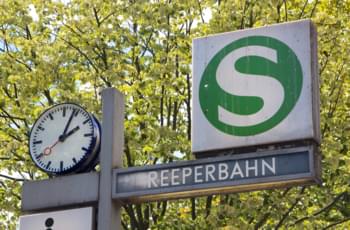 Make the Reeperbahn unsafe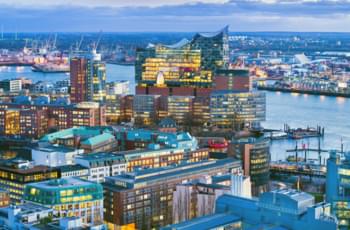 View of the Elbphilharmonie
The Hagenbeck Zoo is located just five kilometers from the airport. Spend an unforgettable day watching animals. Don't miss the feedings of the pink pelicans and Pacific walruses. Fun for the whole family is guaranteed here.
With the hired car from the car hire you get in ca. 10 minutes drive to the "Planten un Blomen", a park with botanical garden and impressive water fountains. Here you can have a picnic and fortify yourself for your next adventures.
You can relax, dine or simply observe the hustle and bustle at the Outer Alster Promenade, which you can reach in a distance of 7,5 km . In only 20 minutes it goes with the rented car to the Jungfernstieg and in 25 minutes to the Reeperbahn as well as to the worth seeing Main Church St. Michaelis.
You will be regularly notified about cheap car hire offers via the comparison portal's newsletter and can save cash of up to 60 percent on your individual Hamburg exploration.