Hire a Car at Denver International Airport
Are you flying to Denver International Airport (DEN) and would you like to travel with your own hired car to Denver and the state of Colorado? Then it can be worthwhile to hire your car directly at the airport, as you can choose your car from the fleet of more than ten car hire companies at Denver Airport. Compare the prices and conditions of all car hire companies at Denver Airport and book your hired car online in less than 5 minutes.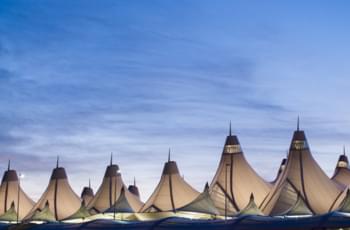 Denver Airport
View over Denver
Where are the Hired Car counters at Denver Airport?
Fortunately, the hired car counters at Denver Airport (DEN) are easy to find, as they are located in the middle of the terminal on level 5, from where you have easy access to the Car park to pick up your hired car right away. If you are unable to find your way around the airport despite the signs at the airport, it is best to contact the uniformed airport staff, who will be happy to escort you to the hired car counter.
Experience summer concerts in Denver
What would a summer in Denver be without a concert at the Red Rocks Amphitheatre? Springsteen, Beatles, Hendrix - they were all here. Don't miss the highlights in Denver this summer. With a hired car from Driveboo.com you can reach your desired locations flexibly and without problems. Especially in summer, the beautiful Denver in Colorado is the hit. Tourists from all over the world come here to ride exciting mountain bike trails and walk on beautiful hiking trails in the summer. Because Denver is the "Gateway to the vastness of the Rockies" and especially in summer it is the madness. So what are you waiting for? Pack your hiking boots, book a hired car and start your unforgettable summer in Denver.
Car Hire suppliers at Denver Airport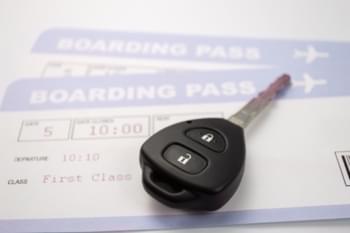 Car hire at the airport
There is no shortage of car rentals at Denver Airport, and you'll find a large number of the world-renowned car hire companies with whom you're in the best of hands. However, the airport is very busy with almost 600,000 aircraft movements per year, so you should definitely reserve a hired car before you start your journey. Below we have put together a list of car hire companies where you can hire a car when you arrive, with some companies maintaining buildings outside the terminal:
Advantage
Alamo
Avis
Budget
Dollar
Enterprise
Fox
Hertz
National
Where is the nearest petrol station at Denver Airport?
The nearest petrol station is Conoco, directly on the feeder road to the airport, the Pena Blv. at a distance of about 5.6 km.
Hire at car at Denver Airport and travel through the USA
Those who have travelled to Denver for more than just business reasons should take advantage of the opportunity to hire a car in Colorado or even one of the neighboring states, such as Wyoming or New Mexico. Take a trip to Cheyenne and visit the Cowgirls of the West Museum, take a look at the beautifully refurbished Wyoming Territorial Prison State Historic Site Museum in Laramie, be enchanted by the Glen Eyrie Castle in Colorado Springs or take a walk over the Royal Gorge Bridge in Canon City. For those who prefer untouched nature, the nearby Rocky Mountain National Park, the Arapaho & Roosevelt National Forests and Pawnee Grassland or the White River National Forest and the Pike and San Isabel National Forests Cimarron and Comanche National Grasslands are particularly popular.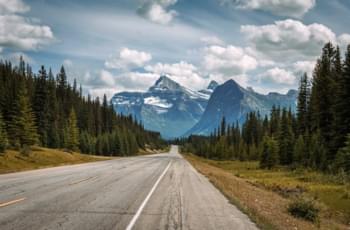 By hired car to the Rocky Mountains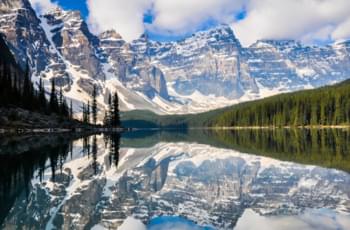 Rocky Mountains
Our tip: Although you do not need an international driver's license to drive a hired car in the USA, this is often required in practice, so you should make an early application.
Hired Car Denver Airport - discover the gold mining metropolis
The most populous city in Colorado presents itself as unusual as the airport with its canopy roof. Reason enough not to leave the Rocky Mountains with his hired car, but to acclimatize for a few days. The botanical garden or the State Capitol is worth a special diversion, but also a visit to one or two museums such as the Denver Museum of Nature & Science, the Art Museum or the Forney Museum of Transportation should definitely be on your to-do list before you leave the city. If you are planning to travel to Colorado for the first time, the following mileage information may help you plan your trip in the USA.
car hire destinations from denver airport
Transport connections at Denver Airport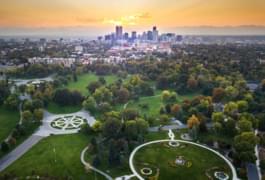 Discovering Denver by hired car
A long-haul flight can be tiring, which is why no one resents you if you don't want to get into your hired car right after you arrive, but want to travel to the city centre by taxi or bus from the airport's seven taxi companies or "Bustang" company. In addition, you can also take the train from Level 1 to the city centre, a cheap alternative at $9 if you are not carrying too much baggage.
Denver International Airport - a brief overview
Dine, Relax and Shop is the motto at Denver Airport, which in fact boasts more than 140 shops, restaurants and service providers. Whether breakfast, sweet delicacies, healthy juice, dishes from the wok or fiery grilled steaks, here you can be sure that no wishes remain unfulfilled. But there is no shortage of bookshops, electronics stores and souvenir shops, too, so that you can spend your waiting time until departure relaxed.