Hireal car Boa Vista: Explore the Cape Verde Islands on your own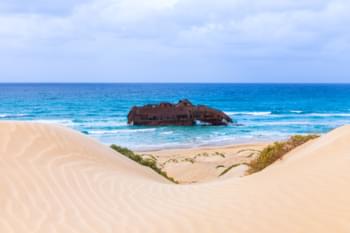 Sand dunes in Boa Vista
Do you feel like a paradisiacal adventure with a hireal car on Boa Vista? Then let's go to the Cape Verde Islands. On Boa Vista you can explore gigantic sand dunes, moon-like volcanic landscapes, white sandy beaches and much more. Nature lovers in particular will get their money's worth in Boa Vista when they cruise along the coast in a hireal car. Watch humpback whales and accompany sea turtles on their first trip into the sea. With a hireal car on Boa Vista you can drive flexibly to your desired destinations. You can find the right vehicle for your trip to Cape Verde on Driveboo.com. The portal compares the offers of car hire companies in Boa Vista and shows you the cheapest prices for your hireal car. Book in advance online from home and look forward to your well-deserved dream holiday on Boa Vista.
Where can I find a car hire company on Boa Vista?
If you want to be mobile on Boa Vista, it's best to take a hireal car. You can get it either in Sal Rei or at Boa Vista Rabil Airport. As you are most likely to arrive at Boa Vista by plane, it is a good idea to pick up your hireal car at one of the car hire companies as soon as you arrive at the airport. This means you are flexible from the start and do not have to rely on public transport or a taxi. Arrange your holiday as you wish. The right companion for this is a hireal car that will take you reliably to your desired destinations.
Interesting facts about the Cape Verde Islands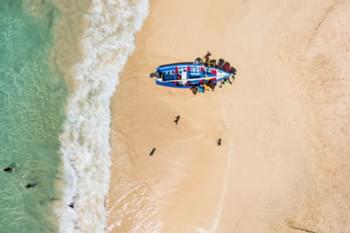 Genießen Sie die Kapverdischen Inseln
Cape Verde consists of about 15 islands with 427,000 inhabitants, of which nine are inhabited.
The main island is Santiago, where more than half of the inhabitants live.
Capital: Praia
The Cape Verde Islands are a group of islands in the Atlantic Ocean located 570 km off the west coast of Africa.
The Cape Verde Islands are part of Macaronesia and have been the independent island republic of Cape Verde since 1975.
The islands are divided into the northern group (Ilhas de Barlavento) and the southern group (Ilhas de Sotavento).
Cape Verde was discovered in 1445 by Portuguese sailors.
What are the temperatures on Boa Vista?
The table below shows the temperatures, sunshine hours and rainy days for Boa Vista in Cape Verde:
Explore the most beautiful places on Boa Vista with a hireal car
Costa de Boa Esperança
A popular excursion destination on Boa Vista is the shipwreck of the "Cabo Santa Maria" on the Costa Boa Esperança. The ship ran aground in 1968 and had loaded cars, clothing and machinery. If you want to get to the shipwreck, it is best to start from the island capital Sal Rei in an off-road hireal car. The journey takes only half an hour. The rusted wreck is an excellent backdrop for exciting holiday photos.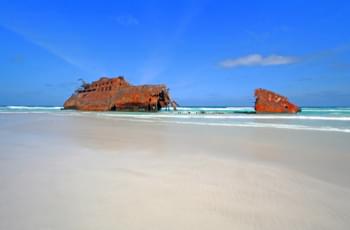 Shipwreck of the Cabo Santa Maria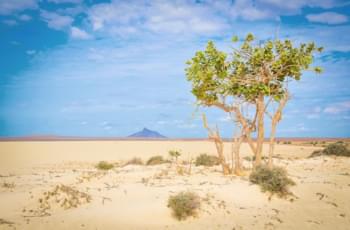 Deserto de Viana
Deserto de Viana
The Viana Desert is located in the northwestern part of Boa Vista. The desert is characterised by light sand, which was transported from the African continent to Cape Verde. If you want to cross the desert, it is best to leave the hireal car at your accommodation and have an experienced guide pick you up with a quad. The reflection of the sun on the sand is like on snow. For this reason you should provide sun protection and, above all, good sunglasses. Take a walk, jet over the dunes with your quad or try sandboarding. Fun for the whole family is guaranteed in the Viana Desert.
More Highlights
Praia de Chave
Varandinha
Praia do Estoril
Ilhéu de Sal Rei
Monte Estância
What traffic rules do I have to follow when hiring a car on Boa Vista?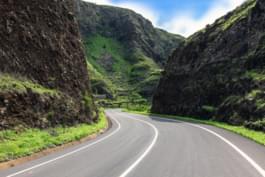 Road in Boa Vista
On the Cape Verde Islands and therefore also on Boa Vista right-hand traffic applies. It is best to get an international driving license. Due to the poor road conditions, an appropriate driving style is strongly recommended. In addition, it is common to honk your horn on blind bends if oncoming traffic comes. In an emergency, you can reach the appropriate facilities at the following emergency numbers: police 132, ambulance 130 and fire brigade 131.