Arriving at Antonio-Maceo-Airport
The Antonio Maceo Airport is a medium-sized international airport located 4 miles southwest from Santiago de Cuba, the second-largest city in the country and the capital of the south-eastern province of Santiago de Cuba. With your hired car, you can explore Cuba independently and flexible of public transport. Before your journey, you can easily compare offers on our online portal Driveboo.com to find the best one for your stay in Cuba. When you arrive by plane at the Santiago de Cuba airport (Antonio-Maceo-Airport), you can pick up your hired car at the hireal car station and start your trip.
Is it safe to hire a car and drive around Cuba?
Having a hireal car in Cuba allows you to explore the island the way you like. You will be independent and flexible from public transport and can design your stay according to your wishes and thoughts. There should be no safety issue while hiring a car in Cuba. As in any part of the world, there are certain rules and restrictions you should follow when driving around Cuba. You have to pay attention to some advice to have a safe stay in Cuba. For example, we recommend not to leave any items in the car (at least not visible). If something happens to the car, due to bad road conditions or an accident - we have several offers regarding insurances. On our website, you can compare the diffehire offers with the price comparison service. We recommend, hiring a car with a fully comprehensive insurance policy without excess. But is it worth it? When booking this option, you are on the safe side. It may not appear to be so cheap at first glance, but in case of an accident, you won't have to pay any additional costs for damage.
Drive with extreme care. Major streets are generally well-maintained, but secondary streets are not. Avoid driving at night as many roads are unlit. Emergency lights or signals are rare making it virtually impossible to detect hazards after dark. Street signage is insufficient and confusing. Many Cuban cars are old, in poor condition, and lack reliable safety equipment.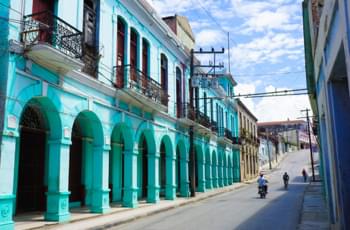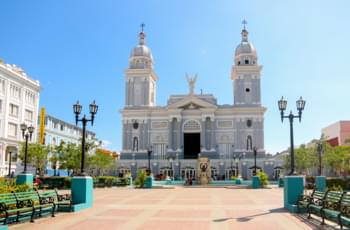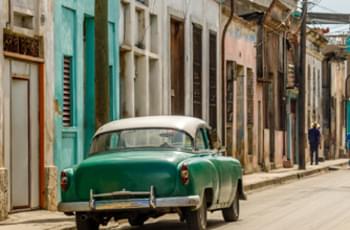 Offers for one-way hireals
If you hire a car only for one way, then it is called one-way hireal. You pick up your hireal car at one location but return it to another location. For example, you may pick up the hireal car at Antonio Maceo Airport, but want to return the car to a diffehire station - such as in the city centre of Santiago de Cuba.
Cuba doesn't have an extensive road network, though, so there's usually little to choose from in terms of which direction to go. The locals will be happy to help you on your way, even if it is in hands-and-feet language; outside the tourist centres, Spanish is spoken almost exclusively!
In the table below you will find some language aids:
Which sights are worth visiting?
Castillo de San Pedro de la Roca

Basilica del Cobre

Santa Ifigenia Cemetery
Castillo de San Pedro de la Roca
Cuba offers many historical sights that you can easily visit with your hireal car. For example, the Castillo de San Pedro de la Roca, which is a fortress on the coast of Santiago de Cuba. About 6 miles southwest of the city centre and 3.5 miles from the Antonio Maceo Airport, where it overlooks the bay.
Basilica del Cobre
Mainly known for a Basilica in honour of Our Lady of Charity, the patron saint of Cuba. It was until recently the site of a large copper mine worked by slaves, free coloured people, and for a while by miners from Cornwall. It is also located in the heart of the city, which will make it easy for you to visit with your hireal car.
Santa Ifigenia Cemetery
It is a famous cemetery and resting place of a few noticeable Cubans. It can easily be reached with your hireal car as the destination is in the city centre of Santiago de Cuba. Also from the airport, where you can collect your hireal car, it is only six miles away.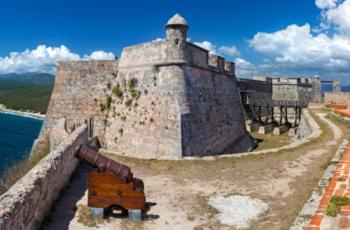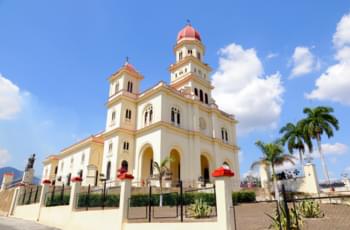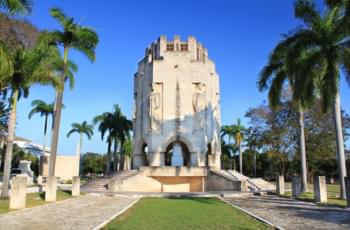 Speed limits in Cuba