Book a hired car at Dusseldorf Airport (DUS)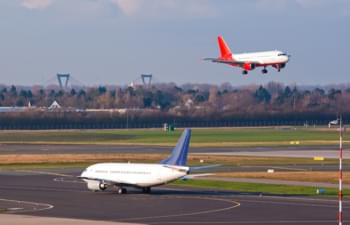 Düsseldorf Airport
You have never been on the road with a hired car in Düsseldorf and would like to change that now? Then you should pick up the hired car you want directly after your arrival at Düsseldorf Airport (DUS). This way you can make sure that you do not waste valuable time in public transport. Book your hired carin advance online on Driveboo. Our portal compares the offers of all reputable car hire companies in Düsseldorf Airport and shows you the best price for your hired car. This way you can pick up the vehicle directly after your arrival and start your holiday relaxed.
Start your perfect spring in Düsseldorf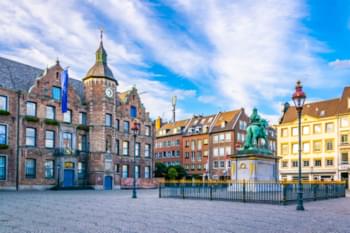 Spring is especially popular with those who have had enough of cold temperatures and snow. Because in spring, it is finally getting warmer day by day and the snow is disappearing more and more. A wonderful foretaste of summer, which you can also spend in Düsseldorf. The only question is what to do in Düsseldorf in the spring. For example, you can visit a farmer's market and taste fresh products from the region. Or simply stroll through one of the many parks in Düsseldorf to marvel at the re-blooming flowers. If that's too boring for you, you can also simply attend spring events, such as:
Fish Market (once a month from March to November)
Wine & Taste Festival (end of March)
Museum Night (early April)
Street Food Festival (early May)
Japan Day (end of May)
Where are the car hire stations located at DUS airport?
In front of Terminals A and B at Dusseldorf Airport, you will find almost all of the well-known car hire agencies and some of the lesser-known ones. From the baggage carousel to the rental station, you need only about four to eight minutes, depending on the volume of people at the appropriate time as well as the location of the arrival terminal. If you book your desired hired car already in advance online, you can pick it up directly after your arrival at one of the car hire agencies.
Figures, data & facts about Düsseldorf Airport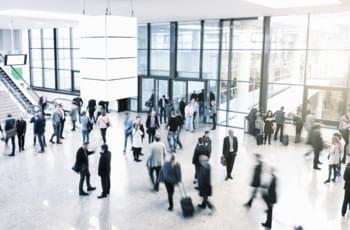 On the way at DUS airport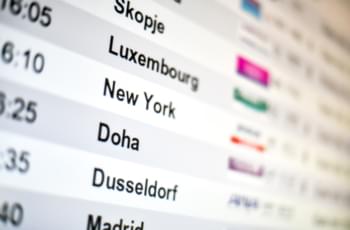 Flights to and from Düsseldorf Airport
Düsseldorf Airport is the third largest airport in Germany. It was opened in 1927 and is located directly on the northern edge of the settlement of the state capital. In terms of passenger volume, DUS airport ranks fourth (behind Frankfurt am Main, Munich and Berlin-Tegel). In 2018, over 24 million people used Düsseldorf Airport. Düsseldorf Airport is connected by 70 airlines to nearly 200 destinations in 50 countries.
Selecting your own options for the perfect hired car for Düsseldorf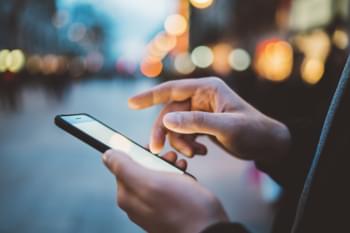 Select options for the hired car itself
On Driveboo you can choose various options for your hired car. This way you can be sure that your desired car for Düsseldorf perfectly fits your individual ideas and wishes. The following filters are available for you to choose from via the search mask:
Model of hired car: minivan, compact car, compact class, convertible, SUV
Equipment: all-wheel drive, automatic, air conditioning
Insurance: We always recommend the conclusion of a comprehensive insurance without deductible. Thus, even in the event of damage, no further costs to you.
Furthermore: Fair fuel regulation (full / full), additional driver included, one-way rental
Do you already know the DUS app of Düsseldorf Airport? Simply download the app to your smartphone and check in comfortably and on time. In addition, you can also select your seat or report missing baggage.
Which sights should I not miss in Düsseldorf?
Old Town
Park your hired car and stroll through the narrow streets of Düsseldorf's Altstadt. It is lined with numerous chic cocktail bars, pubs and hip dance clubs. Here you can try the local Altbier and dine in one of the restaurants. You can also find cosy cafes along the wide Rhine River Promenade. In addition, several museums are located in the immediate vicinity, such as the Schifffahrtsmuseum and the K20. During a visit, you can marvel at modern works by artists such as Klee and Dalí.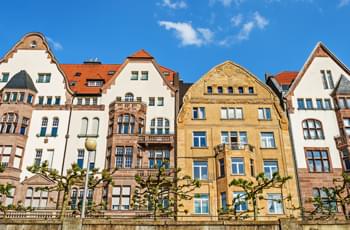 Altstadt Düsseldorf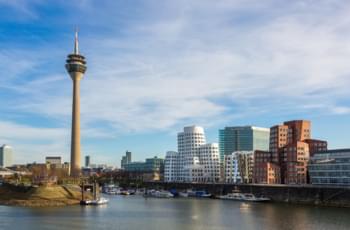 View of the Rhine Tower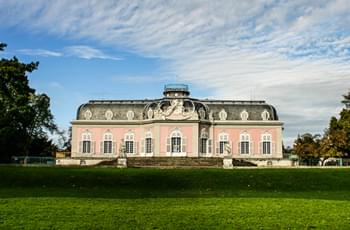 Castle Benrath
Rheinturm
Next on the agenda could be a trip by hired car to the Rheinturm. The Rhine Tower is a television tower in Düsseldorf and at 240,5 meters, the tallest structure in the city. From the lookout platform you have a magnificent view over Düsseldorf.
Castle Benrath
Who likes to read fairy tales, should write a visit to the Castle Benrath with the hired car on his list. It is located in the southern district of Benrath and was built in 1755-1773. As part of a guided tour, you can visit the castle.
With the hired car to other German cities
Dortmund
By hired car, you can reach Dortmund in about an hour from Düsseldorf. Here you should not miss to visit the largest soccer stadium in Germany. If you are lucky, a football match of the BVB is taking place at the time of your trip.
Cologne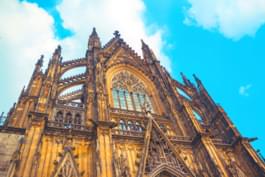 Cologne Cathedral
When you're on the road in Cologne by hired car, be sure to head to the imposing Cologne Cathedral. It is the undefeated landmark of the metropolis of millions and one of the most famous buildings in North Rhine-Westphalia. The Roman Catholic church is a UNESCO World Heritage Site and a important Christian pilgrimage destination.
Essen
In Essen, both shopping enthusiasts and nature lovers get their money's worth. For example, you can drive to Lake Baldeney with your hired car. Here on and around the lake numerous water and other sports are offered. Try water skiing, take a spin in a canoe or try your hand at tennis. To fortify yourself, you can then enjoy coffee and cake on the sun terrace of the café. In addition, you will find a variety of small shopping arcades in city centre Essen. Park the hired car and stroll through the pedestrian zone.
More destinations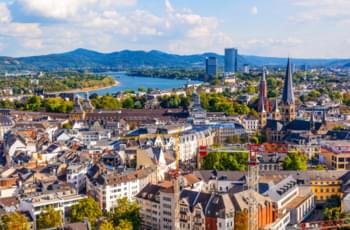 Bonn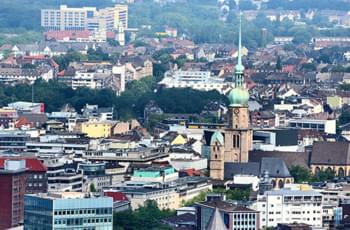 Dortmund