Compare car rentals in Ponta Delgada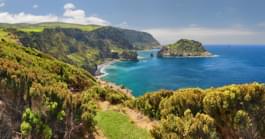 Beautiful Ponta Delgada
Compare car hire deals in Ponta Delgada and explore Azores in a flexible hired car. Ponta Delgada is the capital of Sao Miguel Island. Over time, the small fishing village developed into a large city that is very popular with tourists. Ponta Delgada attracts with an interesting skyline and a historic old town. You can hire a car either in the city center or at one of the car hire agencies at Ponta Delgada Airport.
What should I look out for with the hired car in the Azores?
If you are travelling with your hired car in Ponta Delgada, you should be aware that there are a lot of one-way streets and very few parking spaces. Perhaps it would be better to leave your hired car and explore Ponta Delgada on foot. For example, take a stroll along the carefully landscaped waterfront promenade or visit the 16th century harbor castle. There are also many museums in the city, such as the Museu Carlos Machado. There you will learn everything about the history and culture of the Azores. A visit to the Conceicao Palace is also worthwhile and will surely impress you.
Also note the following traffic rules in Ponta Delgada:
Right-hand traffic applies.
Speed limits: 50 km/h in town, 90 km/h out of town, 120 km/h on highways.
Blood alcohol limit: 0,5 per mille
Ponta Delgada in spring is colorful
Nature lovers take note: Ponta Delgada in spring is a feast for all senses. An incredible display of nature's colors awaits you in spring. Fly to the Azores in spring and look forward to whale watching, hiking or a stroll through Ponta Delgada. For flexibility in getting to all your desired destinations during your spring holiday, we recommend booking a hired car at Ponta Delgada Airport.
Ponta Delgado: a nice city on the "green island"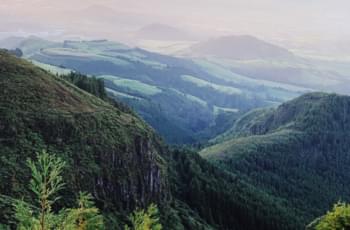 Landscape in the Azores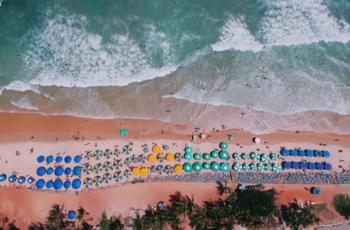 Beach in Ponta Delgada
Ponta Delgada is an ideal starting point to explore the "green island" with your hired car. Drive to the northeast of Sao Miguel and discover the original island life. During your drive you will pass through numerous small villages and beautiful viewpoints.
Scattered throughout the island you will find enchanting sandy beaches, some of which are jet black. You can also roar with your hired car to one of the many bathing lakes or visit the spa town of Furnas. There you will find 22 hot springs and volcanically heated streams in which you can bathe.
Explore São Miguel by hired car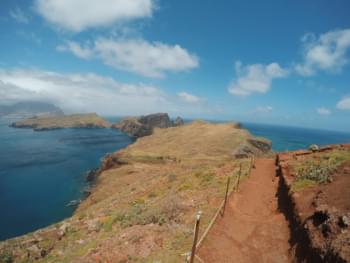 Hiking in the Azores
We also recommend a visit with your hired car to Vila Franca. From there you can take a boat to an offshore island and swim in an extinct volcanic crater. You should not miss this unique experience.
On Sao Miguel, however, you can not only swim, but also go on extensive hikes. If you drive with your hired car to the west of the island, you can hike around a giant crater. But there are also numerous other hiking trails scattered all over Sao Miguel. We wish you a good trip with your hired car in Ponta Delgada!
With the hired car to the highlights of Ponta Delgada
If you travel to Ponta Delgada, you should not miss the following sights:
Landscape of the North Coast
Gruta do Carvão
Chapel of Mae de Deus

Fort Saint Blaise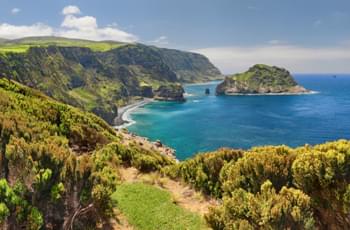 North Coast Ponta Delgada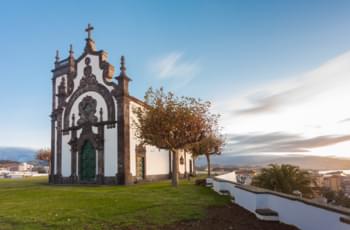 Chapel of Mae de Deus
Discover more places on São Miguel by hired car
In the following table, you will get a few destinations that you can reach by hired car from Ponta Delgada: