Explore Tampa by rental car
Tampa is the third largest city in the state of Florida and is perfect for exploring by rental car. It is affectionately called "Sunshine City" and is located on the west coast of a picturesque bay, directly on the river Hillsborough, which flows into the Gulf of Mexico. Since the city of Tampa has only about 335,000 inhabitants, it is not as big as other cities in the USA. With a rental car from the price comparison you can explore the city and its surroundings independently.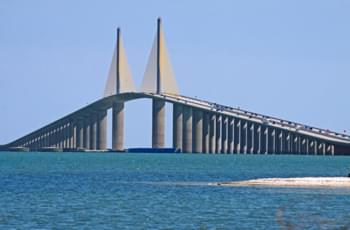 Sunshine Skyway Bridge,Tampa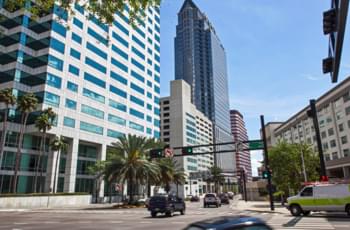 Downtown traffic flowing midday in downtown Tampa
Book a car hire in Tampa and explore the area
Take a look at the white, breathtakingly beautiful sandy beaches in St. Petersburg or Clearwater and take a long bath there. How do you get there? Book a rental car in Tampa to explore the area in comfort. Tampa also has several theme parks and other attractions. You can also see professional ice hockey, American football and baseball in Tampa. So there is every reason to rent a car in Tampa!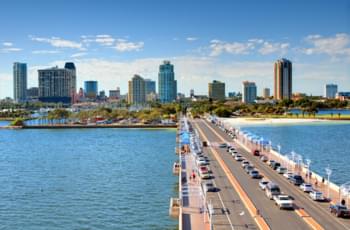 Skyline of St. Petersburg, Florida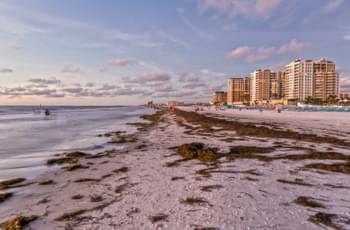 Clearwater Beach in Florida at Sunset
What is the right location for renting a car in Tampa?
You can pick up your rental car in Tampa at the airport or pick it up yourself in the city center. Renting a car in Tampa makes it easy for you to explore the surrounding area. Tampa Airport is located in the northwest of Tampa, close to Interstate 275 and the city centre is also close by. From Orlando airport, Interstate 528 leads eastwards via Interstate 4 to Tampa. Please note, however, that when you travel to Tampa by rental car, there is a toll on the Interstate 528. Other toll roads are the Veterans Expressway and the Crosstown/Selmon Expressway in Tampa itself. In almost all American cities it is not difficult to find a parking space, but there are parking garages or multi-storey car parks.
Travelling with a rental car in Tampa
If you are traveling by rental car in Tampa, it is recommended that you take a look at Bayshore Boulevard. It starts west of the Hillsborough estuary and takes you south along the coastline. If you want to go further, you can also choose one of the two motorways that will take you through the city. On the Interstate 4 we drive via Orlando to Daytona Beach south to the east coast of the state. Continue on Interstate 275, which then becomes Interstate 75 and takes you via Gainsville to the south, along the coast again, to Everglades National Park. However, if you prefer to stay in Tampa with your rental car, you can visit various events and trade fairs throughout the year, which are well worth a visit.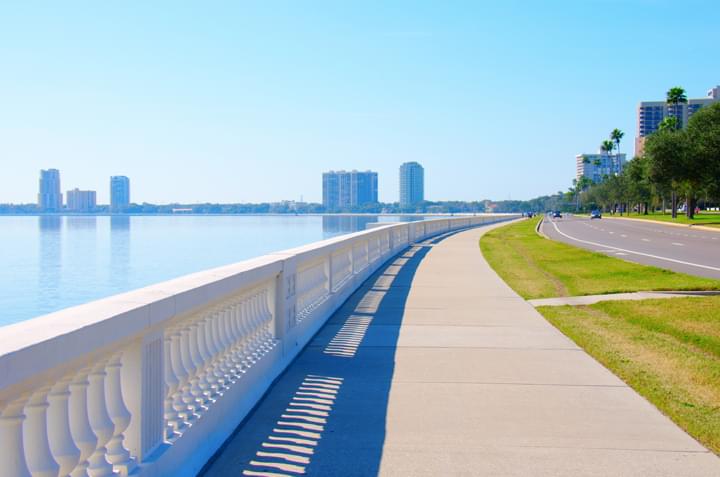 The world's longest continuous sidewalk, Bayshore Boulevard in Tampa
Car hire Tampa - Places of interest nearby
Orlando
Miami
Clearwater
Big Cat Rescue
Lettuce Lake Park
Tampa Bay History Center
Rent a car in Tampa - easy access to air shows and other festivals
Visit the Gasparilla Pirate Festival, the Florida State Fair or the great military air show, the MacDill Air Fest. All shows and festivals are a big magnet for visitors. The Gasparilla Pirate Festival dates back to the legend of a Spanish pirate who is said to have been living in Tampa. In his honour, pirates capture Tampa every year in February and arrange a parade with street festivals, colourful hustle and bustle.
Book a rental car in Tampa at low prices
We recommend that you book the car rental for Tempa by price comparison. Using the station filter, you can compare the rental stations on site. Thus have the opportunity to find the perfect and most favourable offer for you. After all the formalities have been completed, you can then receive the vehicle's key and travel comfortably through the streets and cities without being dependent on any tour guides. Explore Tampa and other cities on your own and enjoy the spectacular freedom.