Discover Saranda and the Albanian Riviera by hired car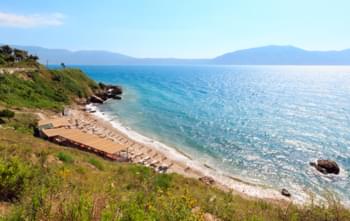 Albanian Riviera
Albania is located in the south-east of Europe and is a relatively small and compact country, which is ideal for a summer trip in 2020 by hired car. The Albanian Riviera stretches from the seaside town of Saranda to Vlora and marks the point where the Ionian Sea meets the famous Adriatic coast. The coasts of Albania attract you in the months of May, June, July, August and September with almost constant good weather for beautiful trips and bathing trips in different places and beaches. Perfect starting point for a tour with a hired car is Saranda, which is the beginning of the Albanian Riviera. On Driveboo you can easily and transparently select your personal hired car from the various carefully selected top partners that we have put together for you. Which car types can I choose from for Saranda, Albania? Currently our partners offer the vehicle types estate car, SUV or van. Please don't be confused by this, because our offer starts with the cheapest small car for every budget. We will show you possibilities for your individual journey, no matter if you want to hire a car for yourself, another companion, with several friends or the whole family to start a road trip, with a comparison and a booking at Driveboo you are in the right hands.
Insider tip Albania in the Balkan area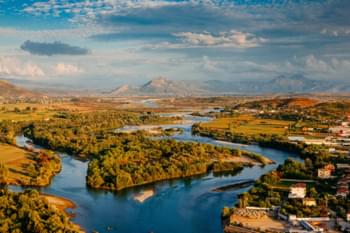 Albania's untapped nature
Albania is still in the starting stages to become a popular and established tourist destination. Whether for a summer holiday on the beach or an expedition through untouched, impressive scenery, with a hired car from Saranda you can discover a real secret holiday destination. What other countries on the Balkan Peninsula such as Greece, Croatia and Bulgaria have, is available in Albania in exactly the same way and perhaps even more. The country is diverse due to the contrast of mountain ranges and dream beaches. Is Albania a safe destination? Albania is a very safe country to visit. Assaults on tourists usually don't happen and if you behave as you would at home or in other travel destinations, you should not have to fear anything. Nevertheless, as always, we ask you not to leave any valuables open in your hired car or to carry them with you when you leave the car.
Saranda and the Albanian Riviera - perfect for a Road trip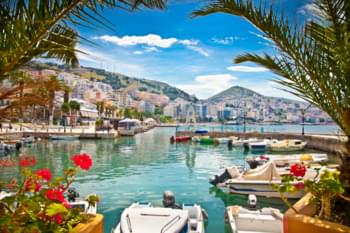 Saranda
Saranda is the most loved and developed seaside destination on the Albanian Riviera and possibly even the whole of Albania. You will find accommodation for every budget, while the 5-star hotels only confirm how aspiring Albania is as a serious tourist destination. For a holiday fun you can find everything here, from chic beach clubs, bars, restaurants you will find anything you are used to from expensive destinations in Spain, Italy, France, Greece etc. The seaside town, like all of Albania, attracts with very reasonable prices. So if you are looking for a holiday destination with a very good price-performance ratio, Albania will amaze you.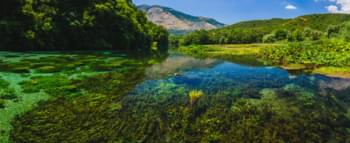 Blue Eye close to Saranda
With a rented car you should absolutely visit the famous blue eye of Albania. The mountain lake Syri I Kalter is not accessible by bus. Perfect for a day trip with a hired car. The so-called Blue Eye is only half an hour away from the seaside town Saranda. The 200 lek, approximately 1.50 € are, even compared to the entrance fees for sightseeings in South-East Asia, very cheap. Unlike e.g. Bali, you won't find a tourist crowded attraction here, but rather a beautiful lake with a unique coloring in which you can go swimming.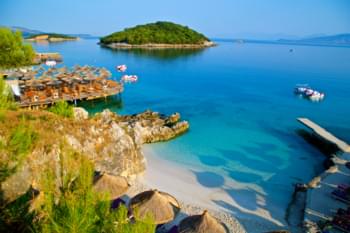 Ksamil small village close to Saranda
Those who like it calmer as in Saranda should drive further south with their hired car. The small seaside village of Ksamil, located only 14 kilometres away, can be easily reached with your hired car on the well constructed roads in about 22 minutes. Besides the beach in the village itself you can explore the 3 surrounding islands. For this you have the option to use either a cheap crossing with the rental of a small pedal boat, or if you are fit enough you can swim over, because the 3 islands are situated close to the main beach. In this place you will also find cheap bars and restaurants.
How to get to Saranda, Albania
As Albania is still a rather untapped country for tourists, the infrastructure is not yet fully developed for foreign tourists. However, there are some attractive and inexpensive ways to get to Saranda.
How to get to Saranda?
By plane: The only international airport in Albania is located in Tirana, the capital. Cheap flights can be found from various European destinations. Tirana is 279 km away from the tourist destination Saranda, which is about 4:20 hours by car. If you arrive by plane, a hired car from Tirana airport may be a good idea.
By ferry: An interesting variation to get to Saranda is the ferry, which runs daily from Corfu to Saranda and back again. Albania's Riviera is therefore best combined with a holiday on the island. The approximately 2-hour crossing costs the equivalent of 19 € or 20 CHF.
By land: The most longest, but certainly the most adventurous way to get to Saranda is by road via Croatia, Bosnia Herzegovina and Montenegro. Perfect for a road trip through the Balkan country.
On Driveboo you can easily choose and compare different pick-up and drop-off locations for your hired car.
Important notes to remember when driving a car in Albania
Even while Albania is located in Europe, the rules and especially the driving behavior in road traffic are different from those in other countries. To prepare you best for your car journeys through Albania, we have summarized the most important points again below: