Hireal car in Puerto Rico - Summer dreaming, Bacardi feeling!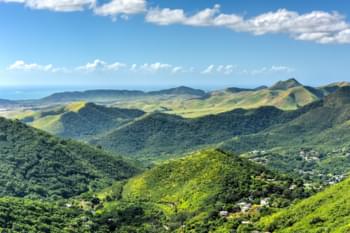 Fascinating landscape in Puerto Rico
The Free State of Puerto Rico lies in the Caribbean and consists of the island of Puerto Rico and the smaller islands of Vieques, Culebra, Culebrita, Desecheo, Palomino, Mona, Caja de Muertos and Monito. Discover Puerto Rico with the capital San Juan by hireal car. The best place to pick up your hireal car is at San Juan Airport. We recommend that you book the hireal car in advance from home. Thanks to the online price comparison you can save time and money on your holiday. Simply compare the offers of diffehire car hire companies in Puerto Rico and book your cheap hireal car online here. In Puerto Rico you can expect fascinating landscapes, exciting cities and unique nature. What are you waiting for? Let's go to Puerto Rico!
Hire a car and explore Puerto Rico
About 60% of the surface is mountainous, but deserts and rainforests can also be discovered by hireal car in Puerto Rico. Enjoy the beauty of Puerto Rico by going on adventures with your hireal car. The pleasant tropical climate, the Caribbean flair and the friendly Puerto Ricans make Puerto Rico an island paradise. Visit the harbour in San Juan by hireal car, a baseball game in the Estadio Hiram Bithorn or enjoy a glass of ice-cold local Bacardi rum under palm trees. If you also feel the urge for improving your knowledge in paradise, drive your hireal car to Arecibo, where the second largest radio telescope in the world is located in a valley. Sugar cane, bananas, coffee, pineapple, ginger and tobacco will sweeten your way (and the air) on large plantations. Exploring Puerto Rico by hireal car is a unique experience full of variety and adventure.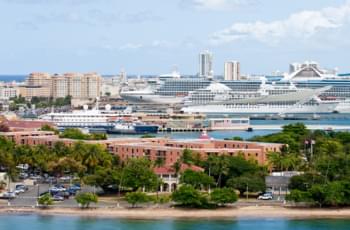 Port of San Juan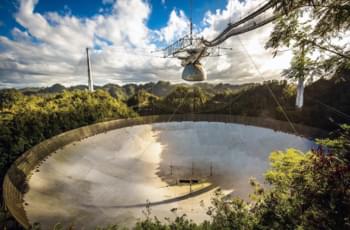 Radio telescope in Arecibo
Which highlights should I not miss in Puerto Rico?
Old San Juan
Old San Juan is also known as the happiest place in the world. It is one of the most popular destinations for cruise ships. Stroll through the alleys, past colourful houses, and enjoy the atmosphere. Old San Juan might reminds you of the old town of Havana. Make your own impression on a trip to the old town of San Juan.
Cueva Ventana
Cueva Ventana is one of the most visited sights in Puerto Rico. Take the wheel of your hireal car and drive to Arecibo to admire the natural rock formation. Go on a hike and enjoy the view through the natural window. The landscape is breathtaking.
Playa Larga
Would you like to escape everyday life for a while and relax completely during your holiday? Then let's go to Playa Larga on Culebra! At the extensive beach Playa Larga you will definitely find a place where you can relax. If you want to see more of the island of Culebra, you can hire a car and visit the lighthouse or the Museum of History.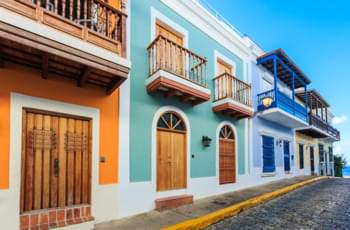 Colorful houses in Old San Juan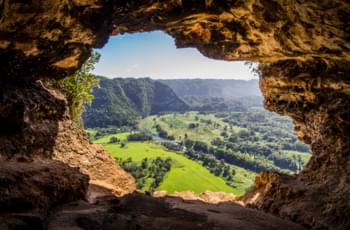 Cueva Ventana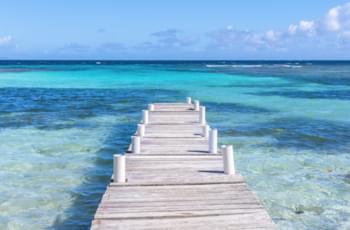 Landing stage at Playa Larga
The following table gives you an overview of the distance to the highlights of San Juan:
| Sights | Distance from San Juan |
| --- | --- |
| Old San Juan | 1 km |
| Cueva Ventana | 88 km |
| Playa Larga | mit dem Boot |
What options can I choose for my hireal car?
No perfect holiday without the right hireal car! Choose diffehire options for your hireal car on our portal. The following offers are available to you:
Hireal car model: SUV, small car, compact class, minivan, etc.
Equipment: air conditioning, automatic, all-wheel drive
Insurance benefits: fully comprehensive insurance without excess, glass and tyre insurance, passenger accident insurance, etc.
Inclusive services: all kilometres free, fair fuel regulation (full/full)
Other options: additional driver, one-way hireal