Hire a car at Pisa International Airport (PSA)
Are you landing at Pisa International Airport (PSA) and would like to explore Pisa and Tuscany with a hired car? Then why not book your hired car directly at the airport and take advantage of the car hire offers of around twelve car hire companies. Compare the rental cars of all car hire companies at Pisa Airport before you start your trip and book an additional driver or a navigation system.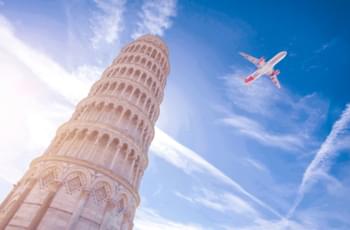 By plane to Pisa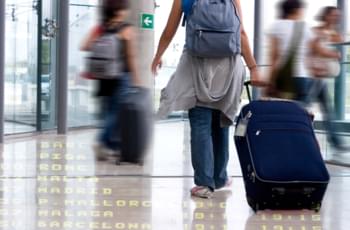 On the way to the car hire at Pisa airport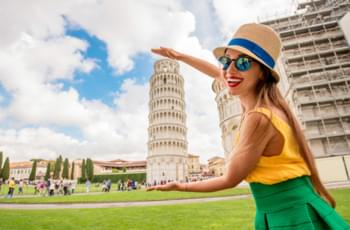 Leaning Tower of Pisa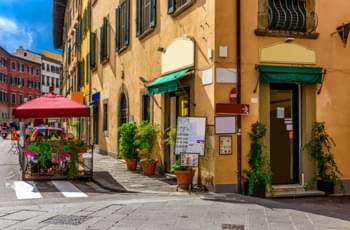 Café in Pisa
Happy start into the autumn in Pisa
Those who travel to Pisa in autumn can look forward to a program of sightseeing, feasting and relaxation. In the autumn months there is not so much going on in Pisa as in the months before. This means that you can visit the most popular sights of Pisa without having to wait in long queues. Moreover, the temperatures in September, October and November are pleasantly warm, but not too hot. If you have a hired car in Pisa in autumn, you can use it to go to the beach after your sightseeing tour. In the first weeks of autumn you can even swim or just relax. Afterwards, you can go for an autumnal dinner in one of the Italian restaurants in Pisa. Feast your way through the menu and enjoy your autumn holiday in Pisa.
Where is the pick-up station for my hired car at Pisa International Airport?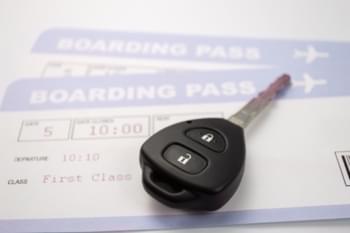 Car hire at the airport
The car hire terminal is located just under 500 meters from the passenger terminal. If you do not want to take the free shuttle bus (the bus stop is located directly in front of the passenger terminal in the arrival area) after your arrival, you can reach the car hire agencies even after a short five-minute walk. Usually the counters of the hired car companies are open as follows:
from October to March from 08.00 to 21.30
from April to September from 07.00 to 22.30
What car rentals are available at Pisa Airport?
In addition to a wide range of worldwide car hire companies, Pisa International Airport also offers a large selection of Italian car hire companies, which we have summarized below:
Auto Europa
Avis
Europcar
Hertz
Liberty Rentals
Firefly
Goldcar
Sixt
Car hire at Pisa Airport (PSA) - from the airport directly to the city center
Thanks to the good transport connections, you can reach the center of Pisa with your hired car in just a few minutes by car via the SS1 motorway, which passes directly by the airport. After a few kilometers you only have to turn onto the SS12 in the direction of the city center, so that you can start your personal sightseeing adventure right after your arrival. From Piazza dei Miracoli, stop at one of the many cafés and let yourself be infected by the Italian joie de vivre, visit the Leaning Tower of Pisa, stroll across Piazza dei Cavalieri, take a look at the Chiesa di Santa Maria della Spina and stop for dinner at one of the cosy restaurants in Borgo Stretto. Would you like to make a diversion into the surroundings? Then we have put together a few distances for you below:
Hired car tour: by hired car through Tuscany
Since a one-day stop in Pisa is usually not enough to see all the sights, it is perhaps worth considering combining the city trip with a round trip in a hired car through Tuscany.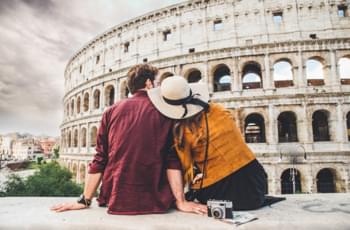 Discovering Rome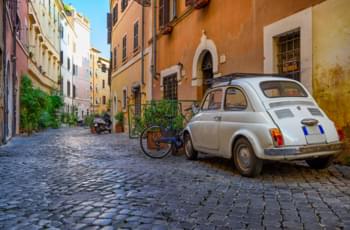 Italy by hired car
How about a day trip to Livorno, a small town with an enchanting old town and a diversion to the Santuario di Montenero or a trip to Piombino, whose archaeological park, the Baratti and Populonia Archeological Park, is an absolute highlight?
If you have a lot of time to spare, you can also take your hired car on a longer trip to Florence and Rome and then drive back up the coast towards Pisa.
Enjoy the drive with your hired car through the extraordinary hilly landscape with its cypresses and vineyards, make a diversion to the sea here and there, and enjoy the hospitality of the Italians.