Hire a car at Orly Airport in Paris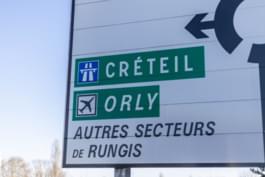 Orly Airport Approach
Do you want to explore the city of love by car? Then compare the best offers online with the price comparison service on Driveboo.com.
Paris is the capital city of France and therefore offers a variety of beautiful sights you have to visit with your hired car.
The Orly airport (ORY) is located in the south, about 13km from the city centre of Paris.
Where can I pick up my hired car?
Depending on how you arrive in Paris, you have the opportunity to pick up the hired car directly at the Orly Airport Orly Airport (ORY) - Île-de-France. With this option, you are able to start your stay with your hired car and can enjoy your trip to Paris flexible and independent.
The other option would be to pick up the hired car at one of the rental stations in the city centre of Paris. On Driveboo.com you can compare offers online and find the best location for you to pick up and return the car.
When you pick up the hired car at the airport, you don't have to carry your baggage around in public transport.
One-way rentals
A one-way rental is an option you can choose while booking your hire car. One-way rental means that you pick up your hired car at one station and return it at another. In other words, this means that the pick-up station, therefore, does not correspond to the drop-off station
On Driveboo.com, you can inform yourself where rental stations are and where to return the hired car. Many car hire companies offer one-way rentals for a one-way fee.
Sights you have to visit with your hired car
Paris offers a variety of beautiful destinations and sights that you can easily visit with your hired car. In the list below, you will find some examples:
Eiffel Tower
Louvre Museum
Cathédrale Notre-Dame de Paris
Arc de Triomphe
Montmartre

Sacré-Cœur

Eiffel Tower

Arc de Triomphe

Sacré-Cœur
With a hired car, you are independent and flexible of public transport and tourist groups. Therefore, you can visit the sights at any time you want and save the money you would have spent on Taxi or train.
What are the traffic regulations in Paris?
Speed violations in France can result in unpleasant fines, so you should be sure to stick to the maximum speed limits listed below:
Hired car Paris: the most beautiful destinations
So, you already know the Parisian Catacombs and have done a night boat trip on the Seine? Then you should take your hired car for a trip outside of the city. A must-visit place is, of course, the Palace of Versailles and—if you are not afraid of a long drive—even a day trip to Mont Saint-Michel, the UNESCO World Heritage Site in the Wadden Sea of Normandy. Those who plan to holiday in Paris with children can also take a trip to Disneyland, where the whole family will get money's worth.
Where can I park my hired car in Paris?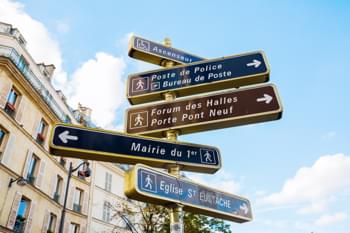 Travelling in a hired car in Paris is not rocket science. A wide range of car parks, where you can park your hired car from just one euro per hour, makes it easy for you to get to most of the beautiful sights in the city. However, if you are in the suburbs and cannot find a parking garage, then it is advisable to pay attention to the lane markings, which tell you whether or not you can park your car there. A general stopping ban applies under bridges and in tunnels or underpasses.
Tolls in and around Paris
Most French motorways are subject to a toll, so it is advisable to plan your trip in advance if you want to go outside of Paris with your hired car. In most cases, the toll is either payable when driving onto the motorway or a ticket must be drawn to pay the fee when leaving.
What road signs should I know before driving a hired car in Paris?
If you are not proficient in French, it is advisable to memorise some traffic signs before starting your journey. The most important traffic signs are listed below:
What are the options for my hired car?
INSURANCE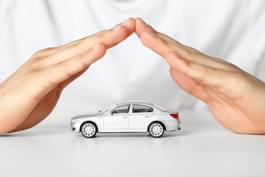 With the right insurance through Paris
Even if you drive very carefully and safely, damage may occur to the hired car. To ensure that you can continue your journey without stress, we recommend that you take out fully comprehensive insurance without excess. In the event of damage, you will have to advance the costs. However, you will be reimbursed by your insurance company after your arrival back home. Simply submit the relevant receipts when you return from Paris.
One-way rental
For those who want to do a road trip to Paris with a hired car, the one-way rental might be the best option. This means that you can pick up your hired car at the location of your choice and return it conveniently to another location.
Additional driver
What does the additional driver option actually mean? If you specify another person as an additional driver when booking, you can take turns driving the hired car. Distances in France can be very long and if you are planning to do a road trip through different cities. For example, you can visit other cities like Brussels and Versailles.
So that the driver can sit back and relax, too, you can simply hand over the steering wheel to the additional driver.