Car hireal New Jersey: Explore the picturesque peninsula on your own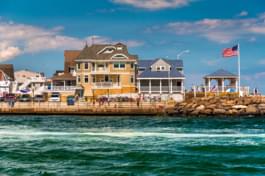 The state of New Jersey, considered one of the most beautiful states in the country, is best explored by hireal car. Whether you want to explore cities, parks or other places of interest, a hireal car is the best way to explore New Jersey. You can find the right vehicle for your trip to New Jersey on Driveboo.com. The portal helps you to compare prices and to book your hireal car directly online. Look forward to an exciting trip to New Jersey!
These are the cities with car hire companies in New Jersey
The table below shows some of the locations where you can find pick-up points for your hireal car:
New Jersey airport: Flexibility from the first moment
You can also pick up a hireal car at the following airports in New Jersey:
Cape May Airport (WWD)
Linden Airport (LDJ)
Monmouth Executive Airport (BLM)
McGuire Air Force Base (WRI)
Princeton Airport (PCT)
Take advantage of the one-way hireal in New Jersey
When on a road trip, you may want to return the hireal car to a location other than the pick-up location. On Driveboo.com you can select the one-way hireal option. This allows you to customize your holiday in New Jersey and drive to all your dream destinations. Simply return your hireal car to a car hire company of your choice at the end of your journey. On our portal you can also select other options, such as insurance benefits and car model.
Which highlights should not be missed when in New Jersey?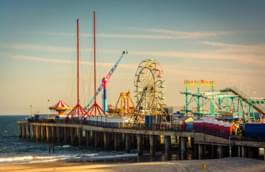 The Pier in Atlantic City
The absolute highlight is Atlantic City, the Las Vegas of the East Coast. There are casinos, bars, discos, beaches and the famous pier. So if you feel like going out to party, plan a night in Atlantic City.
You should not miss these attractions when travelling to New Jersey:
Liberty State Park
Jersey Shore
Morey's Piers
Cape May Lighthouse
MetLife Stadium
Turtle Back Zoo
Great Falls
Liberty Science Center
High Line
Liberty Island