Hire a Car at Maui Airport (OGG)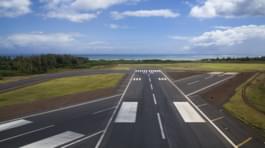 Arrived at Maui Airport (OGG) on the island of the same name, it can go with a rental car, reserved over an on-line reservation with Driveboo, relaxed into the well-deserved holiday. Discover the tropical island with its breathtaking landscapes and picture book beaches, individually on a round trip with your hired car.
Directions to Maui Airport
Use the Honoapiilani Motorway (HI-30) south for about 16 miles. Turn right onto the Kuihelani Motorway (which later becomes Dairy Road) and drive about 6 miles. Cross the Hana Motorway (street name changes to Keolani Place) and drive about 1.5 miles from the crossroads to the airport terminal.
Drive northwest on the South Kihei Road or Piilani Motorway. Turn right onto the Mokulele Motorway (direction Kahului and exit onto Puunene Avenue). Turn right at the crossroads of Dairy Road. Cross Hana Motorway (street name changes to Keolani Place) and drive about 1.5 miles from the crossroads to the terminal.
Information worth knowing about Maui Airport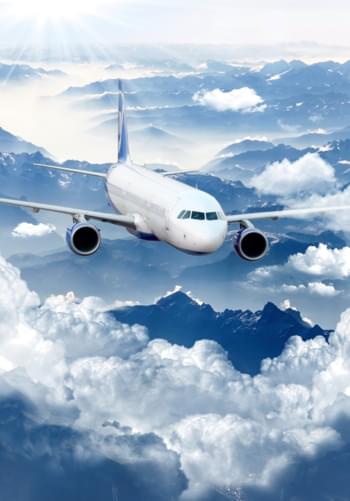 Am Flughafen Kahului ankommen
The Kahului Airport, also called Maui Airport (OGG), is located on the northern edge of the land connection between Haleakala and the western mountain range on the island of Maui. The airport covers an area of 6 square kilometers of land and is located five kilometers east of the city of Kahului.
Kahului is the second largest airport in the state of Hawaii and the newest in terms of facilities.
The airport has two overlapping runways and extensive capacity for domestic, international and connecting air services to the Hawaiian islands. Kahului Airport also provides connections for commuters, air taxi and general aviation, including helicopter service to various locations.
The access to the passenger terminal and the other facilities at the airport is via an excellent road network which connects you to the Haleakala and / or Hana motorways.
The operating company of Kahului Airport is also responsible for the operation and management of Hana (HNM) Airport and Kapalua-West Maui (JHM) Airport on the island of Maui; Molokai and Kalaupapa Airports on the island of Molokai; and Lanai (LNY) Airport on the island of Lanai.
Arrival and departure to Maui Airport
Airport Airport shuttle "Maui Express"
The information and ticket counter is located in the baggage area. No reservations are required. The counter is open from 5:30 am until the last flight of the day.
The bus runs on a route between Kahului Airport and accommodation in Honokawai, Ka' anapali, Kahana, Kahului, Kihei, Lahaina, Makena, Napili and Wailea.
Contact Roberts Hawaii for specific prices to your destination.
Two pieces of baggage and one carry-on baggage are included in the fare, a golf bag counts as one piece of baggage. Each additional piece of baggage costs $ 5. Bicycles (must be packed in a box or folding bike) $ 15. Surfboards (max. 6 feet / 182cm length) $ 15.
The district of Maui operates public transport, which also serves the airport. The Upcountry and Haiku Islander routes stop at Kahului Airport. The Maui-Bus stops at the designated bus stops in front of the terminal. All connections are operated seven days a week, including all public holidays. There are no other possibilities to change trains on the routes. All vehicles are handicapped-accessible and barrier-free.
Bus lines at Maui Airport
Route 40 (Upcountry Islander) - Travels every 90 minutes from 6:00 am to 22:11 pm
Route 35 (Haiku Islander) - Travels every 90 minutes from 5:30 am to 9:40 pm
A medium-sized suitcase, backpack or carry bag are allowed, not larger than normal hand baggage and must be placed under or in front of the seat or on the passenger's lap so that it does not protrude into the aisle or interfere with other passengers.
Airport taxis, also known as taxicab, are located in front of the baggage claim area. Kahului Airport taxi service is operated by Robert's Tours & Transportation, Inc.
Approximate fares by taxi to selected locations:
Kaanapali $ 87
Kahului Stadt $ 13
Kapalua $ 105
Kihei $ 33- $ 55
Taximeter fare is $3.00 per mile.
Shopping and eating at Maui Airport
At Kahului Airport there are a variety of shops and restaurants. The opening hours are based on the flight schedules. Here is a selection of restaurants in the airport:
Main terminal, central building
Kahului Trading Co., Hawaiian specialties and gifts.
Sammy's Beach Bar and Grill, serves a lunch and dinner menu selection of classic American dishes with local ingredients and Hawaiian favourite recipes such as Cabo Wabo Ceviche, Beach Salad, Ahi Tuna Burger and Crispy Pescado Mahi Mahi, the local version of Fish and Chips.
Main Terminal, Gates 17 – 27
Stinger Ray's Tropical Bar & Grill, an oasis of tropical pleasure where travellers can linger for a moment while you relax and enjoy an island inspired cocktail or appetizer. The menu includes tempting tropical shrimps and lemon-grilled chicken with brie cheese. For a refreshing drink, try the Blue Hawaii or a Macadamia Mania.
There are also fast food restaurants, snack bars, kiosks, souvenir shops and two Starbucks coffee houses in the airport building.
Interesting facts about the island of Maui
Maui no ka' oi. "Maui is the best." Many visitors have said this Hawaiian saying about the island, and many of the same people who visited Maui have told others. So it's no wonder that the readers of the magazine "Conde Nast Traveller" have voted Maui the best island in the USA for 22 years in a row.
Maui was formed by the merger of two volcanoes, Haleakala in the east and the Westmaui volcano in the west. Between the two volcanoes is a narrow isthmus on which the main population centres of Wailuku and Kahului lie. This topographic peculiarity gives Maui his nickname,"the valley island".
While Maui has a basic public transport system, many places are not accessible by bus, so most visitors hire a car. Fortunately, hiring a car in Hawaii is relatively cheap. The hotel-resorts around Kihei, Wailea and Lahaina also have a bus service that connects the villages with nearby shopping facilities and attractions.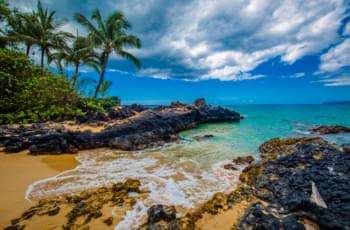 Bucht auf Maui
Straße nach Hana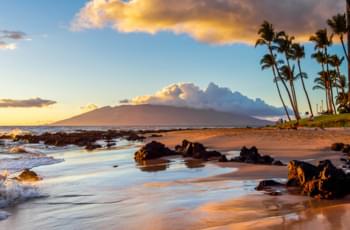 Sonnenuntergang auf Maui
Visit Hana with your Hired Car on a unique street
Take a great trip on Motorway 36 (Hana Hwy) and see waterfalls, lush greenery and beaches along the road. Some of them are not visible from the road, but most of them are only a short walk away. A private arboretum and botanical garden (subject to a fee), also called the "Garden of Eden", has peacocks, bamboo gardens and a view of the Puohokamoa Falls. The outward and return trip will be difficult on one day, so you should stay in Hana to divide it into two days. The Wainapanapa State Park, 3 km east of Hana, offers holiday homes for hire. There are other nice places to spend the night in and around Hana.
The road to Hana is something you must have experienced at least once in your life. The road itself is one or two lanes and is practically asphalted all the way, although in some places the asphalt can be paved and therefore requires speeds of 10 miles per hour or less to prevent damage to a normal car. Off-road vehicles and jeeps are the best choice and master this road without any problems. The area is very beautiful, with steep cliffs and views over the sea and views to the nearby Big Island on the horizon.