Hireal car Martinique
Nature lovers, divers and adventurers: Martinique has something for everyone. The rough beauty of the Caribbean island is best discovered flexibly with a hireal car.
Martinique - Dream holidays in the Caribbean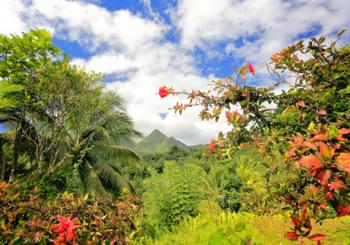 Montagne Pelée, Martinique
Martinique is a French overseas department of the Lesser Antilles. With an area of 1,128 square kilometres, the heavenly island stretches from Puerto Rico to the coast of South America. The impressive volcano Montagne Pelée forms the heart of the island. The wild nature, beautiful beaches and numerous cultural sights make Martinique a popular holiday destination in the Caribbean. If you want to explore the island independently and in detail, a hireal car is recommended. Don't wast your precious holidays by waiting for busses.
Martinique with a hireal car
The roads on Martinique are in very good condition, only smaller side roads are often very curvy and steep. By hireal car you can reach every place on the island in a maximum of one hour and along the way you can stop and rest at the charming viewpoints again and again.
In order to help you with the preparation for your trip on Martinique, we have put together a few tips for you:
Keep a cool head! The average temperature in Martinique is around 30 degrees Celcius. To ensure that you have a good trip even in tropical temperatures, we recommend a hireal car with air conditioning.
Don't rush things! After a long flight you should treat yourself to a few quiet days before you take long excursions with the hireal car. This way you can get used to the time difference and the climate.
Car hireal take over: You will find numerous car hire companies directly in the terminal at the airport. It is best to clarify in advance where you can pick up your car in order to avoid long waiting times for the shuttle service.
Roadtrip goals on Martinique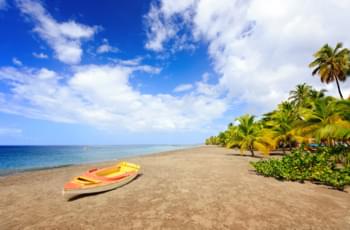 Grand Anse, Martinique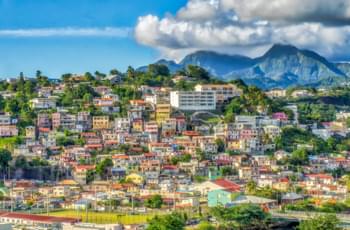 Fort de France, Martinique
You can reach Fort-de-France, the capital of the island, by hireal car from the airport in about 10 minutes. The centre of Martinique captivates with its large harbour and historical fortifications. If you have arrived by shuttle, you can also hire a car for your holiday here at many locations. Visit the colourful markets, the impressive flower park and the numerous colonial houses.
Today, the almost 1400-metre-high volcano Montagne Péele is inactive and a popular tourist destination. From Grand Anse you take the N3 northbound and reach the volcano in about 50 minutes. With a mountain guide you can even hike up the volcano.
In the beautiful south-east of Martinique, about 40 minutes from Fort-de-France, lies the picturesque small town of Le Marin. If you hire a car in Martinique, it is worthwhile to go there, otherwise it takes quite a long time to get there by public transport. Le Marin has beautiful bays, a large marina and many culinary adventures.
Extra-Tip: Unusual, but always worth a visit: The Banana Museum in Martinique. From Fort-de-France it is about 50 minutes drive with your hireal car towards northeast. You will find the fascinating museum around the yellow fruit.
Safe travels: By hireal car over Martinique
Most of the tourist destinations and beaches are in the south of Martinique. But also the northern part of the island has a lot to offer and should not be left out. With a hireal car you can travel flexibly on Martinique and can also visit the more remote areas comfortably. The traffic regulations are quite similar to those in Europe, but they should be strictly observed when you are on the road in a hireal car.
Traffic rules on Martinique
We also recommend that you take out a fully comprehensive insurance policy without any deductible for your hireal car. Liability insurance should cover at least one million euros. So you are on the safe side in an emergency and can start your dream holiday without worries.
Tip: In the European winter, Martinique is particularly popular with tourists. You should book a hireal car early enough to avoid bottlenecks.