By hired car across the island of La Palma
La Palma belongs to the Canary Islands, is located in the Atlantic Ocean and is definitely worth a trip with your hired car. An absolute must, not only for nature lovers, is the Caldera de Taburiente National Park. The countless hiking trails through the largest erosion crater are a true hiking paradise. Compare quickly and easily the offers of car hire companies on La Palma and find the cheapest hired car for your holiday. With a hired car on La Palma you can enjoy idyllic nature similar to the Madeira flower island.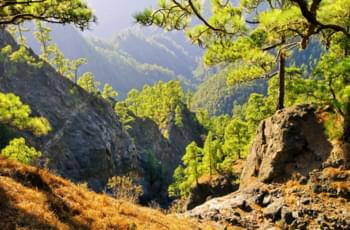 Caldera de Taburiente National Park, La Palma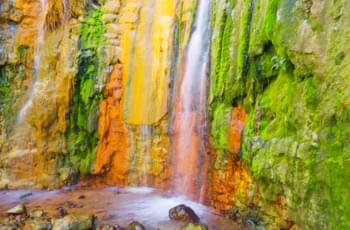 Waterfall in Caldera de Taburiente National Park
Winter holiday on La Palma?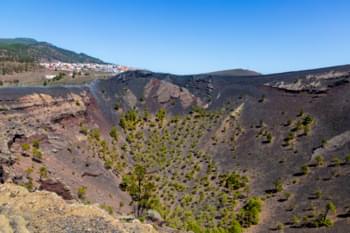 La Palma is one of the most popular holiday destinations during the winter months. When on the European mainland colder temperatures prevail, it is still pleasantly mild on La Palma and the rest of the Canary Islands. Thanks to the Canary current, the weather is stable and the temperatures are very mild. Thus, the main travel season for La Palma is also from December to February. However, if you are travelling in the higher mountains, you should dress warmly, as the temperatures in the valley are often deceptive and somewhat cooler at altitude. With a hired car you can easily reach numerous starting points for excursions into nature. In winter, excursions to the volcanoes Teneguía and San Antonio are a good option.
Arrival at La Palma Airport
Get your hired car right after your arrival at La Palma Airport. In this way you will be flexible from the very first minute. From the airport you have only a very short distance to Los Cancajos. La Palma has a ferry port in the capital Santa Cruz de la Palma. From there daily ships run to Los Cristianos on south Tenerife with a journey time of approx. 2 hours. Once a week a ship goes to the Spanish mainland to Cadiz with a stopover on Lanzarote, Gran Canaria and Tenerife.
Road traffic on La Palma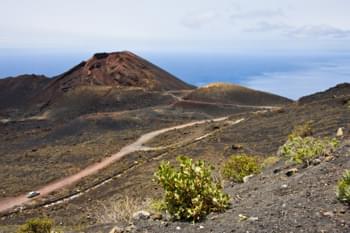 Volcanic landscape on La Palma
In order to getting to the really beautiful places and beaches of the island, it is advisable to take a hired car. The road network on La Palma is in a good to very good condition and covers about 1200 kilometres. All main roads are asphalted and have been extended and renewed in the last 10 years. A curiosity is the road from Los Llanos to Santa Cruz, where you cross a 2,8 km long tunnel. If you travel from one side of the mountain to the other, it often happens that one side is completely covered in clouds and fog whereas on the other side there is bright sunshine.
Excursions and activities by hired car in La Palma
The Old Town of the Island Capital Santa Cruz de La Palma
Caldera de Taburiente National Park
The mountain Roque de los Muchachos
The laurel forest Los Tiles
The prehistoric site of Cueva de Belmaco
The volcano San Antonio
ACTIVITIES
There are a lot of possibilities on La Palma to make your holiday even more beautiful. La Palma is traditionally an island for hikers. There are three categories for hiking routes: big route (red mark), small route (yellow mark) and local route (green mark). You can explore the island on foot with a guide, take a mountain bike tour or get to know La Palma by motorbike. You can also embark a boat trip to the old pirate bays.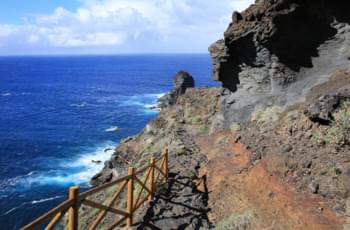 Hiking trail along the coast of La Palma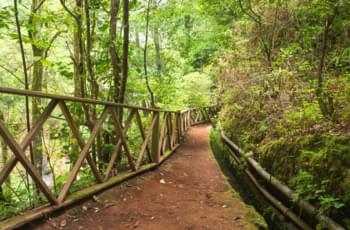 Hiking trail in Los Tilos on La Plama
Get some sun on La Palma
Those who only want to relax on the beach, get some sun and swim in the refreshing water of the Atlantic have more than enough opportunities to do so. The beaches of Tazacorte, Puerto Naos and Los Cancajos meet a high quality standard. Since La Palma is quite warm all year round, the evenings are relatively mild. Therefore, it is often a good idea to spend the end of the day with a glass of wine or a cool beer at the so-called kiosks.