Hire a car at the Kuala Lumpur International Airport (KUL)
Also in the Summer 2020 Malaysias capital, Kuala Lumpur is a dream destination. If you should start your south-east Asia adventure in Malaysia, you are most likely to land at the Kuala Lumpur International Airport (KUL). Upon arrival during the months June, July, August and September, you are expected to be welcomed by up to 33 degrees. In relation to other big cities in Asia like Bangkok for example, you can expect a much more laid-back city. The traffic in Malaysia in general is much better organized and perfect when it comes to hiring a car among the countries in south-east Asia.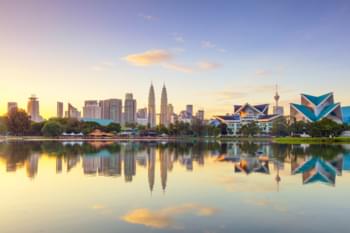 Skyline of Kuala Lumpur
A hired car easily compared and booked at home through Driveboo is the perfect way to get most of your journey and explore the famous sights like the iconic Petronas Towers, KL Tower, Batu Caves and many more. With the right choice of hired car, you have also the option to explore easily other parts of Malaysia, like Penang, the Cameron Highlands, Melaka. See directly available rental cars of different vehicle classes and vehicle types for your dates from a varied selection of our carefully selected premium partners. At Driveboo you can decide what is important for you when it comes to choosing for the right fit for your journey. In case you need some help with your search, we created service packages to give you suggestions what could be important for you, when it comes to personalize your hired car with the best conditions.
Arriving at the Kuala Lumpur International Airport (KUL)
The KL International Airport represents the biggest airport of Malaysia and is modern and well organized. In the following, we collected you some information to prepare you better for your upcoming journey. The Airport is a major key point for other destinations especially in Asia. You can reach inexpensive other destinations in domestic destinations like Langkawi, Penang, Melaka and international destinations like in the countries Cambodia, Indonesia, Thailand and many more.
Visa regulations in Malaysia
Do you need a visa for Malaysia? Many countries don't need a visa for Malaysia and can stay 90 days inside the country. Please check your specific visa regulation for your specific citizenship and don't forget your passport, which must be at least 6 months valid.
From the airport to the city center
How far is the airport away from Kuala Lumpur? The Kuala Lumpur airport is 44 km away from Kuala Lumpur. You will reach the airport in around an hour by car.
How to get from the Kuala Lumpur International Airport to Kuala Lumpur?
Take a hired car
Alternative you can use the applications Grab or Mula, which are riding hail providers
If you want to use the public transportation, take the KLIA Express, which costs 50 Ringgit (approximately 10.50€)
Use a taxi on the airport (probably the most expensive option)
Discover Kuala Lumpur's sights by hired car
Kuala Lumpur and Malaysia in general are very diverse. You have influences of Chinese and Indian people, which are most likely to be seen in China Town and little India.
What are the best sights in Kuala Lumpur?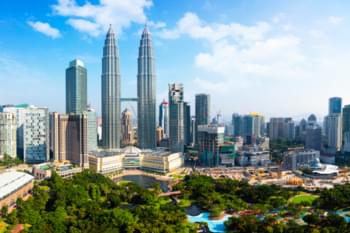 Petronas Towers and the KLCC Park
The most iconic sight of Kuala Lumpur and probably total Malaysia, are the iconic Petronas Towers, which are throughout the whole year worth a visit! How high are the Petronas Towers? The Petronas Towers are with 452 m, the 7th highest building in whole Asia. Get on top of the Petronas Towers to get an amazing view over Malaysias capital and don't miss the famous light show, which is held every day at 8 PM and 9 PM in front of the Petronas Towers in the KLCC Park.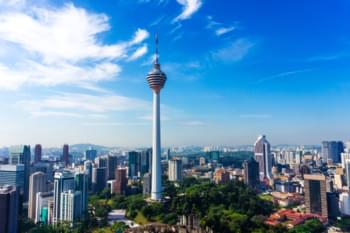 KL Tower
Beside the Petronas Tower, especially the Menara Kuala Lumpur (KL Tower) is standing out of Kuala Lumpur's skyline. The iconic building, will offer you an equally magnificent view over Kuala Lumpur and even towards the Petronas Towers. The advantages of deciding to visit the KL Tower from top, instead of the Petronas Towers, are that it is less crowded and cheaper to go up.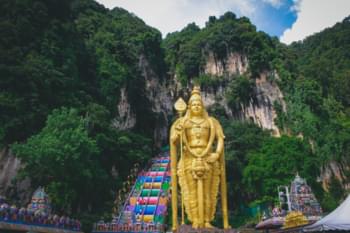 Batu Caves: 15 km from KL
The Batu Caves are 15 km away from the center of Kuala Lumpur and easy reachable by your hired car. The iconic Hindu temple is a must-see in Malaysia and the colorful stairs are perfect for taking photos. Please be aware of the many monkeys in and around the temple, they can become a bit aggressive and are attracted to shiny objects like cameras and sun glasses. Keep your belongings close to you and don't keep them to close to the monkeys.
What to Discover next in Malaysia
Beside the capital, Malaysia offers so much more, which most of is easy to explore with your hired car. We collected you our suggestion for possible destinations, which are all possible to reach by car:
Penang is an island with a stunning capital, which is called George Town. The island is connected by 2 bridges and a ferry, which is accessible with your car.