Explore Kos with a hired car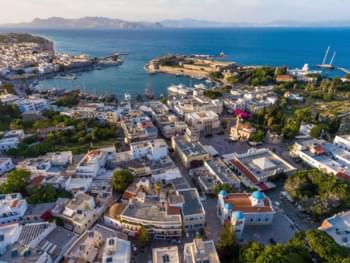 Kos from above
Explore Kos Island on your own - comfortable and easy with a hired car from Kos car hire companies. With Driveboo you have the possibility to compare the offers of the car hire companies on Kos and book your hired car for Kos easily and quickly online. This way you can easily experience the highest mountain on the island and the most beautiful bay at sunset. The sun-drenched Aegean island of Kos with its gorgeous bays and whitewashed houses attracts quite a few visitors every year. Travelers interested in art and culture get their money's worth here, as well as nature lovers or sun worshippers. Make your holiday easier and book your hired car in Kos in advance with our price comparison, because with a hired car you are completely independent and can explore the island on your own.
Summer excursions by hired car in the surroundings of Kos City
Kos, the cultural jewel, which captivates with an exciting mixture of culture and nature, offers itself for exploration tours with the rented car in summer. Go in search of traces on the birth island of Hippocrates with a hired car, explore historical sites, picturesque villages and maybe even an abandoned ghost village. In summer you can also discover different beaches and try out which one on Kos Island you like best. Make this summer on Kos an unforgettable adventure.
What insurance do I need for my hired car in Kos?
Regardless of your destination, you should always choose "fully comprehensive insurance without excess" for your hired car. In addition, it is worth taking a look at the liability coverage amount, which should be at least one million euros, but better a sum of 7.5 million EUR.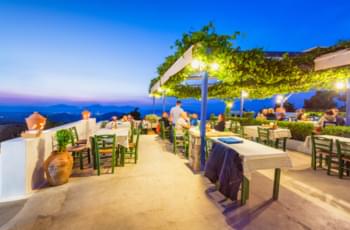 Dining with a perfect view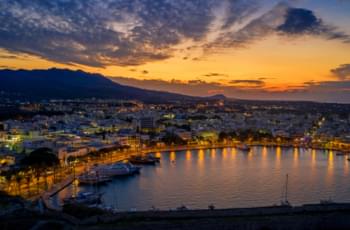 Port of Kos at night
Amount of the deposit at the car hire in Kos
Generally, when hiring a car in Kos, a deposit is also required by each car hire company, but the amount depends primarily on the type of vehicle, not the currency. Provided that you return your hired car without any damage, this will be debited from your credit card beforehand and, of course, credited again.
Include additional driver for the hired car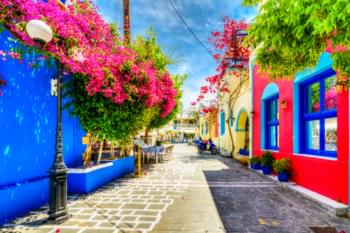 Exploring Kos
Constantly sitting alone behind the wheel can be very exhausting, especially abroad. Should you wish to include an additional driver for the hired car with the car hire company, then a small additional fee is usually required, which in most cases is billed per day. However, since offers are also available that already include an additional driver, an online comparison is worthwhile in advance. By specifying an additional driver, all concluded insurances are automatically transferred for a small extra charge per day, but you can take turns driving without any problems.
Hiring a car in Kos
Numerous car hire agencies await you both in the city and at the airport of Kos, so you are completely independent during your trip. Should you wish to pick up your hired car upon arrival at Kos Airport (KGS), there are numerous cheap car rentals from various providers available at the airport. Try it out immediately and get a comprehensive overview of all providers and their vehicles!
Where can I park for free with my hired car in Kos City?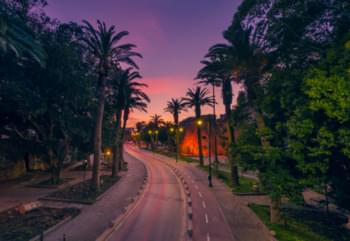 In general, you can park for free in Kos in all zones marked in white. Yellow marked roadsides, on the other hand, mean that parking is prohibited here. Blue marked roadsides are metered parking areas. In addition, look for no-stopping signs with a single line indicating that you are not allowed to park there on odd-numbered months. Two dashes, on the other hand, stand for even months. You will be charged 80 euros for illegal parking on Kos.
More information about driving on Kos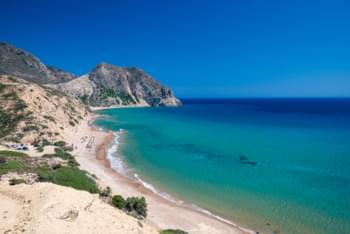 Kavo Paradiso
In Greece seat belts are compulsory! Furthermore, it is mandatory to wear a high-visibility vest in case of an accident, which is why we advise you to check the appropriate equipment of the vehicle (warning triangle, first-aid kit, fire extinguisher) before departure. Talking on the phone in the car is only allowed with a wireless hands-free device and the blood alcohol limit is 0.5. Speed limits are as follows:
In town: 50 km/h
Out of town: 90 km/h
Freeway: 120 km/h
Refuelling: All about fuel
Kos is one of the more manageable islands in the Aegean, but you don't have to worry about running out of fuel because there are small gas stations everywhere. However, most of them are open only between 7 a.m. and 7 p.m.
Emergency phone numbers in Kos
When is a trip to Kos worthwhile?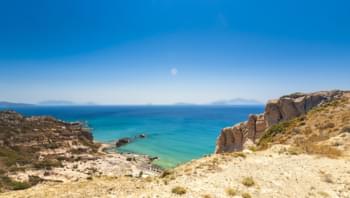 Beautiful Kos
The Mediterranean climate of the island off the Turkish coast, with its long summers and mild winters, has something to offer almost every season. Nature-loving travelers particularly appreciate the splendor of the flowers in spring, while sun-seeking travelers get their money's worth in the summer months. On the other hand, those who don't like it quite so hot and would like to soak up a few warming rays of sun before winter will feel very much at home on Kos in autumn.
What does Kos have to offer?
Kos is about thirty times smaller than the island of Crete, but it is still the third largest of all the Dodecanese islands in Greece. It is located only about 3.5 km from Bodrum in Turkey, making it an ideal place to spend a varied holiday. From there, you can even see as far as Asia as you look across the strait. Kos is narrow, but very long. Therefore, all the highlights and sights are located near the coast. The beaches of the island are also gorgeous. In total, the beach on Kos is about 20 km long. As on all other Greek islands, temperatures on Kos are around 40°C. So you can spend wonderful days at the beach or pool. Between May and October it hardly rains on the island. Only a light wind brings cooling. Moreover, Kos scores with a lot of nature, so you can really spend a wonderful holiday here.