Hire a car for Klagenfurt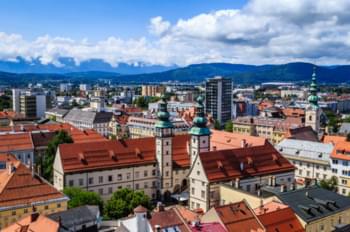 Klagenfurt am Wörthersee, the enchanting renaissance city is worth more than just a short diversion by hired car. Embark on a journey of discovery between picturesque nature and magnificent buildings, stroll a little over the market and relax in one of the city's wonderful cafés. With Driveboo you have the possibility to compare the prices of all car hire companies in Klagenfurt and book your hired car online in no time. This way you can book your hired car directly from Klagenfurt to the most beautiful destinations in Austria and Slovenia.
Explore Klagenfurt and the surrounding area in spring or autumn by hired car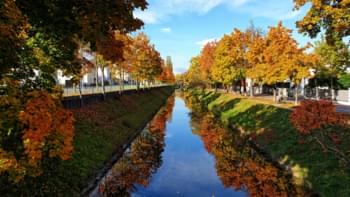 It is a very good idea to explore the city center of Klagenfurt with a hired car, since the many magnificent buildings and monuments are spread all over the city. If you like, you can of course join a guided tour on the weekends, but you will also be able to find your way around on your own thanks to various city guides. An absolute must do, is a visit to the viewing platform, from which you have the possibility to overlook the city from a height of 50 meters, or a visit to the many markets, such as the flea market at the "Klagenfurt Old Town Magic", one of the largest events in Klagenfurt, which is held once a year and turns the whole city into a stage for magicians, jugglers and people on stilts. In spring and autumn you will definitely not be bored in Klagenfurt and with a hired car you can go everywhere on your own.
Car hire at Klagenfurt airport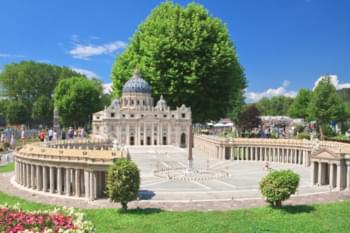 If you have arrived by public transport and have not found a suitable hired car in the city center, you should definitely take a look at the car hire offer of the Klagenfurt Airport (KLU) located about 5 km from the city center. Sleek small cars, comfortable middle class cars or off-road SUVs should not be a problem here, in order to set off for one of the many baroque buildings built more than 500 years ago in beautiful Klagenfurt.
Advantages of hiring at Klagenfurt Airport:
longer opening hours
multilingual staff
good transport connection
low prices
good parking possibility

Full comprehensive insurance with or without deductible
A cheap hired car offer does not necessarily mean that you are well insured. Therefore, it is essential that the hired car you hire has a fully comprehensive insurance without deductible and the highest possible coverage of the liability insurance. It is up to you whether you would like to take out further insurance policies. We have compiled further information on the topic of insurance on our website.
To Slovenia or Italy by hired car ?
Due to its proximity to the border, it is worthwhile to make a diversion to Slovenia or even Italy by hired car. However, before booking, please check in the rental conditions whether a trip abroad is permitted or whether extra costs will be incurred. You are also welcome to contact our service team, which will help you with your booking. If you are planning a trip abroad, it is best to enter this in the comment field when you make your booking and our service team will clarify this with the local car hire company.
However, since the traffic regulations in Slovenia differ considerably from those in other European countries, we strongly recommend that you familiarize yourself with the national traffic regulations before driving. For your journey with a car up to 3,5 t, you will need a toll sticker with the designation 2A in Slovenia. A 7-day vignette cat. 2A for about 15 € will probably be better than a yearly vignette category 2A for 110 €. The corresponding vignettes can be purchased either at your automobile club or in one of the "Kompas Shops" in the border area. However, if you want to pass through the Karawanken tunnel on your way to Slovenia, an additional fee will be charged again.
Parking made easy with the navigation system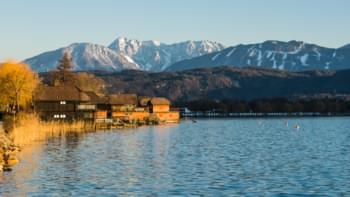 If you don't want to waste your valuable travel time looking for a parking space, you should think about hiring a navigation system, as it costs only a few euros per day. This will not only make your journey in and around Klagenfurt easier, but also in Slovenia. Especially in Slovenia, only use your hired car to drive to guarded parking garages, as car thefts are also very common here. If your hired car has been stolen, please contact your car hire company directly.
Additional drivers - you need to know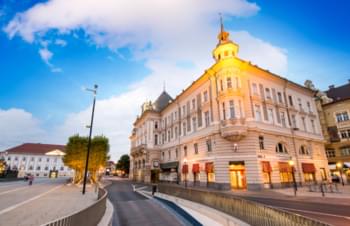 Sitting behind the wheel permanently alone is exhausting! If you would like to put your " passengers behind the wheel", you should decide from the outset for a hired car offer, in which an additional driver is already included. If this is not the case, however, most car hire companies will allow you to book a second driver, whereby you should make sure that he or she does not exceed the minimum or maximum age required by most car hire companies. Letting your passengers drive without a permit can be expensive, especially in the event of a claim, because you have acted with gross negligence at that moment and the insurance company will most likely not pay.