Book a hired car in Kamari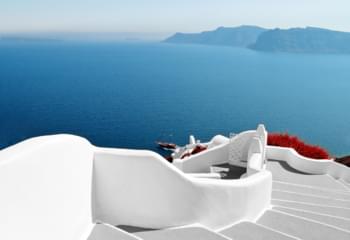 Santorini View
Kamari is located on the east coast of the popular island of Santorini and can be excellently explored with a hired car. Especially the great beach promenade attracts many visitors every year who are looking for relaxation, water sports activities but also entertainment. Kamari is located in the immediate vicinity of the Airport Santorini. By hired car you can reach the resort in just 10 minutes drive. Book your suitable vehicle today via Driveboo directly from home and enjoy an unforgettable holiday on the Greek island of Santorini. Thanks to our many years of experience in price comparison, you are guaranteed to find a cheap and also suitable offer for your trip.
Is it possible to spend a holiday on Santorini in winter?
Yes. The Greek island is considered the place that gets the most hours of sunshine in Greece, so also worthwile a trip in winter. In winter, you can expect temperatures of about 15 degrees here. However, you will benefit from nice weather and sunny days. In winter, there are also fewer tourists on the island, so you can enjoy the sights for yourself in peace.
What can you experience in the cooler months on Santorini?
Thirasia Island: on the other side of the caldera lies Thirasia, which you can already see from Santorini. Since tourism is not booming there as it is on Santorini, you can easily make a day trip there to see how the islands looked like in the past. However, in winter there is only one ferry that leaves early in the morning from Oia to Thirasia, so you should be well informed about departure times.
Discover history: especially in winter you can enjoy the island in peace. Visit the Ieros Naos Agiou Ioannou tou Baptistou, the Catholic Cathedral and learn more about the history of the island.
Archaeological site: to better understand the time more than 500 years ago, it is worth visiting the archaeological site in Akrotiri. There you can also visit the Faros lighthouse at sunset and enjoy the view undisturbed.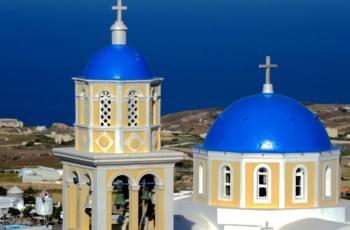 Cathedral on Santorini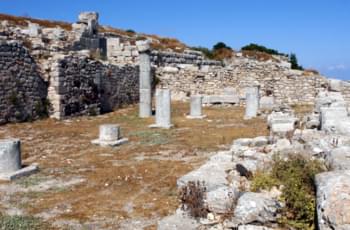 Excavation site on Santorini
Where else can you pick up your hired car on Santorini?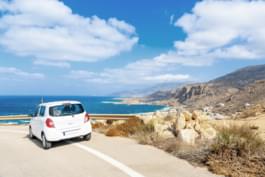 On Santorini there are several places where you can pick up a hired car. We generally recommend booking in advance via our homepage. This way you can be sure that your hired car will be available for you and you can also benefit from lower prices. Simply use our search mask when making your booking and enter the desired travel dates and the desired pick-up location. You will then only be shown offers that match the dates you have entered.
In Santorini you have the possibility to book a hired car and pick it up at the following locations:
Santorini Airport (distance from Kamari: 5.5km and 10 minutes drive).
Firá (distance from Kamari: 7,6km and 15 minutes drive)
Megalochori (distance from Kamari: 7,2km and 12 minutes drive)
Santorini round trip: start and end in Kamari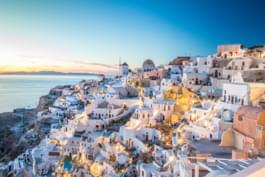 Santorini Greece
What could be better than exploring one of the most amazing Greek islands on your own by hired car? Enjoy absolute freedom and plan your own personal itinerary. Get to know sights and attractions far from the tourist masses. We have put together an itinerary that you can follow more or less strictly to get to know the most beautiful points of the island. However, you will gain great impressions on your trip itself and very likely get to know places that are not listed in any travel guide. Get ready for an unforgettable adventure!
Our tips for a round trip from/to Kamari: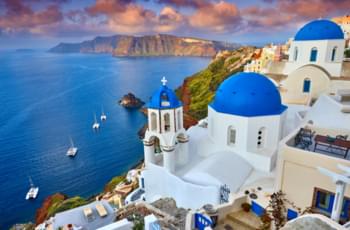 Firá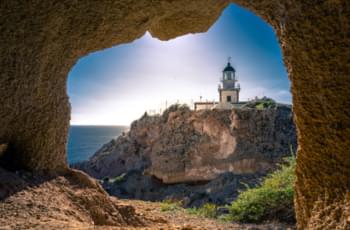 Lighthouse in Akrotiri
Which insurance should you take out for your hired car?
To find the right insurance is not so easy with the large offer nowadays. However, with Driveboo.com you have the possibility to add the suitable insurance already when booking your hired car. We always recommend a fully comprehensive insurance without excess. This way, you are optimally covered in the event of damage and do not have to expect additional costs. In addition, you can consider adding glass and tire insurance or even underbody insurance. To do so, simply use our filters within our booking mask and add all the services you want.
Additional drivers - ideal for a relaxed holiday on the Greek islands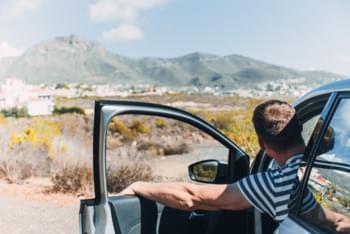 Hired car additional driver
Are you travelling with your family, with your partner or even with several friends? Are you travelling for several days on Santorini or even on other Greek islands? Then the option of the additional driver could be interesting for you. You have the possibility to register another person as a driver for a small extra charge. This way you can take turns driving and save yourself fatigue. You will notice that you can enjoy your trip much better. In any case, always inform the car hire company about additional people driving so that they can register the drivers properly. This is the only way to ensure insurance coverage in case of damage.