Hire a Car at Houston Airport (IAH)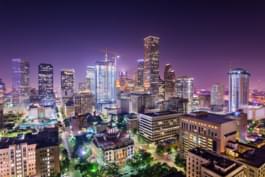 Skyline Houston at night
You land at Houston Airport (IAH) and would like to explore Houston by hired car or even drive to New Orleans? Then it is worth considering hiring a car directly at Houston Airport from one of the more than ten car hire companies. Driveboo allows you to compare the prices and conditions of all car hire companies at Houston Airport and book your car hire online in no time at all, so that you can be mobile right after your arrival.
Where are the car rentals at Houston Airport?
Since Houston Airport, also known as George Bush Intercontinental Airport, with its five terminals and 40 million passengers per year, is quite large, the car hire companies are located in a separate building outside the terminals, but you can easily reach them by shuttle bus in just 5 minutes. Follow the signs for Ground Transportation and keep an eye out for the exits marked Hired Car. The individual stops are listed below:
Terminal A: exit A-115 (south)
Terminal B: exit B-103 (south)
Terminal C: exit C-105 oder C-106 (south)
Terminal E: exit E-101 (west)
Drink a winter hot chocolate in one of Houston's sweet cafes
Chat with your friends in front of a warming fireplace
Explore the city on foot, but don't forget warm clothes
Make the winter rinks unsafe and go skating
Taste the Houston oysters, famous for their wintertime
Visit one of the Christmas markets
Try a delicious warming hot pot
Cheer on the runners of the Chevron Houston Marathon
Rejoice over the thousand winterly lights
Enjoy a great winter trip with your loved ones
Experience spring up close in Houston
Book your spring holiday in Houston today and look forward to the blossoming life. Houston awaits you in spring with a friendly and vibrant cityscape. Stroll through city centre Houston, which is just waking up from its winter slumber. In the spring months you can do all kinds of things in Houston and the surrounding area. If you want to go further afield, hire a hired car. That way you are always flexible on the road. Take walks in nature, visit museums and enjoy the exuberant springtime atmosphere in Houston.
Which car rentals are located at Houston Airport?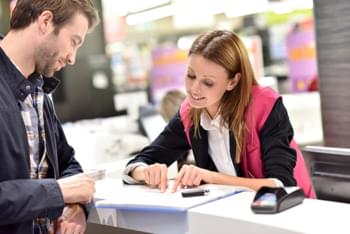 Car hire at the airport
As at all major airports, Houston Airport offers a wide range of car hire companies operating worldwide. Below we have put together a list of car hire companies where you can hire a car at Houston Airport:
Advantage Hire A Car
Alamo
Avis
Budget
Dollar
Enterprise
Hertz
National
Payless Car Hire
Thrifty Car Hire
Zipcar
Is there a petrol station at Houston Airport?
No, there is no petrol station on the airport grounds. Nevertheless, you can easily refuel your hired car on the side of Hardy Toll Rd. in the Greens Rd. at one of the four petrol stations, if you have chosen a hired car with a fair fuel option, which you have to return full tanked.
Hire a Car at Houston Airport (IAH) - these are the places to visit
With over 70 attractions and more than 60 museums and countless parks, you can easily spend more than a week in Houston and you probably still won't have seen everything. However, if you have chosen Houston as your only destination for a tour of the United States, you should take a look at the Space Center and visit the Art Museum. But also the 20 m high, artificial waterfall, an oasis of calm in the sometimes hectic Houston, should definitely be on your to-do list. If you would like to make some trips from Houston to the nearest major cities, the following table shows a few kilometres away.
Car hire destinations from Houston Airport (IAH)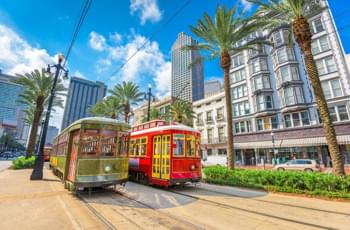 Tram in New Orleans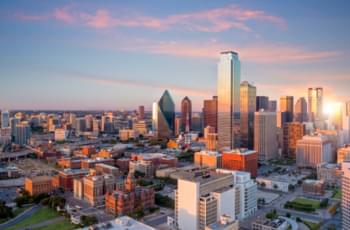 Skyline Dallas
How to get city centre from Houston Airport
If you prefer to relax after your long-haul flight and want to take a taxi to the city centre, then you should go directly to the following exits, where you can reach the corresponding taxi stands directly after your arrival:
Terminal A: exit A-115 (south)
Terminal B: exit B-103 (south)
Terminal C: exit C-105 (south)
Terminal E: exit E-102 (west)
In addition, you can also take the Houston Metropolitan Transit Authority (METRO) #102 bus to the city centre in a 1.5 hour drive for as little as $1.25 per hour. Tickets are available from the driver, who doesn't give you any change, so you should have the right change ready. The departure stop is located at the southern end of Terminal C.
Car hire at Houston Airport: road trip to New Orleans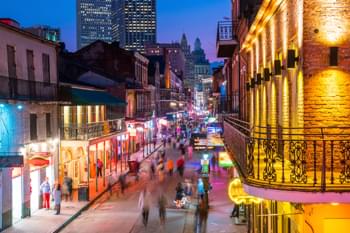 Bourbon Street in New Orleans
Have you already made a trip along Trinity Bay towards Smith Point with your hired car? If not, then it's time to take your hired car to the most beautiful destinations around Houston. Take a trip to Galveston, take a look at Sabine Lake from Port Arthur or head for Lafayette and New Orleans. But also a trip to Mexico has its charms, and you should definitely stop at Lake Texana State Park or Lighthouse Beach before continuing your journey to Corpus Christi, which invites you to long walks with its fantastic beach sections.