Explore Horta in the Azores with a hired car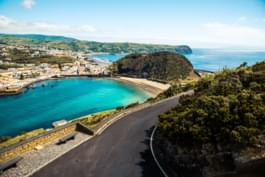 Exploring the Azores by hired car
If you are travelling to Horta in the Azores, be sure to book a hired car in advance. Because there is so much to discover in Horta and also the rest of the island. On our comparison portal Driveboo.com you will find all car hire companies on the island and thus you can book the best offer already from home. Horta is the main town of Faial Island and is located in the southeast of the island. Explore the picturesque bays or take your hired car to the breathtaking nature.
Autumn and winter in Horta in the Azores
During the fall and winter months, it can get chilly in Horta on Faial. However, that shouldn't stop you from exploring the island's beautiful landscape in a hired car. Pack your walking shoes and start the day full of verve. In autumn and also in winter you will benefit from cheaper prices for accommodations and rental cars in Horta. Moreover, in the colder season not so many tourists are attracted to the Azores, so you have all the beautiful places almost to yourself.
Car hire Horta: What do I have to consider?
If you pick up a hired car directly after your arrival at Horta Airport (HOR), you will be mobile from the first moment on Faial. There are a few things to keep in mind when booking as well as when picking up the car.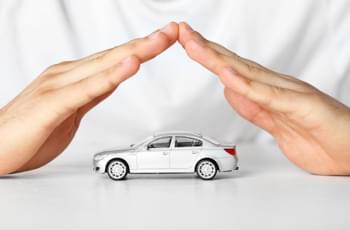 Choose the right insurance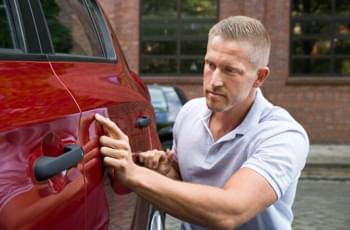 Checking the hired car for damages
Insurance
When it comes to insurance for the hired car, it is easy to lose track. To save you from that, you will find all relevant insurance options on Driveboo.com. We always recommend that you take out fully comprehensive insurance without excess. This way you will travel stress-free even in case of damage. You can also opt for the following additional insurance options:
Glass and tire insurance
Underbody insurance
Roof insurance
Passenger accident insurance
Deposit
When you pick up the hired car at the car hire agency in Horta, you have to pay a deposit. The deposit amount can be up to 2,000 Euros depending on the car hire company and is usually paid by credit card. Of course, you will get the money back when you return the hired car.
Before you start your well-deserved holiday, you should inspect the hired car for scratches and other damage. If you find anything, please inform your car hire company so that you will not be held liable when you return the car.
The right hired car for Horta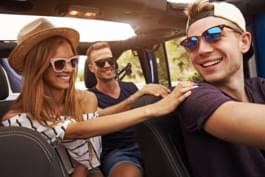 The right car for everyone
Depending on your travel plans to Horta, different car models are suitable for you. On Driveboo.com you will find everything from convertibles and compact cars to minivans and luxury cars. If you have decided on your desired model, you can also select additional options, such as child seat, navigation device, air conditioning or all-wheel drive. In this way, the hired car in Horta fits exactly to your plans and you are guaranteed to have a lot of fun with it.
With the hired car to the highlights in and around Horta
Old Town
The old town of Horta invites you to stroll and linger. Stroll through the alleys and admire the mansions and the waterfront. If you are in Horta you should not miss the church São Salvador. Park the hired car and enter. The church is one of the oldest and simplest churches on the island and dates back to the early 16th century. It was raided and burned by English pirates at the end of Elizabeth's reign. It was rebuilt in 1607.
Monte da Espalamaca
Monte da Espalamaca rises to the north of Horta and, together with Monte da Guia, forms the Bay of Horta. If you climb all the way up to Monte da Espalamaca, you will find a viewpoint called Miradouro Nossa Senhora da Conceicão. From there you can enjoy a magnificent view of Horta.
OTHER PLACES OF INTEREST
Capelinhos

Caldeira do Faial

Porto Comprido

Morro de Castelo Branco

Varadouro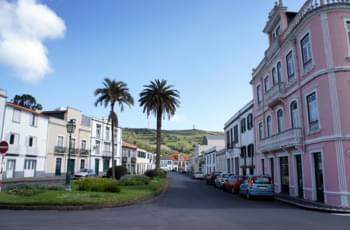 Old town of Horta, Azores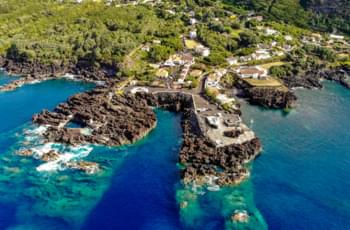 View of Varadouro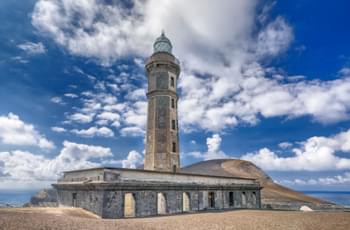 Lighthouse of Ponta dos Capelinhos
Distance from Horta
In the table below, you can get an overview of the distances of the excursion destinations from Horta:
Visit Faial's neighboring islands
If you liked the island of Faial, you should definitely visit the other Azores islands during your next holiday. São Miguel, for example, should be on your itinerary if you are interested in volcanic landscapes. It is the most volcanically active island of the Azores. The island of Santa Maria, in turn, convinces with fairy-tale forests and small sweet houses. In Flores, untouched nature and magnificent waterfalls are waiting for you. Whichever island you choose, there are charming places everywhere in the Azores.