Exploring the dream island Guadeloupe by hireal car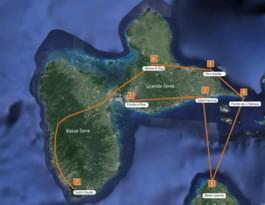 Map Guadeloupe
What could be nicer than cruising across the dream island of Guadeloupe in a cool hireal car? If you also want to spend a dream holiday on Guadeloupe, then have a look at our portal Driveboo.com and book the right hireal car for your trip. If you book your dream car online in advance, you can benefit from early bird bargains. Look forward to paradisiacal beaches, a spectacular landscape and much more in Guadeloupe.
Car hireal Guadeloupe: Where can I get my hireal car?
Book your desired vehicle online in advance and pick it up conveniently after your arrival in Guadeloupe at one of the car hire companies. This way you can arrange your trip according to your wishes. You will find pick-up points for your hireal car at these locations:
The most beautiful beaches of Guadeloupe
Are you looking for beaches that look like postcard motifs? Then Guadeloupe is the place for you! White sand, turquoise sea and palm trees as far as the eye can see are waiting for you! Get into your hireal car and conquer the dream beaches of Guadeloupe on your own.
On the older island of Grande Terre you will find beautiful white sandy beaches. Below you will find some suggestions as to which beaches you should not miss.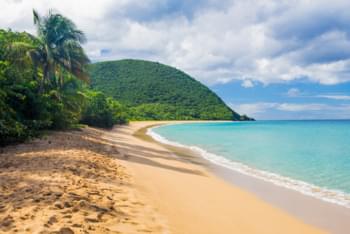 Plage de Grand Anse
The beaches of the younger island Basse Terre don't invite you to swim. But also each of these beaches has something very special and is worth a visit:
Sainte Rose
Anse de Perle
Plage de Petit Anse
Plage de Grand Anse
Plage de Clugny
Plage de Malendure
What sights should I not miss in Guadeloupe?
If you are in Guadeloupe by hireal car, you can travel flexibly to all your desired destinations. Stay as long as you like in your favourite places and then continue your discovery tour. You should definitely visit these highlights in Guadeloupe:
Soufrière
Pointe des Châteaux
Carbet Falls
Réserve Cousteau
Botanical Garden de Deshaies
Ecrevisses Waterfalls