Discover Dubai with a hired car
The metropolis of Dubai is the largest city in the United Arab Emirates and is ideal for exploring with a hired car. While there, you can visit the Al-Fahidi Fort, stroll through the spice market with its oriental atmosphere and relax after a long day of sightseeing at Jumeirah Beach Park, Dubai's most beautiful city park. Or how about stopping off at the Miracle Garden, with its more than 45 million blooming flowers? If you want to explore this fascinating and unique city on your own, it is a good idea to hire a car. With Driveboo, you have the opportunity to compare all the car hire offers of the local car hire companies and book your hired car directly online.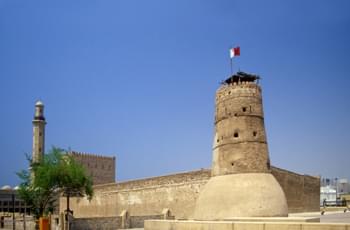 "Fort Al Fahidi" in Dubai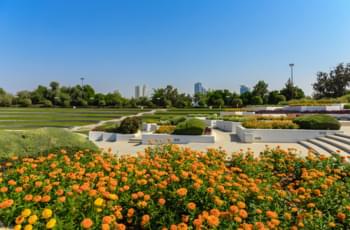 "Jumeirah Beach Park" in Dubai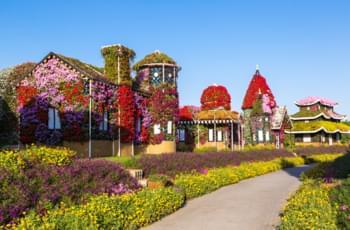 "Miracle Garden" in Dubai
Dubai's highlights await you in spring
You have booked a spring holiday in Dubai? That is a good idea. In springtime, very warm temperatures await you in Dubai, the ideal weather to escape into the sun after a cold winter. The months in spring are perfect for a trip to Dubai, as it is not unbearably hot then, but you can still swim in the sea. This is guaranteed to give you a feeling of springtime. If you do not want to spend the whole day at the sea, you can also explore the sights of Dubai with a hired car. This way you get to see all the different facets of the city.
Where should I hire a car in Dubai?
If you are heading to Dubai from Europe, you should arrive at your destination feeling relatively rested—thanks to the manageable flight time—so it is worth considering hiring a car at the airport. You not only benefit from favourable offers, good parking facilities and an extensive fleet of vehicles, but also from extended opening hours, which can be especially useful if you arrive or depart late in the evening.
What insurance should I have for my hired car in Dubai?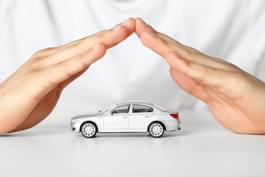 The right insurance
In general, in Dubai, as in all other countries, you should definitely opt for full insurance without non-waivable excess in case of accident, damage or theft. In addition, the highest possible liability coverage is recommended. If you also want to travel outside of Dubai with your hired car, it may be advisable to buy additional windscreen or tire insurance.
Traffic rules in Dubai
Are there any age limits for hiring a car?
The minimum age to hire a car in Dubai is 21 for a normal car and 25 for a 4WD car.
Do I have to pay a toll in the UAE?
In 2007, UAE introduced the so-called Salid Cards. The cost of a card is 100 UAE Dirhams. Each time you pass under a toll gate, 4 AED will be deducted from your card. You can purchase the cards in kiosks and garages. In order not to incur unexpected costs when hiring a car, you should clarify with the car hire company exactly what is included in the rental price.
Is there free parking in Dubai?
Dubai offers plenty of free parking spaces. Most free parking is situated in the area between the Al Baraha Hospital and the Al Wasl District. You will rarely have a problem finding a safe place for your hired car as most hotels and shopping centres have a multitude of parking spaces you can use, either for free or for a fee.
What are the speed limits?
You might think that, with all the sports cars in the city, there will be places where Dubai drivers are allowed to accelerate. However, this is not the case—any speeding at all is definitely unwelcome in Dubai. Therefore, please adhere to the maximum speeds listed below:
Emergency numbers
Travelling through Dubai in a hired car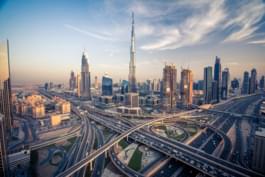 Motorway in Dubai
It is actually quite easy to enjoy sightseeing in Dubai with a hired car. You will certainly not get bored, with attractions including the city's landmark, the 828-metre-high Burj Khalifa, which is the world's tallest skyscraper, and "The World", an artificial archipelago created in the form of a world map. The famous spice market is also worth a visit.
These highlights should definitely be on your must-see list: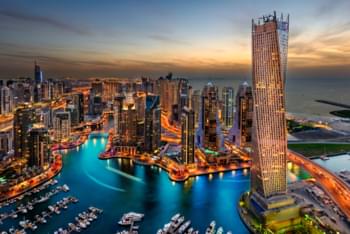 View on Dubai
Dubai Fountain
Burj Khalifa
Dubai Marina
Dubai Museum in the Al-Fahidi-Fort
the Miracle Garden
Aquaventure Waterpark
Deira Creek
Explore Dubai's surroundings in a hired car
What would a holiday in Dubai be without a trip to the desert? However, you do need to have some advanced driving skills if you plan on venturing with your hired car outside of the city to enjoy the desert landscape. The desert sand on the blistering hot road may require some rapid response abilities. When you arrive at the desert, hop on the back of a camel or horse for a sightseeing tour with a difference, and try your hand at sandboarding before heading back to the bustling metropolis. Here are some of the most interesting destinations outside of the city: