Bolivia by hireal car: pure adventure!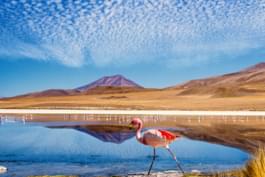 Watch flamingos in Bolivia
Discover the land of Quinoa and the fascinating Uyuni Desert by hireal car on your own. Drive through Santa Cruz in your hireal car, visit the witch market in La Paz or take a boat trip on Lake Titicaca. Bolivia has so many sights to offer that you will certainly not get bored. You can find the right vehicle for your trip to Bolivia on Driveboo.com. The portal helps you to compare the offers of the car hire companies and shows you the best price. What are you waiting for? Start your adventure in Bolivia with a hireal car!
Where are the pick-up points for my hireal car in Bolivia?
In Bolivia you can pick up your hireal car from one of the following locations: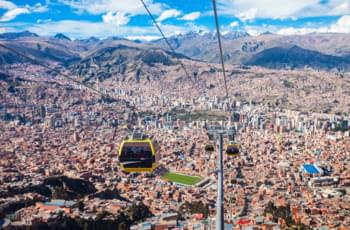 Cable car in La Paz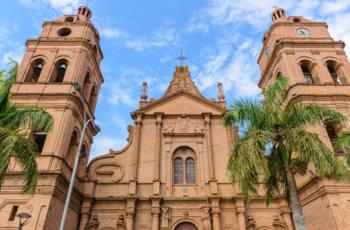 Cathedral in Santa Cruz de la Sierra
Alternatively, you can pick up your hireal car directly after your arrival in Bolivia at one of these airports:
Which sights in Bolivia should I not miss?
These highlights should be at the top of your travel list: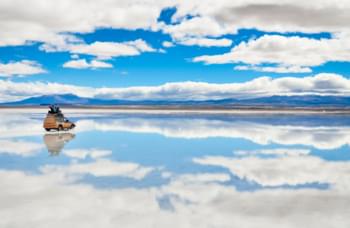 Discover the Salar de Uyuni by hireal car
A definite must-see on your trip to Bolivia is the largest salt pan in the world, which is located in the southwest of Bolivia and can even be seen from space. In the rainy season, the desert looks like a huge mirror and is an excellent backdrop for breathtaking photos. If you don't want to drive on your own by hireal car, you can join a guided tour. In any case, an SUV is recommended. With the right vehicle you will be optimally prepared for your journey to the desert Salar de Uyuni.
Laguna Verde and Laguna Blanca
The lagoons Laguna Verde and Laguna Blanca are lakes in the southwest of Bolivia. They owe their names to their striking colours. Due to minerals, the colour of Laguna Verde varies between light turquoise and dark green, while the water of Laguna Blanca shimmers in bright white. The best way to reach the lagoons is by SUV.
Make sure to visit these highlights in Bolivia by hireal car as well: