Car rental Berlin-Tegel Airport (TXL)
Berlin, the German capital is always worth a visit. The city is very diverse and combines German history with modernity and, above all, the multicultural. No other German city is home to as many different nations as Berlin. And this is also reflected in the cityscape. If you want to be independent of public transport such as bus or train and the local tour operators, but you have not travelled to Berlin by car yourself, it is advisable to look for a cheap rental car from a local car rental company at Berlin-Tegel Airport before travelling by comparing prices on the Internet.Pick up your rental car immediately on arrival at the pick-up station at the airport in Berlin-Tegel.
If you use a rental car to do sightseeing in Berlin, you will save a lot of time, because the city is large and there is a lot to see and discover by car in every part of the city, such as Schoenefeld or Brandenburg outside of Berlin.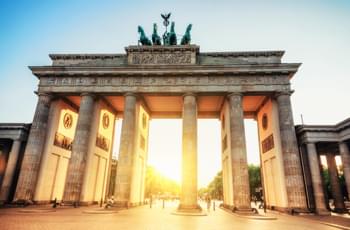 Brandenburger Tor in Berlin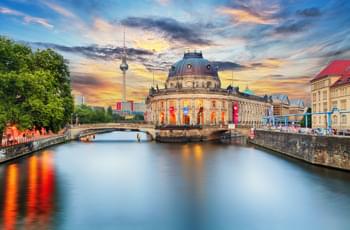 Discover the Museumsinsel at night
How to find a cheap rental car in Berlin
If you have decided to travel to Berlin by plane, then you need a rental car from a car hire company in the city. You can also pick up your car at the pick-up station at Berlin-Tegel Airport. Use the price comparison on the Internet to find a cheap car that you can rent here immediately. You will then pick up your rental car at the terminal at Tegel Airport. Here, the rental cars of the various car rental companies are available for their customers to pick up.
Central location of Berlin -Tegel Airport
The airport Berlin/Brandenburg-Tegel TXL is centrally located, about 8 km from the city centre. Berlin-Schönefeld, on the other hand, is located further down the outskirts of Berlin. Although the footpaths here at Tegel Airport are all quite short, it can still be a little confusing for passengers who arrive here for the first time and are looking for the pick-up point of the car rental company for their booked rental car. A major disadvantage is the connection to public transport. Berlin-Tegel Airport can neither be reached nor left by subway, regional or long-distance trains nor by subway.
Therefore it is advisable that you search and rent a car in advance with Driveboo.com. With the rental car, which you could rent cheaply, you are independent of the subway and the regional railway and so fast on one of the two motorways A11 or A10 which will take you accordingly to the northern or southern Berliner Ring. By car you can get to any part of the city you want. If you want to reach the city centre directly from the airport Berlin-Tegel TXL, you can use the city rings 100 or 111 to get information about the road connections at the tourist information desk at the airport Berlin-Tegel, as well as from the car hire service when you pick up your cheap rental car.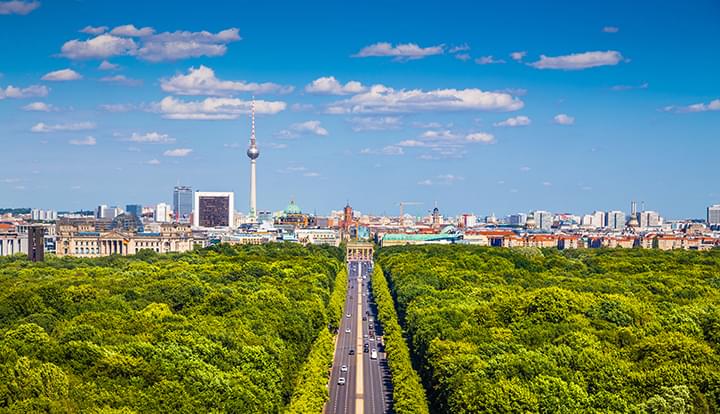 Rent a car and drive through Berlin
Berlin/Brandenburg-Tegel Airport TXL and its terminals
The airport Berlin/Brandenburg-Tegel TXL is smaller than Berlin-Schönefeld, but nevertheless has terminals A, B, C, C, D and E. Passengers arrive at Terminal E. Sections B, A and D are all connected on the same level, Terminal E is located directly below Terminal D. Arrival Terminal E is connected to the other terminals by various elevators. At the airport you have the possibility to reach all terminals at any time. Right next to Terminal E is the P2 multi-storey car park, which also houses the rental cars of the various car rental companies. It is therefore not far from the luggage carousel in Terminal E to the pick-up point of the car rental service and to pick up the car when you arrive. On departure, the journey is a little bit longer for you, from multi-storey car park P2, in which you return the rented car, you then have to visit Terminal A, B, C or D depending on the flight. So if B, A and D are directly adjacent to each other on the same level, Terminal C is next to B, but on a different level.
Services at Berlin/Brandenburg-Tegel Airport TXL
Many services are available to you as passengers at Berlin/Brandenburg-Tegel Airport and Schoenefeld Airport. These are distributed over the various levels and on the individual terminals. For example, there is a counter for airport information and a counter for tourist information where you can get advice on all your questions about the airport and the city of Berlin. You can also enquire at these counters for information on how to get to your rental car. If you come from a country that has a currency other than the euro, you can exchange your money in the exchange office or the bank at the airport. Of course, there is also an office of the police, a post office, customs and the tax authorities directly on site at Berlin-Tegel Airport. Shops, pharmacies and hairdressers are also available. If you are hungry you can go to a restaurant or snack bar/café before you go to the pick-up point of your car rental company and pick up your cheaply priced rental car found on the Internet and drive to town.
Car rental station at the airport Berlin/Brandenburg-Tegel TXL
Every car rental company with a pick-up station at Berlin-Tegel Airport is accommodated in the same terminal in the so-called car rental centre. So you have all stations for rental cars at a glance. This car rental center is located near Terminal E and Car Park 2, where all rental cars are located, i.e. close to your arrival. On your way from the baggage carousel through the airlock, you approach the car rental center, which is located in the immediate vicinity. If you have therefore been able to rent a car cheaply in advance via the price comparison on the Internet, you can have it ready for pickup right here at Tegel Airport. At the pick-up station of the car rental you present your identification card and your driver's license and pay the deposit for the desired vehicle with your credit card. Of course, this will be credited to you at the end of your city trip in Berlin when you return the car.
The car rental center with the respective pick-up station of your car rental company is located directly next to the car park, where all rental cars are located on the parking spaces. If, for one reason or another, you do not find the car rental centre at Tegel Airport immediately upon arrival, you can also ask for this information at the counter for airport information or tourist information.
With a rental car on the road in Berlin: what you should bear in mind
Of course, the traffic rules in Berlin apply according to German law. Therefore, you must be at least 18 years of age to drive the rental car and have a valid driver's license. The trial driving licence is not valid in this case, as you are not allowed to drive the vehicle on your own responsibility.
Most of the time you will be in a closed town, so keep to the speed limit of 50 km/hour. You should also pay attention to signs for thirty traffic zones and play streets. In Berlin, the speed is controlled by speed cameras in many places. On country roads, on the other hand, 100 km/h are permitted as long as this is not regulated by other signs. The Berliner Ring is a motorway on which 130 km/h must be maintained as the maximum speed.
If children under the age of twelve or less than 135 cm travel with you, you should inform the car rental company before you rent the car on the Internet via the price comparison. In this way, the required child seats can be handed over to you directly at the pick-up station.
If you want to use your mobile phone to make telephone calls or take photographs while you are on the road, leave it to the co-driver, as the use of the smartphone is not permitted without a hands-free system. Follow the traffic rules for your own safety with a previously unknown car, as this is a rental car from a local car rental company.
Petrol Stations near Berlin-Tegel Airport
If you receive your car at the pick-up station of the car rental service at Berlin-Tegel Airport, you should ask whether it is a diesel or a petrol vehicle. For a petrol engine, you will need the details of the desired petrol. You also have different options for the various car rental companies. Rental cars are handed over without a full tank, in this case you have to refuel immediately after handover.
It is also possible, however, that you may also receive the rental car at Berlin-Tegel TXL Airport with a full tank, in which case you will have to hand it over in full upon delivery. You will need a petrol station either on arrival or at the airport. This is located in front of Tegel Airport next to the car park P10 just before the A111.
The opening hours of this petrol station are Mondays to Fridays from 6.00 am to 10.00 pm, on Saturdays from 7.00 am to 8.00 pm and on Sundays from 8.00 am to 10.00 pm. If your flights are at other times, for example, you have to be at the airport earlier to depart, or if you arrive later, there are several petrol stations in the district of Tegel, which could be used for the first or last tank of fuel. If you rent a rental car with navigation system you can also find information about the nearby petrol stations.
Rental car tour to the sights in Berlin
If you are visiting the German capital, then you should definitely be flexible. With a car, which you have searched for and found via the online price comparison and could rent cheaply, you are independent of local travel providers and public transport in this big city. With a rental car you can also quickly get to the airport in the city centre, because it is almost completely cut off from public transport. Rail transport such as underground or suburban railways, regional trains or even long-distance rail transport does not run from here at all. Therefore, the road is the only way to get downtown. In addition to buses and taxis, there is a rental car that you could rent in advance, because you can continue to use it in the city.
From your booked hotel in the middle of Berlin or also outside Brandenburg you can start your sightseeing tour through Berlin and the surrounding area, or in the large new shopping center at Potsdamer Platz or on Ku-Damm and Tauentzienstraße you can have an extensive shopping day and stroll through the famous boutiques and shops. Children can go on excursions to the Berlin Zoo, which shows many interesting animals. The trendy district of Kreuzberg is an absolute must-have for young people in particular, if you drive through Berlin with your rental car. You will also find many monuments in the district Schönefeld.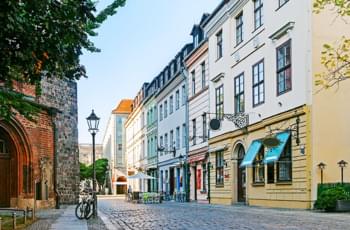 Colorful street in the center of Berlin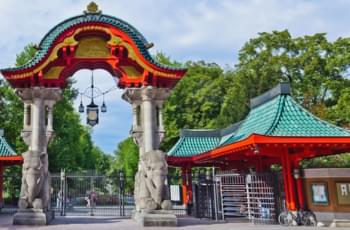 Discover the Berlin Zoo
Discover Berlin and its surroundings by car rental
With the car that you have found and rented cheaply on the Internet, you are independent of bus and train if you want to explore the city. The rental car will quickly take you to the many sights such as the Reichstag, Brandenburg Gate, Gedächtniskirche or Check Point Charlie, to name but a few. Depending on whether you are interested in history or culture or both, you can experience your very own sightseeing tour through Berlin and reach everything quickly and easily by rental car.
Many parking spaces and car parks are available in the city, so you never have to travel long distances from your parked rental car to the place of interest. The many international and multicultural restaurants and in-cafés are spread all over Berlin and with a car, which you could rent cheaply over the Internet and the price comparison also all fast for a nice meal or an evening drink attainable.
But not only the city centre and the many districts of Berlin, such as Kreuzberg, Mitte or Schoenefeld have much to offer. The excursions are also worthwhile outside the city limits. Wannsee, Potsdam with the castle or Brandenburg and the Havelland are located here in the nearby recreation area.