Car rental Berlin
Explore the capital city of Germany with a rental car from Driveboo. Berlin The city is very diverse and combines German history with modernity and, above all, the multicultural. The most touristic sights are placed in the city centre, which can be easily visited with a rental car. You can book your rental car online in advance, compare the prices with our Driveboo comparison service and have a pleasant stay! When arriving in Berlin, you can choose to pick up the car in the city or at a car rental station at the Berlin-Tegel Airport.
Berlin-Tegel Airport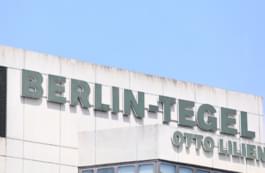 Berlin-Tegel Airport (TXL) is Berlin's main international airport. On the airport, you can easily collect your hired car at the rental car station. With your rental car, you can explore Berlin according to your wishes. On Driveboo.com you can compare the best offers for your stay in Berlin.
Benefits of having a rental car in Berlin
Freedom of movement
Money-saving
Comfort
With a rental car, you will experience many advantages in Berlin. For example, being able to move independently and flexible off public transport. Moreover, you can save money by making your reservation at a hotel located a little bit further from the city centre and rent a car. The money you save would compensate for the car rental price, besides you will enjoy the freedom of movement.
Especially in Berlin, you can use your rental car to visit cities nearby, for example, Potsdam or Hamburg. Also, there is nothing better than a car waiting for you at the railway station or airport. Nothing more comfortable than not having to carry your luggage to the bus or tram, or paying taxi airport additional charges for it.
When hiring a rental car, a deposit is required
Deposits are always paid when you pick up the hired car, for example at Berlin-Tegel airport. After returning the car to the rental station, the deposit will be immediately refunded. If you have chosen the option of hiring the car with comprehensive insurance without any excess; and there is some damage found on the car, for example, due to a small rear-end collision, you will still get the full deposit refunded. With this sort of insurance, it does not matter if you must pay the deposit. We recommend, hiring a car with high insurance is cheaper than paying the costs in case of an accident and not getting the full deposit refunded.
Sights you have to visit with your rental car
Berlin offers most of its sights in the city centre, called Mitte. A few examples are the Reichstag, Victory Column, Brandenburg Gate and the Berlin zoo. On the outskirt are also great shopping possibilities like the KaDeWe, Europa-Center and Kurfürstendamm, which can be easily and quickly reached with your rental car. Another destination is the television tower of Berlin, where you can enjoy the stunning view of the city. A rental car gives you many advantages, as Berlin is a big city, you are independent and more flexible from public transport and can plan your trips the way you prefer. Berlin is a very special city as no other city in Germany is more diverse, multicultural, contemporary and modern.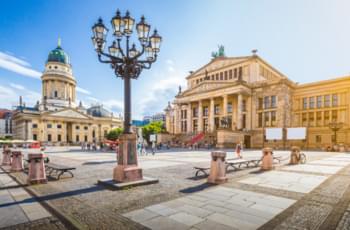 Reichstag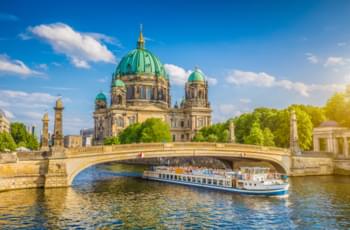 Berlin Cathedral
Berlin has many different sights you can visit with your rental car. Once you've seen all the top sights that Berlin has to offer, you can buckle up and go exploring. Drive into the countryside for a unique perspective on Berlin, visit a nearby town without any hassle, or simply enjoy the feeling of the open road beneath your tires. Hiring a car in Berlin opens a whole world of possibilities and takes the stress out of discovering new places.
Is Comprehensive insurance without excess worth it?
It doesn't matter whether you want to hire a small car, limousine or SUV during your stay in Berlin. With our online Driveboo comparison service, you will be able to find the best offers for various car hire deals at low prices. We recommend booking good insurance, as the city centre of Berlin is very busy, especially in the rush hour time. A second driver is always a good option to have, as it gives you the opportunity to alternate between driving. In case it comes to an accident, you won't have any additional costs with our fully comprehensive insurance policy without a deductible. Book via our online portal Driveboo.com and receive suitable offers for your trip to Berlin.