Exploring Abu Dhabi by hired car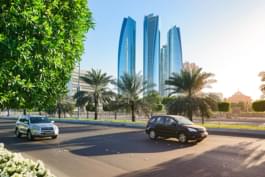 The metropolis of Abu Dhabi on the Persian Gulf can be experienced superbly with a hired car from the price comparison. This means that you are flexible and independent of public transport from your arrival in Abu Dhabi. Explore the city according to your wishes and with the time you have available. Whether at Abu Dhabi airport or in the city center - we will find the cheapest offer for you.
Experience autumn in Abu Dhabi
In Abu Dhabi, the sun shines almost always. So if you want to escape the rainy autumn, then let's go to Abu Dhabi. Autumn in Abu Dhabi has a lot of activities in store for you. The best thing is to hire a car. This way you can reach all your destinations in Abu Dhabi individually. In Abu Dhabi you can relax on the beach or go on an adventurous desert safari in autumn. Whatever your plans for the perfect autumn holiday are, you are sure to be fulfilled in Abu Dhabi.
The traffic regulations for Abu Dhabi at a glance
In Abu Dhabi, there is right-hand traffic.
Speed limits: 60 km/h in urban areas, 120 km/h on motorways
Blood alcohol limit: 0.0 per mille
In case of an emergency, you can reach the appropriate facilities by calling the following emergency numbers:
By hired car through Abu Dhabi
Turquoise green reflects the sea in the glittering, futuristic high-rise façades of Abu Dhabi. The upcoming metropolis between gentle desert dunes and the Persian Gulf, which owes its wealth to oil. Take a look behind the glittering facades of the city of superlatives, just 150 kilometers from Dubai, and go on a shopping trip to Marina Mall, the city's largest shopping center, or take a jeep or quad safari to an unforgettable desert experience.
Car hire Abu Dhabi - Special Highlights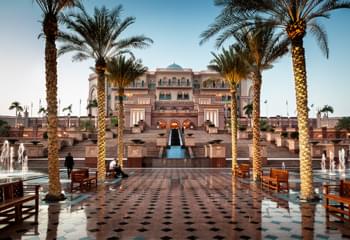 The Emirates Palace Hotel
The pearl of the Gulf has more to offer than just luxury cars or gold-decorated, palatial hotels and splendidly landscaped parks that invite you to linger. A visit to the Sheikh Zayid Mosque, the world's third-largest mosque, which with its ornately decorated walls is one of the most magnificent buildings in Abu Dhabi, should of course be at the top of your to-do list. Lovers of fast cars, on the other hand, can visit Ferrari World. Also known as an amusement park where everything revolves around speed and thrills, and where even small guests can enjoy themselves. We have put together a few other travel highlights for you to visit in the following:
The Emirates Palace Hotel
The Abu Dhabi Falcon Hospital
The Yas Mall shopping mall
Experience Abu Dhabi - Beautiful excursion destinations
If you don't want to take a taxi in Abu Dhabi, the emirate on the lower Persian Gulf, at temperatures above 25 °C all year round, you can of course also join a guided tour, where you will benefit from the explanations of a professional tour guide.
Which destinations can I explore with my hired car in Abu Dhabi?
We have put together some of the most beautiful excursions that you can do all year round: