Hireal car Victoria: On the road in southeast Australia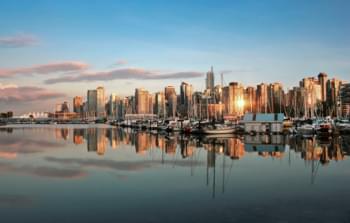 Victoria Skyline
Look forward to an exciting road trip by hireal car through Victoria in Australia. With a hireal car you are always flexible and independent and can explore Victoria on your own. Take exciting walks through national parks, enjoy breathtaking coastlines and discover exciting cities with a hireal car. Victoria and the rest of Australia have so much to offer. You can find the right hireal car for you at our portal Driveboo.com. Here you can compare the prices of car hire companies in Victoria and find the best offer for your dream car. The booking process is very simple. What are you waiting for? Book a hireal car and the adventurous road trip in Victoria can begin.
What traffic rules apply in Australia?
Left-hand traffic
"Right before left"
Maximum speed: 50-60 km/h inner cities, 70-110 km/h out of town
Seat belts obligatory for all passengers
Per mille limit: 0,5
Always adhere to the maximum speed limits. The fine for speeding is very high in Australia and radar checks are frequent.
What are the options for my hireal car in Victoria?
Always book fully comprehensive insurance without excess. In this way you ensure that you will not incur any further costs even in the event of damage.
Travelling flexibly in Victoria thanks to one-way hireal & additional driver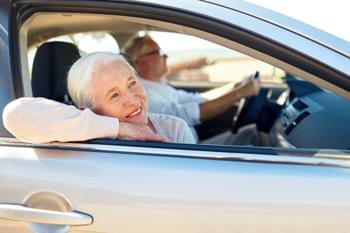 Enjoy the view thanks to the additional driver option
Have you ever heard of the one-way hireal? The one-way hireal option allows you to customize your trip through Victoria and the rest of Australia as you don't have to return the car to the point of origin. Rather, you can pick up the hireal car at the location of your choice and return it to another hireal car company at the end of your journey. This gives you complete independence when it comes to planning your trip aorund Victoria.
If you're planning a longer trip through Australia with a hireal car, the additional driver option is a good idea. If you specify an additional driver when booking your hireal car, you can take turns driving the car. So if you're exhausted from a long drive, you can just give up driving for a while, sit back and enjoy the view.
Explore Melbourne with a hireal car
Melbourne is the capital of the Australian state of Victoria and an all-round talent. It is not without reason that Melbourne is also called "the most liveable city in the world". It is a metropolis that still conveys a feeling of a small town. With a hireal car you can drive flexibly to all your desired places in Melbourne. Visit the Shot Tower Museum or enjoy a day on Brighton Beach. In the evening, you can explore Melbourne's restaurants and later enjoy a few drinks and discover the nightlife. If you're hiring a car in Victoria, don't miss out on a stay in Melbourne.
Shot Tower Museum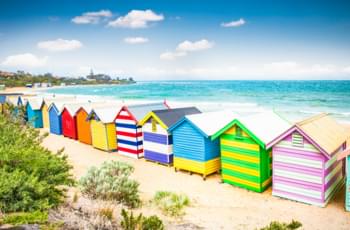 Brighton Beach
More highlights in Melbourne not to be missed:
Eureka Skydeck
St. Paul's Cathedral
Dandenong Ranges
Shrine of Remembrance
Highlights of Victoria by hireal car
Twelve Apostles
The Twelve Apostles rise from the sea above South Australia like small rock towers. If you're hiring a car in Victoria, don't miss this natural phenomenon. The Twelve Apostles are located near Port Campbell and rise over 50 metres out of the wild sea. Leave the hireal car and set off on foot. With a bit of luck you can even see whales and penguins.
Phillip Island
Another highlight in Victoria is Phillip Island south of Melbourne. On the island you will find a great wildlife: penguins, koalas, seals, dolphins, sharks, wallabies, possums and many more await you. If you haven't had enough, you can also take a boat to Australia's largest colony of sea bears. There are also whale watching tours during the summer months, where you can see whales and dolphins. As you can see, Phillip Island is a paradise especially for nature and animal lovers.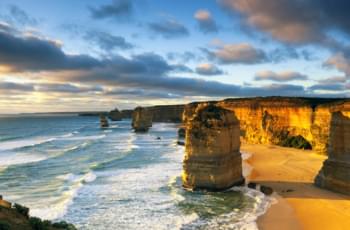 View of the Twelve Apostles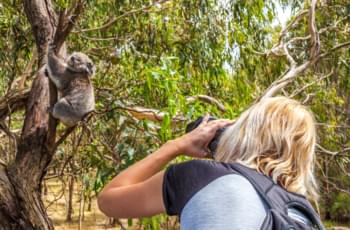 Discovering Phillip Island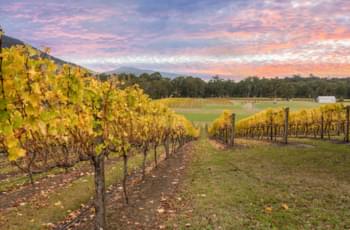 Yarra Valley
Yarra Valley
The Yarra Valley is the oldest wine region in Victoria and can be easily reached by hireal car. The wine region dates back to 1838 and is known worldwide for its Pinot Noir and Chardonnay. In the Yarra Valley you can sample wines, enjoy the view in a hot air balloon and experience the Australian wildlife up close. This experience is guaranteed to last.
Distances
Is it worth taking a hireal car along the Great Ocean Road?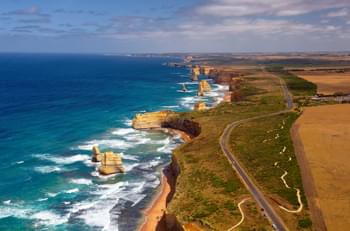 Great Ocean Road
The Great Ocean Road is located on the southwest coast of Victoria and is one of the most scenic coastal roads in the world. So the answer is yes. A road trip with a hireal car along the Great Ocean Road is definitely worth it! Along the way you'll pass unique surf spots, breathtaking viewpoints and the famous Twelve Apostles. Immerse yourself in Australian nature, enjoy the scenery and take a break in fantastic places. Here you can taste local delicacies such as flake and chips, gourmet cheese, wine, berries and much more. Hire a car and follow the Aboriginal tracks along the Great Ocean Road and immerse yourself in ancient traditions while listening to a didgeridoo.