Drive around Tropea by hired car!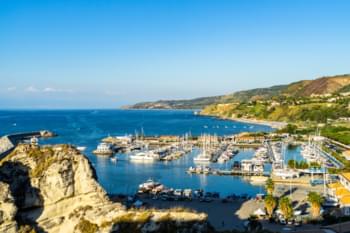 The small town of Tropea, on the east coast of Calabria, in southern Italy, is known for its historic old town, beaches and its prized red onions. Driveboo offers you the possibility to compare car hire offers in Tropea and book online your car hire for Tropea in a fast and easy way for the desired period. Thus, you are completely flexible during your stay in Tropea and do not have to rely on public transportation.
Explore special attractions in Tropea and surroundings in spring/autumn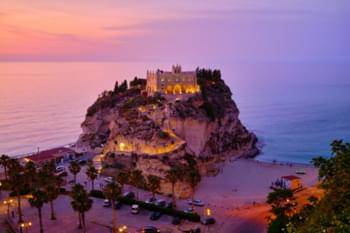 Liparian (Aeolian) Islands - Vulcano, Lipari, Stromboli
Old Town Piazza Ercole
Belvedere at Corso Vittorio Emanuele
Norman Cathedral from the 12th century
Diocesano Museum of Art
Wide sandy beaches on the sides of the Isola
Sanctuary of Santa Maria dell'Isola
In addition, Tropea is also ideal for swimming, surfing, sunbathing or diving and numerous other water sports in spring/autumn or late summer. Thus, Tropea offers plenty of action and also relaxation.
Hire a car at the airport near Tropea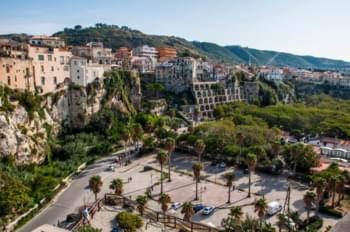 If you arrive by plane at Lamezia Terme (SUF), the largest airport in Calabria, you can hire a cheap hired car here directly in the airport arrivals hall from one of the numerous car hire companies. This is where the competition between car hire companies is the greatest, which is why the offers outdo each other and you can usually negotiate better deals. If you are interested in special vehicles such as SUV's, sports cars or convertibles, you have a higher chance on site and can decide in peace for one of the many rental cars thanks to the longer opening hours. After you have picked up your hired car, you can go directly on an exploration tour in the Italian environment.
What should I look out for when hiring a car at Lamezia Terme Airport?
Body and paint
Tire tread
Lights and luminaires
Important information to drive without problems in Tropea
When you pick up your hired car, the car is usually filled up. There is no gas station directly at the airport, but there are sufficient gas stations in the immediate vicinity as well as in Tropea itself.

In Italy, the tolls apply mainly on motorways. These are different from expressways, which are similar but free of charge. The toll-free roads are marked with a blue sign and the toll roads with a green sign. There may also be a charge for the use of tunnels and bridges.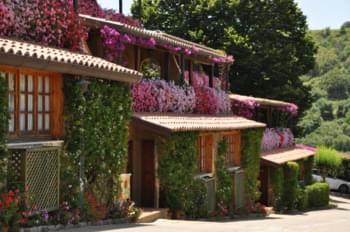 Because the old town is closed to car traffic in July and August, theparking situation is quite tight during peak season. If you hire a car, quite a few parking opportunities can be found for your hired car, however, on the roadside and in the rest of the city, mainly on the promenade. Colored curbs are used in Italy to indicate parking privileges. Free parking is allowed if the curb is white. If it is blue, you will have to pay a fee. Parking is prohibited at black and yellow curbs. Yellow curbs mean no parking.
The traffic rules in Italy hardly differ from those in Germany. On the motorway and outside built-up areas, there is a 24-hour dipped-beam headlights obligation. Daytime running lights may also be used in Italy, however. The light obligation applies to all vehicles. Who drives without light, must count on a fine starting from 41 euro.

Interurban: 50 km/h
Out of town: 90 km/h
Motorway: 130 km/h
What insurance do I need for a hired car in Tropea?
The hired car comprehensive insurance without deductible is absolutely necessary when hiring a car. Damage caused by self-inflicted behavior of the driver is covered with it. Also mandatory is a liability insurance for rental cars with a sufficient coverage. This should amount to at least 1 million euros.
How can I register an additional driver for the hired car?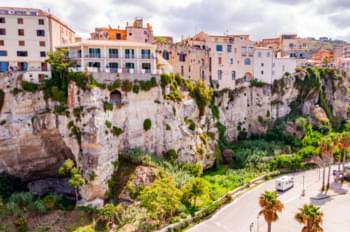 Are you planning to take turns driving? Then it is mandatory to register an additional driver. If the further driver is not registered and it should come to an accident, there is no more insurance protection and this can become very expensive! When hiring on site or picking up the vehicle, the additional driver must be present and identify himself with his ID or passport and present his driver's license. When booking, make sure that there are already offers that already include an additional driver, so you do not have to pay additional fees per day.
When is the best time to travel to Tropea, Calabria?
The summer months from early June to mid-October are best for hiring a car for a trip to Tropea. During this time, the water temperatures are well above 23 degrees and thus offer ideal conditions for beach and bathing holidays. Up to 11 hours of sunshine await you in this dream region, allowing for long and varied excursions and activities.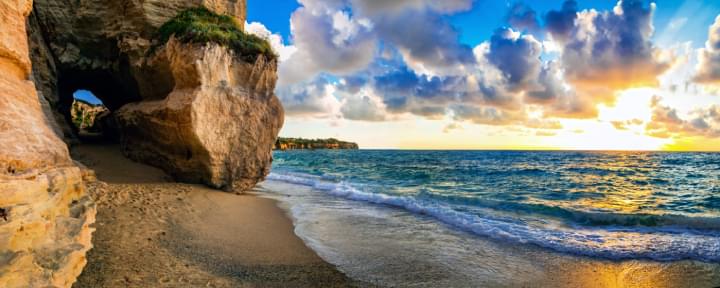 Excursions by hired car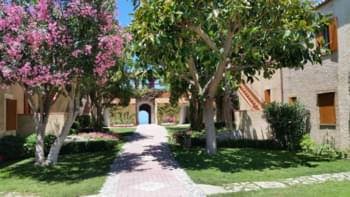 About 40 km north of Tropea, the small medieval village of Pizzo is perched on a tufa rock steeply above the sea. The town's landmark is the Castello Aragonese, the Aragonese castle, which is also known as Castello Murat. Pizzo is famous for its exciting 17th century history, the Cathedral of St. George with its baroque facade and for its unparalleled tartufo ice cream.
Also interesting is a trip to the Tyrrhenian coast. From Tropea it is just 13 kilometers by car until you reach Zabrone. Worth seeing in the town, located on the river Potame, are the church of San Carlo Borromeo and the mill Zilui. The surrounding countryside is easy to explore with your hired car.