Hireal car Suriname: Between nature, traditions and hospitality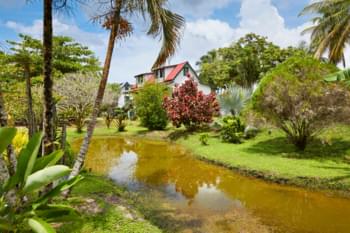 Former plantation in Suriname
If you explore the exciting country of Suriname with a hireal car on your own, you will experience beautiful nature, exciting traditions and hospitality. With a hireal car you can arrange your stay in Suriname according to your wishes. Drive to the destinations of your choice and stay there as long as you like. In Suriname there is a lot to discover. Take a look at our portal Driveboo.com and choose the vehicle of your choice including additional options and insurance benefits. With the right hireal car you can start your journey to Suriname relaxed and full of anticipation.
These are the airports in Suriname
In Suriname you can pick up your hireal car directly after your arrival at the airport at one of the car hire companies. Pick up points are located at these airports:
Information Suriname: Good to know
Continent: South America
Capital: Paramaribo
Number of inhabitants: 563.400
Official language: Dutch
Explore exciting places in Suriname by hireal car
The Commewijne region is probably the most famous region in Suriname. Here you can visit buildings, villas and old colonial plantations. But also the settlements Margrita, Pomona, Bakkie and Johanna Margaretha are worth a trip by hireal car. In these places you can experience the lifestyle of Suriname up close. Hire a boat and go fishing. You will never forget this experience.
More must-sees in Suriname
Suriname offers a lot to nature lovers. Get behind the wheel of your hireal car and discover lakes, rivers and mountains. Take an exciting walk through the enchanting nature of Suriname and visit these places:
Central Suriname Nature Reserve
Brokopondo Reservoir
Voltzberg
Kasikasima
Frederiksdorp
Braamspunt
IDEAS FOR CULTURE ENTHUSIASTS
But also history and culture lovers won't be bored in Suriname.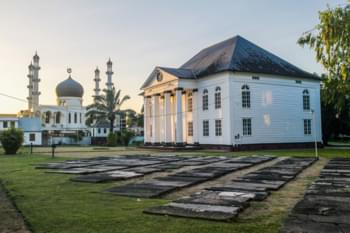 Synagogue in Suriname
Visit these highlights:
Fort Zeelandia
Fort Nieuw-Amsterdam
St. Peter und Paul Cathedral
Presidential Palace Suriname
Readytex Art Gallery
Arya Dewaker
Neveh Shalom Synagogue and Mosque Kaizerstraat