Book a hired car at Samos Airport and explore the island
Explore Avlakia on Samos by hired car
Vacations in Greece are very popular all year round, especially if you are travelling with a hired car. Samos is an insider tip among the Greek islands and a true paradise. It is one of the largest islands in the country and is located next to the famous island of Kos. The island belongs to the Aegean Sea, which is a part of the Mediterranean Sea. This region is known for its crystal clear waters and gorgeous islands. The best way to explore Samos is with a hired car. The cheapest and best deals can be easily compared on Driveboo.com.
Unforgettable autumn in Samos
Are you bored of just lazing on the beach during your holiday? Then travel to Samos in autumn, because here you will definitely have enough offers for leisure activities. Go climbing, take a surfing course, discover the mountain villages on Samos with your own hired car or take a mountain bike tour under the autumn sun. Alternatively, you can of course visit a museum or stroll through the city. Fill up on sun and energy to start well into the subsequent cold season. Samos in autumn is always a good idea, whether with friends, your partner or the whole family.
Getting to Samos via the airport made easy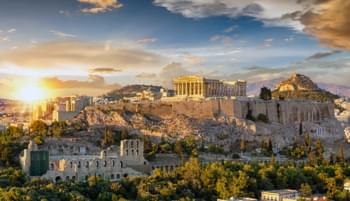 Discover Athens and take the ferry to Samos
How do I get to Samos? You can find cheap direct flights to Samos all year round. An attractive alternative is the stopover in Athens. If you want to explore the Greek mainland first, you can also opt for a ferry. These are also available with a comfortable sleeping cabin for booking. Upon arrival, we recommend a cheap hired car to explore this diverse island. Cheap rental cars for Samos you will find of course on our portal. We cooperate with all car hire companies located at the airport.
Advantages of picking up your hired car at Samos Airport:
Independence from tour groups
Flexible travel planning
Money and time savings in contrast to package holidays
Excitement and action
Island hopping in Greece: From Samos to Kos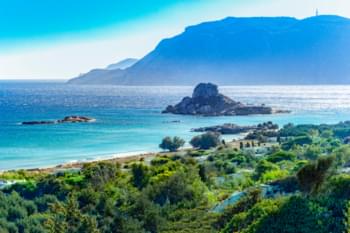 Travel by ferry from Samos to Kos
Can I travel from Samos to Kos? The ferry Dosekanisos Seaways will take you quickly from Samos to Kos. The crossing takes five hours and the price is less than 50 euros. Likewise, many other islands of the beautiful Aegean Sea can be explored. On the larger ones we definitely recommend a hired car. We cooperate with all international car hire companies to find you the cheapest offer.
Driving to the most beautiful beaches of Samos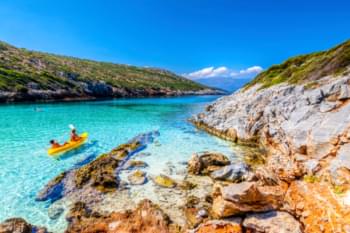 With the hired car to the dreamlike Livadaki Beach
With a hired car you can quickly get to the most beautiful beaches of the island of Samos. The island can be explored within one day. Be independent and flexible towards travel groups. In contrast to a normal package holiday, you simply experience more with a hired car. Get the most out of your Greece trip through us. Drive to the dreamlike Livadaki Beach and fill up on some sun. If you like you can hire a kayak and enjoy the view on Samos from the water.
What are the most beautiful beaches on Samos?
LIVADAKI AND KERVELI BEACH IN THE (NORTH)EAST
One of the most beautiful beaches is Livadaki Beach. This beach is easily reached by hired car. It is located at a beautiful bay and impresses with crystal clear water. This beach also offers you a great scenery and a lot of peace and quiet. For the physical well-being is also provided! A handful of restaurants await you on the beach, where you will be spoiled with all the delicacies of Greek cuisine.
LEMONAKIA AND TSAMADU BEACH IN THE NORTH
Another beautiful beach on Samos is the Lemonakia Beach. You can hire sunbeds here for as little as €5. The fine pebble beach also impresses with its clear water. The nearest beach is in the immediate vicinity. Tsamadu Beach is for many the most beautiful beach in the northern part of the island.
MEGALO SEITANI BEACH IN THE WEST OF THE ISLAND
In the middle of a nature reserve, Megalo Seitani Beach awaits you. This beach is isolated from the hustle and bustle of the island. With a little luck you will have this beach all to yourself and your loved ones. The blue tones here are reminiscent of dreamlike beaches in the Caribbean! To get to this beach, you should park your hired car at the nature reserve. From the Car park you will reach this insider tip after an exciting hike.
Distance from Samos Airport to the most beautiful beaches of the island:
Car hire in Samos: safe on the road with the right insurance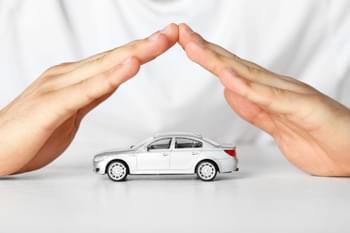 Best to choose fully comprehensive insurance without excess
What insurance do I need for a hired car in Greece? As in other countries, an insurance for the hired car is mandatory for a hired car in Greece. This is included in all offers on Driveboo.com and protects you in general cases. It is best to choose this insurance with a high coverage amount. Even better you drive with a comprehensive insurance. Ideally, you choose one without excess. On Driveboo.com there is a variety of offers that already include this in the base price. The surcharge in turn has a positive effect on the amount of the deposit. A deposit is a normal undertaking and protects the car hire companies. It is also a good indicator of reputable providers. At Driveboo.com we have selected our partners with great care. This way we can guarantee you a great car hire experience. Additional insurances can be booked easily and inexpensively as an option.