Car hire Salerno: Explore the Italian coast on your own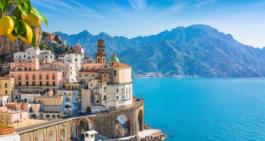 View of Salerno
Salerno is located on the coast of Italy and is ideal for a road trip by hired car. Turn on the music, open the windows of your hired car and discover Salerno and its surroundings on your own. Salerno is a port city located southeast of Naples. Take a hired car to the beach, discover the most popular sights around Salerno or take a trip into nature. In Salerno everyone gets his money's worth.
Winter atmosphere in Salerno
Those who travel to Salerno in winter can look forward to a pre-Christmas atmosphere. The winter in Salerno is magical thanks to the wonderful lights. They are placed all over Salerno and transform the city into a real winter wonderland. Stroll around the Christmas market in Salerno and enjoy a winter punch. If you are travelling in Salerno by hired car, you can also visit the surrounding cities such as Sorrento or Naples in winter. What are you waiting for? Look forward to the winter time in Salerno.
Interesting facts about Salerno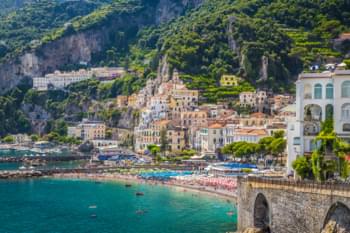 Discover Salerno
Region: Campania
Population: just under 133,000
Location: coastal town on the Tyrrhenian Sea, northeast of the Amalfi Coast
Climate: Mediterranean Mediterranean climate
Areas: Center, East, Rioni Collinari and Irno
Museums: Museo Archeologico Provinciale, Museo Didattico della Scuola Medica Salernitana, Museo Diocesano di Salerno, Pinacoteca Provinciale, Museo Nazionale dell'Agro Picentino
Where can I get my hired car in Salerno?
You can pick up your hired car in Salerno at various car hire agencies. In the table below you will find an overview of some of the car hire companies in Salerno:
What you should consider in Salerno with a hired car
Insurance
It is best to choose the fully comprehensive insurance without excess for your hired car in Salerno. In case of damage, you will not be left with the costs.
Car Hire MODEL
We offer you the right car model for every occasion. Think about the criteria for your perfect hired car in advance and choose between a small car, SUV, minivan, convertible and many more.
FAIR FUEL REGULATION
If you are going to travel a lot with your hired car, it is best to choose the option "fair fuel regulation". This means that you pick up the hired car with a full tank and return it the same way to the rental company.
Road trip Salerno: Flexible on the road with the hired car thanks to the one-way rental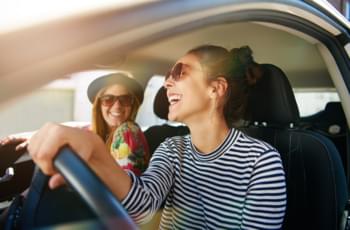 Together the journey is fun twice as much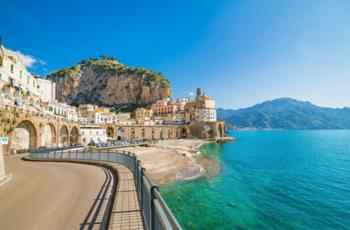 Flexible thanks to the one-way rental
Your plan is to drive along the coast of Italy in a hired car? Then we have the right offer for your road trip. The one-way rental allows you to pick up the hired car for example in Salerno and return it in Rome. So you can visit all the beautiful cities on your way north without having to return to your starting point. Look forward to an unforgettable trip with your friends and a hired car along the Italian coast.
Visit Salerno's neighboring cities with a hired car
Positano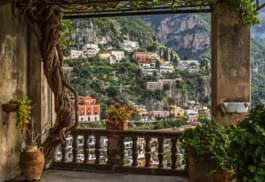 Positano
The Italian fishing village of Positano on the Amalfi Coast attracts many tourists every year. And not without reason. It looks like painted: colorful houses built directly into the rocks, narrow streets and a wonderful view. Park your hired car on one of the designated parking spaces and stroll through the town. Here you can visit small boutiques, take unforgettable holiday photos or sit down in one of the cafés and watch the colorful hustle and bustle. Positano is not to be missed on a trip through Italy.
Naples
With a hired car you can reach Naples after a short drive. Stroll through the alleys of Naples, visit the most popular sights and finally treat yourself to the best pizza in the world at Pizzeria da Michele. Here your heart is guaranteed to rise.
Pompeii
The city of Pompeii lies at the foot of Mount Vesuvius and is a highlight for all culture enthusiasts. The volcano erupted in 79 AD and buried the city under its lava masses. Only in the 18th century Pompeii was rediscovered and became a central object of archaeology. Look forward to an unforgettable scenery on your trip to Pompeii.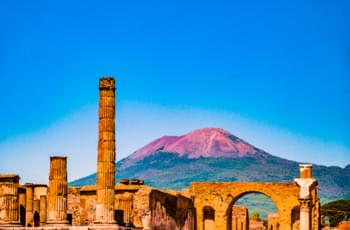 Pompeii and the Vesuvius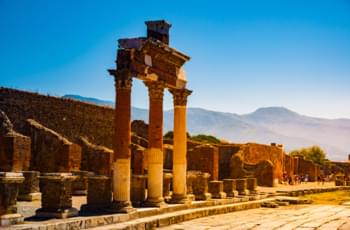 Ruins of Pompeii
Discover the highlights in Salerno by hired car
If you explore Salerno by hired car, these sights should definitely be on the program:
Cathedral of Salerno
Catello di Arechi
The Garden of Minerva
Parco del Mercatello
Arquedotto medievale
The traffic rules in Italy
In Italy, right hand traffic applies. Speeding is punishable by heavy fines. Therefore, always keep to the following speed limits when driving a hired car in Salerno and its surroundings: 50 km/h in town, 70 km/h outside town and 110/130 km/h on freeways. While driving, you may only use a hands-free telephone. If pregnant women or minors are in the car, smoking is prohibited.