Hireal Car Rovaniemi Airport: Cruising flexibly through Finnish Lapland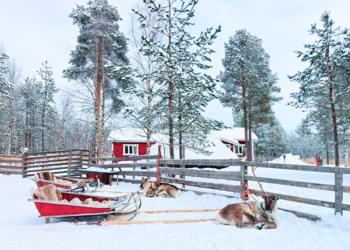 On the road in Rovaniemi
What do you think of visiting Santa Claus? Hire a car at Rovaniemi Airport and drive to the Christmas Village in Finnish Lapland. With a hireal car from Rovaniemi Airport you are flexible and independent at all times and can arrange your journey through Lapland independently. Experience the midnight sun in summer and the northern lights in winter. Rovaniemi is the ideal destination for all kinds of trips. Book the right hireal car in advance online on Driveboo.com. In that way you won't have any stress when you arrive at Rovaniemi Airport and can start your adventure right away. Look forward to exciting sights and unique destinations.
Things to know about Rovaniemi Airport
IATA code: RVN
Opening: 1940
Terminals: 2
Passenger volume: 580,000
Distance from city centre Rovaniemi: 10 km
What can I do with a hireal car in Rovaniemi?
Santa Claus Village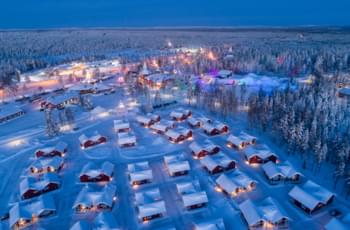 Santa Claus Village from above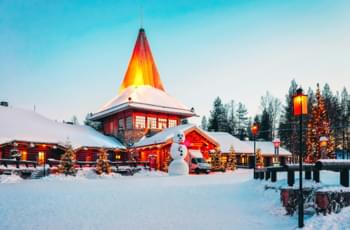 Santa Clause's office
Those who travel to Rovaniemi should definitely visit the Christmas Village or also Santa Clause Village by hireal car. Rovaniemi is the official home of Santa Claus. You can reach Santa Claus Village after only 3 km by hireal car from Rovaniemi Airport. Meet Santa Claus himself, visit the reindeer or send postcards and Christmas greetings to your loved ones. A visit to the Santa Clause Village in Rovaniemi will not be forgotten.
HUSKY SLEIGH RIDE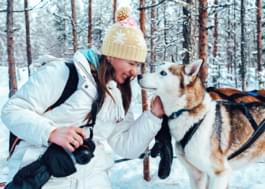 Look forward to a Husky sleigh ride
Have you always wanted to do a dog sledding tour in Lapland? Then you have the possibility in Rovaniemi. Friendly huskies are waiting to guide you through the wilderness of Scandinavia. Choose between easy multi-day tours or expanded husky expeditions. Leave your hireal car behind and change to a husky sled. You can tell your grandchildren about this trip through the vastness of Lapland.
MORE ACTIVITIES
Snowmobile safari
Boat trips on the rivers in Rovaniemi
Visit to a reindeer farm
Cruise under the midnight sun
Traffic rules Rovaniemi: You should pay attention to this with the hireal car
Watch out: In winter, the speed limit outside town is 80 km/h on all roads.
By hireal car to the sights in Rovaniemi and the surrounding area
MUSEUMS & EXHIBITIONS
If you are travelling by hireal car in Rovaniemi, you can visit a variety of museums and exhibitions. Among them are the Lapland Provincial Museum, the Pilke Science Centre, the Rovaniemi Museum of Local History and the Arktikum. This is an Arctic Science Centre. If you are tired of museums, you can walk through Rovaniemi and visit the Town Hall, the Lappia Town Hall and the Town Library. These were all designed by the Finnish architect Alvar Aalto.
Ranua Wildpark
Only one hour by hireal car from Rovaniemi is the Ranua Wildpark. Look forward to watching wolves, brown bears, polar bears, lynxes and many other animals. The best time to visit the park is during feeding times. There is plenty to see and do.
MORE HIGHLIGHTS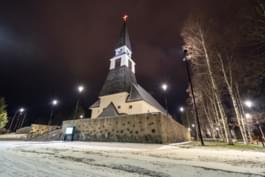 Rovaniemi Church
You should also take your hireal car to the following places of interest:
Ounasvaara
Pyhä-Luosto National Park
Lordi Square
Rovaniemi Church
If you have always dreamed of sleeping under the polar lights and still being warm, then you should definitely book a glass igloo. This night is guaranteed to stay in your mind for a long time to come.
Food and drinks in Rovaniemi
When travelling by hireal car through Lapland, culinary highlights should of course not be missing. Typical ingredients are fish, reindeer, herbs, root vegetables, berries and venison. The traditional Sami food is guaranteed to taste great, especially when prepared out in the wilderness over a campfire. Try poronkäristys, meatballs, pulla and many other delicacies.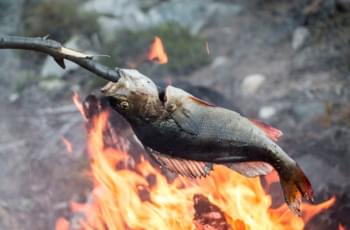 Delicious fish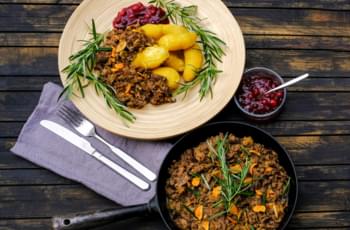 Traditional food
Useful Finnish vocabulary
Finally, we would like to give you some useful vocabulary for your trip by hireal car to Rovaniemi: