Hire a car at Phuket International Airport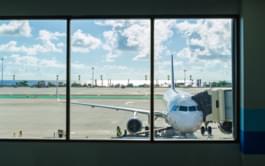 Arrival at Phuket Airport
You are landing at Phuket Airport (HKT) and would like to explore Phuket by hired car? If so, hire a car directly at the airport, as you will have immediate access to around ten car hire companies' car hire offers when you arrive at Phuket airport. The best thing to do is to compare the car hire companies at Phuket Airport with Driveboo before you set off on your journey to start your dream stay in Phuket without having to wait in long queues for your car hire.
Where is the pick-up station at Phuket Airport?
Since the rebuilding of the airport and the construction of a new terminal, you will find the car hire stations of the car hire companies on the arrivals level in the new terminal after you have passed through customs. If you arrive at the old terminal with a domestic flight from a smaller airport in Thailand, you can reach the hired car stations on foot in just a few minutes.
Which suppliers are located at Phuket Airport?
As Phuket is one of Thailand's most popular holiday islands, you will find a number of worldwide operating car rentals here, which we have put together for you below:
Alamo
Avis
Budget
Dollar
Europcar
Hertz
Is there a petrol station at Phuket Airport?
So far there is no petrol station on the airport grounds, so if your hired car is not filled up, you will have to go to the Susco petrol station on the 402 federal motorway (follow the signs towards Phuket Town) to refuel your car.
Hire Car at Phuket Airport (HKT) - drive from north to south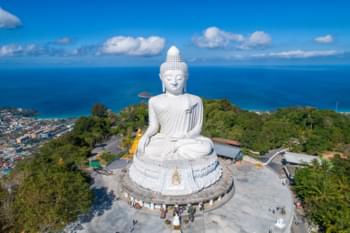 Big Buddha
Fantastic beaches, excellent excursions, the Big Buddha statue, magnificent temples, a beautiful old town and the exotic nightlife attract millions of people to Phuket every year. But also the miles of beaches of Khao Lak and the marine national park Phang Nga can be reached quickly by hired car via well-developed roads, so that you can easily take a day off from sunbathing. In the following table we have put together a few destinations, including the distance from Phuket Airport and the respective travel time by hired car to help you plan your trip around Phuket and the surrounding area:
Everything you need to know about transport links
Thanks to the good signposting, you can reach in just a few minutes the main road 402, which runs almost all over the island, from where you can reach the most popular beach sections and holiday resorts. If you want to take a taxi or shuttle bus to Phuket Town, you will find sufficient taxis and bus stops in front of the arrivals hall.
Our tip: Just take a taxi with a taximeter or order a taxi at the designated counter to avoid paying a usurious price later on. In addition, you should generally negotiate prices before starting your trip with a taxi or a Tuktuk (suitable for short trips only) before starting the trip!
Phuket Airport - some information at a glance
Phuket's international airport, which handles more than 12.9 million passengers a year, has all the amenities to make your stay easier. In addition to various souvenir shops, you will of course also find exchange offices, restaurants and cafés where you can spend the time until departure. Due to the departure formalities, however, there may be delays in the check-in process, so you should definitely start your return journey at an early stage.
Car Hire at Phuket Airport: make a round trip
Kata Beach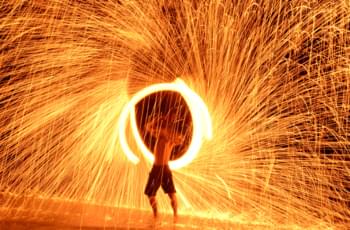 Nightlife Phuket: Fire show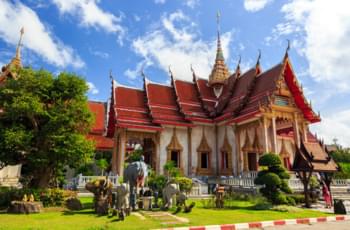 Wat Chalong Temple
Hardly any other island in the Andaman Sea is as varied as Phuket. Would you like to relax just a few steps from your accommodation on one of the beautiful beaches? Then you should decide to stay at Kata, Karon or Kamala. Whoever appreciates the exuberant nightlife, on the other hand, should feel particularly comfortable in Patong or Phuket Town. But to reach the most beautiful stretches of the beach, such as Nai Harn's, it is essential to be mobile with a hired car, as there is hardly any regular public transport connection. In addition, with your hired car you are flexible enough to head for the most beautiful viewpoints such as Laem Phromthep, from where you can admire the sunset. But you can also reach other places of interest, such as Wat Chalong or the Big Buddha, only with your own hired car.
Traffic rules in Thailand
Although there is a rumour that you can hire a car in Thailand with a foreign driver's license, this is common practice, but not allowed. For this reason, please apply for an international driver's license as early as possible in order to be on the safe side in the event of an accident! We have put together some more information about driving on Phuket below:
left-hand traffic applies in Thailand
maximum speed in cities: 60 km/h (observe signs), extra-urban: 80 - 90 km/h, on expressways and motorways: 90 - 120 km/h
there is no toll on Phuket
the alcohol limit is 0.5 per mille
parking and holding is not permitted on colour-coded curbs.