Discover Paphos with a hired car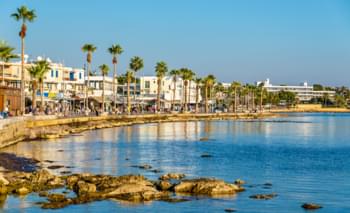 Hafen in Paphos
The picturesque region around Paphos can be cheaply and easily explored thanks to the many car hire companies located in the area. With Driveboo, every traveler has the opportunity to compare different car hire offers in Paphos as well as book a hired car online. Paphos is a coastal town located in the southwest of Cyprus, a country full of natural wonders, but also one that is infamous for its turbulent history. Along with Larnaca, Limassol, and Nicosia, Paphos is in the south government controlled area and is a popular destination for thousands of holidaymakers every year.
The city is an important tourist resort with impeccable infrastructure and a pleasant Mediterranean climate. Paphos meets the needs of many different types of holidaymakers—sunny beaches, nature reserves, water sports, and excavation sites are all readily available here!
Living the summer dream in Paphos with a convertible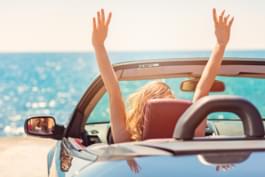 Sommer in Paphos genießen
Which hired car is best suited for the perfect summer in Paphos? A convertible of course! Sit behind the wheel of your hired car, turn up the music and feel the wind in your hair while you enjoy life under the sun in your sparkling convertible. Drive to the most beautiful beaches and stroll along the promenade. Paphos is waiting for you with lots of sunshine. With the right hired car, your hired car trip to Paphos will become a true summer dream.
Where can I hire a car in Paphos?
There are plenty of car hire companies located around the town of Paphos. Travelers will definitely have no problems finding the most suitable offer for them in any given area. However, as most visitors will arrive in Cyprus by plane, the most convenient option will often be to hire a car right at the airport. With a hired car, you can enjoy independence from the very start of your trip.
The nearest airport to Paphos is Paphos International Airport (PFO). It is the second largest airport in Cyprus and is located approximately 14 km from the town centre. Choosing this airport as an arrival destination will provide you with a number of car hire possibilities.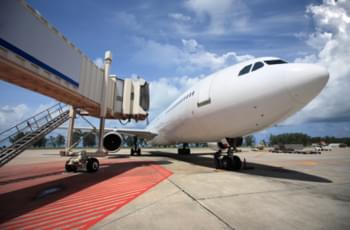 Flughafen Paphos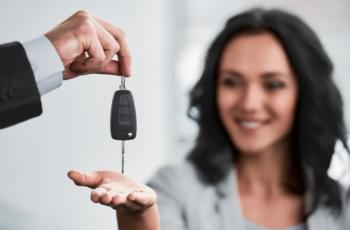 Mietwagen direkt am Flughafen abholen
Driving a hired car on Cyprus
Drive on the left-hand side of the road
Your car horn must not be used in the period between 9 p. m. and 6 a. m
It is mandatory for all passengers to use seat belts
Usually, drivers must be between 21 and 25 years
It is forbidden to use mobile phones while driving
It is allowed to use hands-free sets and in-car speakerphones
Two warning triangles are required in every hired car
First aid kit and a fire extinguisher are recommended
The legal blood alcohol content on Cyprus is 0.05%.
What are the speed limits while driving around Paphos?
Do I need insurance for my hired car in Paphos?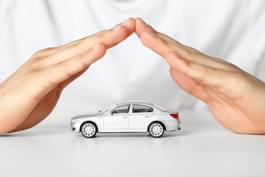 Versicherung für Ihren Mietwagen
Each hired car in the EU must be covered by civil liability insurance that is valid in all Member States. However, such insurance is almost always provided by the car hire company. You should always choose the fully comprehensive insurance for your hired car to ensure your and your passengers' protection. The amount of money that you have to pay for the insurance is dependent on the class and make of a car that you choose to hire.
Emergency phone numbers while travelling in Paphos
Excursions with a hired car around Paphos
After a journey into the past in Paphos, the time will come to explore the ancient gems located in the surrounding region. The Akamas Peninsula is known for its diverse flora and fauna, wonderful beaches, and great hiking trails—all waiting to be discovered.
The following table includes a list of interesting places which can be found in the vicinity of the city. The distance to each destination is provided:
Enjoy the Highlights of Paphos with a hired car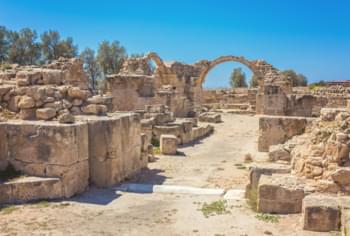 Archaeological Park
Paphos is a treasure trove of beautiful places to explore with your hired car. You will have the opportunity to immerse yourself in the city backstreets and to discover fascinating ancient sites such as medieval baths, a fishermen's church, and catacombs. However, the most famous and most popular tourist attraction is probably the Pafos Archaeological Site. Partly because of this site, Paphos was awarded the title of European Capital of Culture in 2017.
With a hired car, you will be able to quickly reach such interesting attractions as the Ecclesiastical Museum, Hrysopolitissa Basilica, Grivas Museum & Monument, as well as the mysterious Tombs of the Kings, where you will find ancients graves belonging to ancient Cyprus nobility.
The House of Dionysus is also worth a visit. Inside, you will find mosaic pavements which are considered to be the finest examples of such art in the Mediterranean. A stone's throw away lies the House of Aion, where visitors can admire mosaics depicting Leda and Zeus.
Lovers of history should head towards Paphos Archaeological Museum, where they will find an extensive collection of pieces from local excavation sites.
Hiring a car will also allow you to quickly move between the two major parts of the town, namely Kato Paphos near the harbour—where all interesting archaeological sites can be found—and Ktima, the district of museums.