Discover Kota Kinabalu and Sabah with a hired car from Driveboo
Driveboo enables you to choose your individual perfect hired car for your journey in Kota Kinabalu, Sabah. You can choose of a pool of our, individually for you selected, premium partners. We want to find your perfect hired car, which is often times directly available. To give you a variety of perfectly fitting rental cars, which meet your criteria, for your journey, we encourage you to choose particular filters on our website. We try to show you cars without excess, or at least refund of the excess. We encourage you to choose the best fuel option which is full/full, choose unlimited mileage, if you somehow decide to drive more miles. What is important when it comes to booking a hired car? We created service packages, which all includes Best fuel option, which means you pick-up the car with full.
Why choosing a rental for your journey in Kota Kinabalu is the right choice
Borneo, and Sabah in general is less developed than west Malaysia which is often referred as peninsular Malaysia. The Kota Kinabalu international Airport (BKI) is the biggest and best developed Airport in the Malaysian part of Borneo. As the infrastructure in Borneo is good, the public transportation is still lacking. Public busses in Eastern Sabah are nearly no existent. Oftentimes the only choice that remains is using private transportation, from one of the expensive touristy tours. Deciding to book a hired car from one of our premium partners on Driveboo, enables you to start your journey right from the beginning more flexible and easy right.
Where to pick up your car at the Kota Kinabalu International Airport
After you arrive at the Kota Kinabalu International Airport you will find all hired car partners on the ground floor of the arriving hall of the Airport, right between the last two doors. You simply have to go to your chosen hired car company and show your booking confirmation. After the employee of the chosen company is checking your documents and making a copy of your passport, one of their friendly colleagues will drive your car right in front of the exit.
Getting around in Kota Kinabalu
Kota Kinabalu is the capital of Sabah, and the biggest and most developed city in Sabah, Borneo. Don't expect a flashing or buzzing city like Kuala Lumpur on west Malaysia, but rather a peaceful city on the harbor, with more and more western influences. While Borneo and Sabah are less developed than West Malaysia, there are some beautiful sights in Kota Kinabalu, which you won't find the same way anywhere else.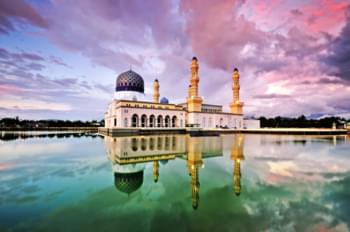 Kota Kinabalu City Mosque
Probably the most famous sight in KK is the Kota Kinabalu City Mosque, was built in year 2000, and seems to float on the water. It is perceived as one of the most beautiful mosques in whole Malaysia. It is only 3 km from the city center of Kota Kinabalu away and a must-see.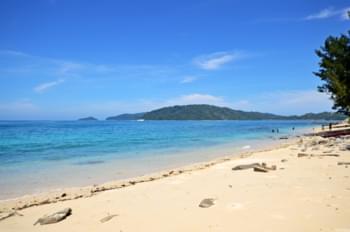 Tanjung Aru Beach
For those who are looking for a beautiful beach in Kota Kinabalu, they should drive to the Tanjung Aru. The sandy beach and clear water offers everything you need for a day to relax. The beach itself is not really crowded, as you will mostly share it with a couple of locals.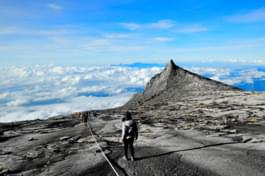 Mount Kinabalu
The most common reason to pass Kota Kinabalu is because of the Kinabalu National Park, where you can take a trail on your own. Within the Kinabalu National Park, there is the Mount Kinabalu, which is with over 4000 m, the highest mountain of Malaysia. The mount Kinabalu is approximately 50 km away from Kota Kinabalu. If you want to hike the Mount Kinabalu, you have to get a permit and a guide.
Important things when driving a car in Borneo, Malaysia
On which side people drive in Borneo? As Malaysia was formerly colonized by Britain, people in Borneo and Malaysia in general drive on the left side.

How are the roads in Sabah, Borneo? The infrastructure in Sabah, Borneo is especially in and around Kota Kinabalu very well-developed. Due to the oil farm plantations within the country, there were heavy investments to develop a good road system.

How is driving in Borneo and Malaysia in general? Compared to other countries in Southeast Asia, driving in Borneo and Malaysia in general is very safe and much easier than for instance in Indonesia, Cambodia or Vietnam. Most people tend to obtain the speed limit and traffic regulations.

How much does gas cost in Borneo? A liter of gas costs oftentimes less than 0.5 US-Dollars, which makes hiring a car extremely attractive.

How much does parking cost in Kota Kinabalu? Parking in Kota Kinabalu, Borneo, and even Malaysia in general is extremely cheap. You can park your car in one of the malls an entire day, 24 hours for less than 1 US-Dollar.