Car hire at Kavala International Airport (KVA)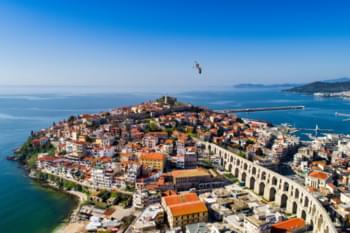 Kavala from above
If you land at Kavala Internatioanl Airport (KVA) and want to explore Kavala and Northern Greece it is best to get a hired car. Book a cheap hired car at one of the currently eight car hire agencies at Kavala Airport to be able to set off directly to the most beautiful parts of the coast. With Driveboo.com you have the possibility to compare all rental cars of the car hire companies at Kavala Airport online before you start your journey and to decide on the hired car that suits your holiday stay best.
Our tip: In order not to go empty-handed during the peak holiday season, you should reserve your hired car as early as possible, as demand is very high, especially in the summer months.
Explore Kavala in autumn by hired car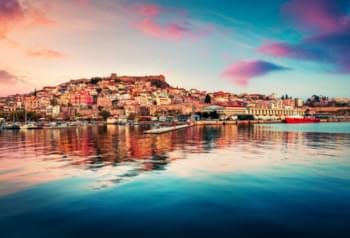 View on Kavala
With a hired car you can explore the city and its surroundings of Kavala in autumn at your own pace. Especially in autumn, when the temperatures slowly cool down a bit and become more pleasant, you can explore as much as possible. Kavala offers numerous sights from ancient times, for example:
St. Mary's Church from the 15th century.
Panagia, an old Turkish quarter with many steep alleys
the castle from the 16th century
Especially in autumn many festivals around wine and potato take place in Kavala. During the grape festival visitors can taste local wine and find suitable appetizers like seafood, cheese or olives. Dancing and music make this festival even more entertaining. Wonderful secluded beaches around Kavala can be easily reached by car hire, making it worthwhile to hire even in autumn.
Where is the car hire pick-up station at Kavala Airport?
At Kavala International Airport you do not have to walk far to pick up the documents and car keys for your hired car, as the car hire counters are located directly in the arrivals hall. That way you can start your carefree stay with your hired car immediately after your arrival on Greek soil.
Which car hire companies are available at Kavala International Airport?
From Avance to Thrifty, you will fortunately find almost all internationally active car hire companies at Kavala Airport, so that you will meet well-trained, multilingual staff from the very first minute, who will be happy to answer your questions throughout your stay. Below we have listed the car hire companies where you can hire a car at Kavala Airport: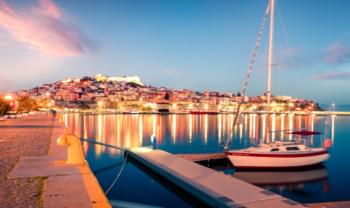 Port of Kavala in the evening
Avance
Avis
Budget
Enterprise
Europcar
Hertz
Sixt
Thrifty
Is there a gas station at Kavala Airport?
Fortunately, refuelling at Kavala Airport is not a problem, as whether you are heading east or west, you will find a gas station on the access road in each direction. However, you should note that many of the gas stations in Greece are not open 24/7 and prices are a bit more expensive in the immediate vicinity of the airport. It may be worth refuelling on your way to the airport in case you need to return your car with a full tank of gas on a fair refuelling arrangement.
The traffic connections at Kavala Airport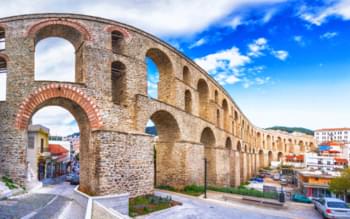 Thanks to the nearby E90 motorway, you can reach the nearest coastal cities and towns to the east and west in no time by hired car. However, if you do not want to pick up your hired car right after your arrival, then you can also reach the city center by bus or by cab, where the bus stop is located right in front of the arrivals hall and tickets can be purchased from the driver. The one-way trip by cab, however, comes with 38 € already a little more expensive, so that a hired car can actually pay off from the first day.
Kavala Airport - small, but well organized
Service is capitalized at Kavala Airport, although the airport with only 200,000 passengers per year is not necessarily one of the largest airports in Greece. Pass the time until departure in one of the duty-free stores and buy some small things or souvenirs, drink a coffee before departure or just use the free internet to send some holiday pictures to friends and acquaintances.
Where can I park for free with my hired car in Kavala city?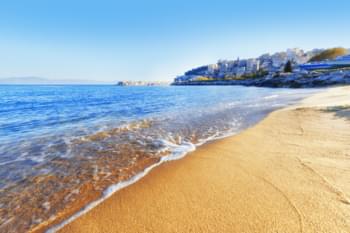 Beautiful beach near Kavala
Generally you can park in Kavala in all white marked zones free of charge. Yellow marked roadsides, on the other hand, mean that parking is prohibited here. Blue marked roadsides are metered parking areas. In addition, look for no-stopping signs with a single line indicating that you are not allowed to park there on odd-numbered months. Two dashes, on the other hand, stand for even months.
Park your hired car and enjoy one of the beautiful beaches near Kavala.
More information about driving in Greece
In Greece seat belts are compulsory! In addition, it is compulsory to wear a high-visibility vest in the event of an accident, which is why we advise you to check that the vehicle is properly equipped (warning triangle, first-aid kit, fire extinguisher) before departure. Telephoning in the car is only allowed with a wireless hands-free device and the blood alcohol limit is 0.5. Speed limits are as follows:
In town: 50 km/h
Out of town: 90 km/h
Freeway: 120 km/h
Greek vocabulary for the hired car journey
Finally, here are a few typical Greek vocabulary words that will certainly be helpful when travelling by hired car in Kavala and its surroundings: