Hired car Istanbul - experience the metropolis on two continents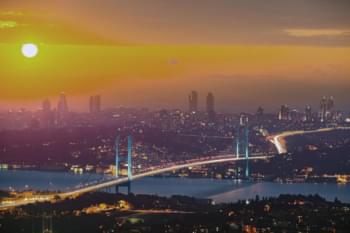 Bosphorus Bridge at night, Istanbul
Explore Istanbul with your hired car and travel on two continents simultaneously. Istanbul is the third-largest city in the world in terms of population and is located in Europe AND Asia. Istanbul has a lot to offer, especially if you are up to a varied hired car tour. The breathtaking Old Town, laid out on seven hills, is a UNESCO World Heritage Site. The 2500 years long history can be traced back by the breathtaking historical sites and monuments. Those who visit Istanbul by hired car can clearly see the traces of time in the Byzantine and Ottoman architecture. Numerous theatres, mosques, markets, parks, as well as annual events and festivals, ensure a varied hired car experience in Istanbul.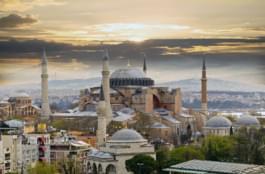 Are you looking for a hired car in Istanbul? Then find the best prices online with the price comparison service on Driveboo.com, in order to get the best fitting offer for your stay in Istanbul.
Where can I pick up and return the hired car?
You have several options from where you can pick up the hired car, depending on how and where you arrive in Istanbul. One option would be to collect the hired car right after landing at Istanbul Airport (IST) or at Istanbul Sabiha Gokcen Airport (SAW).
With this option, you are able to start off your stay in Istanbul directly with your hired car and save money and time for a taxi and additionally don't have to carry your baggage around.
If you are not arriving at the airport, you also have the opportunity to pick up your hired car at a local rental station, for example:
City centre of Istanbul
Yalı City
Göztepe City
On Driveboo.com you can get more information about the different hired car station locations.
Sights you should visit with your hired car
Istanbul serves with a variety of different beautiful destinations and sights that you can easily visit with your hired car. Istanbul is one of the world's most populous cities, ranking as the world's fifth-largest city and the largest European city.
Blue mosque
The Blue Mosque is actually called Sultan Ahmed Mosque and is another must-see on a trip to Istanbul. It is located in the district Sultanahmet on the square of the same name opposite the no less famous Hagia Sophia. Thanks to the worldwide unique high towering minarets, you can already see it from a distance. Especially the main dome is an incredible sight.
Hagia Sophia
The Hagia Sophia is a 1,500 year-old cathedral and means "Holy Wisdom". It is impressive and is often even called the "eighth wonder of the world". The Hagia Sophia experienced almost the entire history of Constantinople and is one of the landmarks of Istanbul. It is one of the most popular sights in Istanbul. Let yourself be inspired by the impressive architecture and enjoy the atmosphere in the Hagia Sophia.
Grand Bazaar
In the Grand Bazaar in Istanbul, you will find almost everything you need. But it's just as easy to get lost. It consists of 4,000 shops and is one of the liveliest places in Istanbul. Stroll past stalls with spices, bags, books, gold and much more. You can hear merchants selling their goods in different languages everywhere. A visit to the Grand Bazaar is sure to be remembered for a long time to come.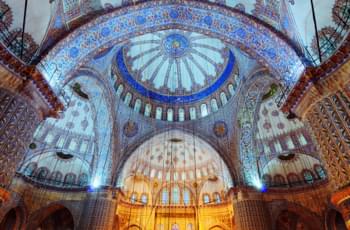 Blue Mosque from the inside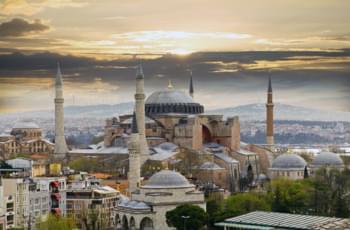 View on Hagia Sophia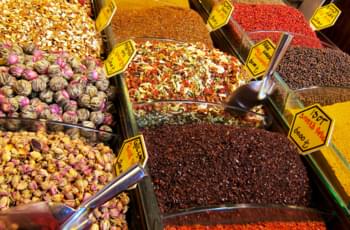 Spices at the Grand Bazaar
What does additional driver, one-way rental and fully comprehensive insurance without excess mean?
ADDITIONAL DRIVER
Very few people like to travel around the country alone in a hired car during their holiday. A road trip is much more fun if you can share your experiences with friends or family. For this reason, we offer the option of an additional driver. If you are tired of driving or just want to enjoy the scenery, then simply hand over the steering wheel to your companion. All you have to do is book an extra driver for the hired car. When picking up the hired car, the driver only has to show his ID and driving licence and the road trip can start.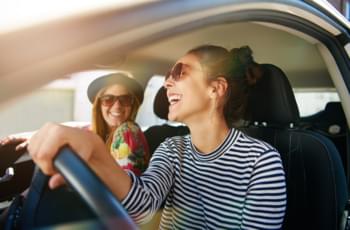 A road trip is much more fun with friends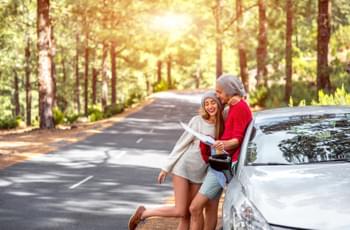 Benefit from the additional driver option
One-way rental
One-way rental means you don't have to return the car to the starting point at the end of your trip. This option is particularly advantageous if you are planning a road trip. Collect the car from the car hire company of your choice and simply return it to another location at the end of your trip. So you can choose your route individually and be flexible.
FULLY COMPREHENSIVE INSURANCE WITHOUT EXCESS
Have you ever wondered what the costs will be if you have a claim with your hired car? The answer is quite simple: If you have taken out fully comprehensive insurance without excess, you will not have to pay any further costs. You will have to advance the costs in the event of a claim but will be reimbursed by your insurance company on your return. Simply keep the relevant receipts in a safe place for this purpose. With the right insurance, you can enjoy your holiday in Istanbul completely stress-free.
Choose the perfect hired car for Istanbul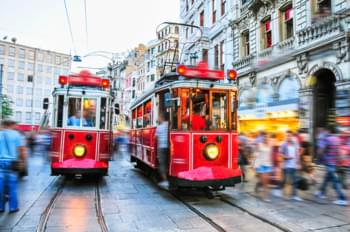 Tram instead of hired car
Do you want a hired car that perfectly suits your needs and desires in Istanbul? Then you have come to the right place! On our portal Driveboo.com, you can use the search mask to set various filters and find the right hired car for your trip. You can choose from the following options:
Hired car model: SUV, compact class, minivan, small car, and many more
Equipment: air conditioning, automatic, all-wheel drive
Inclusive services: all kilometres free, fair fuel regulation (full/full)
Insurance benefits: fully comprehensive insurance without excess, glass and tyre insurance, passenger accident insurance, etc.
Other options: additional driver, one-way rental