Exploring Funchal by hired car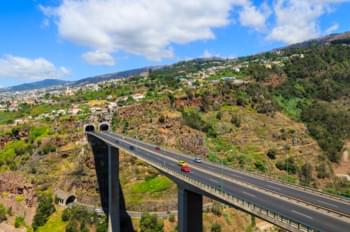 Road towards Funchal, Madeira
Exploring Funchal by hired car is always a good idea. The capital of Portugal's island Madeira has a lot to offer. If you hire a car in Funchal, you can explore both the city and the surrounding area flexibly. You will experience European modern influences as well as the southern mentality. If you book a hotel in Funchal, you can experience a beach as well as a vibrant city. If you have a hired car in Funchal, you are independent during your holiday in Madeira. You can visit the many sights on your own. If you hire your car in advance on Driveboo, you can pick it up right after your arrival at the airport.
Car hire Funchal: Experience the summer in Madeira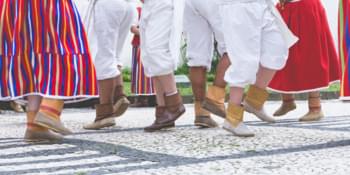 Traditional dance in Funchal
Fancy pleasant summer temperatures and almost no rainy day? Then let's go to Funchal on Madeira! With a hired car you will experience the perfect summer in Funchal. Especially in July and August you can not only go hiking or relax on the beach, but there are also lots of events and festivals waiting for you. What do you think of the Madeira Wine Rally, for example? Or visit the Black Scabbard Fish Festival. A religious festival, the Monte Festival, takes place in August. As you can see, there is always something going on in Madeira. So the summer holiday will not be boring.
Driveboo price comparison: Hire a car in Funchal
The best way to get a cheap hired car in Funchal is to compare prices with Driveboo. It is important to choose the right insurance for the rented car. With a fully comprehensive insurance without excess you are safe even in the case of an accident. Make sure to include an additional driver if you need one. The deposit for the hired car must be added to the costs, this is usually deposited directly at the local car hire company when you pick up your car. Have already heard of the one-way rental? Get your car at the airport and return it at another station in Madeira. Like that you will spend your holidays flexibely and according to your desires.
Hire a small car to discover Funchal and its surroundings
Especially if you are going to drive around Funchal by hired car or if you want to visit the beaches near the city, it is worth hiring a small car. Like that you won`t have any problems finding a parking spot. The city on the beautiful island of Madeira in the Atlantic Ocean has many sights to offer. Visit the market hall and and enjoy the easy life of the southerners. Other sights near Funchal are reached easily by hired car as well. Or spend a day at one of the beautiful beaches, which the island, which belongs to Portugal, has to offer.
Hire a car in Funchal and discover the sights
Leave your hired car above Funchal in Monte and take a ride on a basket sled. You will be pushed through the streets in a basket built on runners. Whoever travels to Funchal must have experienced this adventure. There is more to discover in the city centre itself. Leave your hired car in one of the parking lots in the city centre and explore it walking around. You can also reach Monte by cable car and enjoy the view over the city and the Atlantic Ocean. In the Madeira Story Center you have the opportunity to learn more about the interesting history of Funchal and the island of Madeira. The name Funchal means fennel. In the city garden you have the possibility to relax and enjoy the sun. A further recommendation are the cities Garajau and Canico.
Make the best of your time in Funchal!
Cross-country vehicle in Funchal: Go for a hike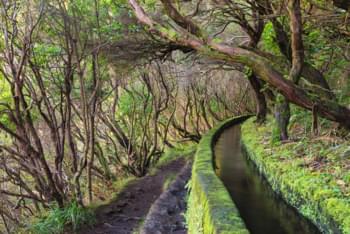 Hiking in Madeira
Madeira and Funchal have a lot to offer for nature-lovers. The beautiful island is a well visited hiking area of Portugal. The surroundings of Funchal are very popular among hikers especially in the mild months in spring, autumn and winter. Set out for extensive hikes through the surroundings. Discover springs, waterfalls and other sites. With a cross-country car you will easily reach the starting points for adventurous tours. With a rented all-terrain vehicle it is easy to drive the small, curvy mountain roads that lead to your desired destination.
Zona Velha - the attractive old town of Funchal
In the attracitve old town of Zona Velha you can admire many buildings from the 15th and 16th centuries that line the historic centre. Since 2011, all of the buildings and the entire old town have been beautified. It offers a lot of art and culture what you can also find in the rest of the entire island of Madeira and in Portugal. Leave your hired car at the edge of the old town and explore it by foot. With your hired car you can quickly reach the attractive Old Town without being dependent on public transport. There is a daily traditional flea market called Feira da Lagartixa that you shouldn`t miss. Buy some souvenirs for yourself or for those who stayed at home to remember your holidays in Funchal.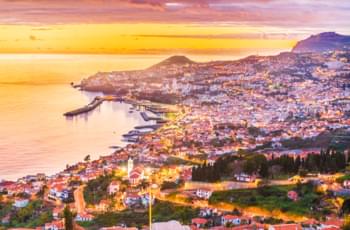 View on Funchal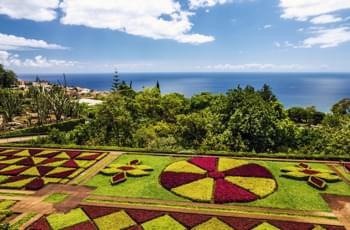 Botanical Garden Funchal
More highlights:
Mercado dos Lavradores
Cathedral Sé
Botanical Garden
Plenty of space with an SUV
Whether diving, mountain biking, golf or paragliding - the surroundings of Funchal on the beautiful island of Madeira offer many opportunities for adventurers. Therefore choose a vehicle in which you can transport all the necessary equipment for your active holiday in Funchal. You should pay attention to the insurance offers, like a fully comprehensive insurance without deductible and an agreement concerning an additional driver. Therefore, hire a car on Driveboo and collect your hired car with all chosen options right at the airport. That way you can pack your belongings directly into your car.
Discover Funchal with your hired car - have a safe and pleasant journey!