Discover Switzerland with a cheap hireal car
If you decide to book a hireal car, you can explore Switzerland with is many facets optimally. Discover the Canton of Fribourg and its surroundings by car and enjoy the benefits of travelling easy and spontaneous with your hireal car. Whether you want to visit the Swiss Mountains or drive across the border of France.
Explore the sights of Fribourg
With your hireal car, you can enjoy the beautiful nature of Switzerland cheap, fast and flexible. It enables you to visit places that can't be reached by public transport or huge tourist groups.
It is the capital of the Swiss canton of Fribourg and the district La Sarine. It is located on both sides of the river Saane/Sarine, on the Swiss Plateau, and is a major economic, administrative and educational centre on the cultural border between German and French Switzerland. Right on the border of two language areas, Fribourg is one of three bilingual French and German cantons in Switzerland. German was the official language until 1800 but French speakers now account for two-thirds of the population. Portuguese migrants are the largest minority in the Canton of Fribourg.
Below, you can find some examples of beautiful destinations near Fribourg that can be easily visited with your hireal car:
Gruyères Castle
Pont De Berne
Lake of Gruyère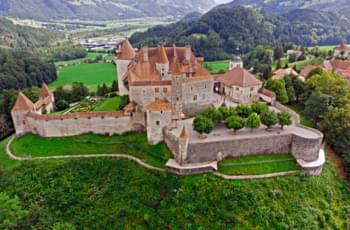 Gruyères Castle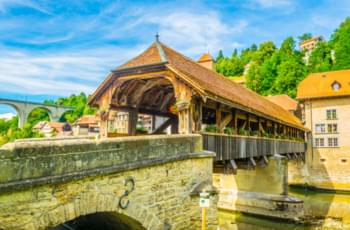 Pont De Berne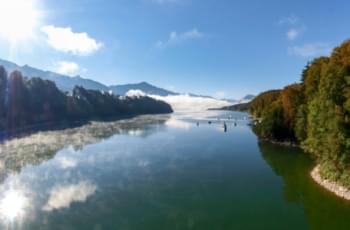 Lake of Gruyère
Benefits of a hireal car
Having a hireal car in Fribourg will give you the opportunity to design your stay in Switzerland according to your wishes.
With a hireal car, you will experience many advantages in Switzerland. For example, being able to move independently and flexibly off public transport. Moreover, you can save money by making your reservation at a hotel located a little bit further from the city centre and hire a car. The money you save would compensate for the car hire price, besides you will enjoy the freedom of movement.
Moreover, a car hire allows visiting remote places, hidden trails or restaurants with a view, impossible to get to by taking a taxi or a bus. These special places are usually inaccessible by bus. Also, there is nothing better than a car waiting for you at the railway station or airport. Nothing more comfortable than not having to carry your baggage to the bus or tram, or paying taxi airport additional charges for it.
One-way hireals in Switzerland
To get to know the full beauty and variety of Switzerland, an individual round trip by hireal car is worthwhile. You can choose your stations yourself. This option is particularly helpful if you want to collect the car at one point and return it at another. This allows you to plan your route flexible so that you don't have to drive back to the starting point if you don't want to. Use the one-way hireal to travel cheaply and unbound. Pick up your hireal car at a car hire company of your choice, for example at Zurich airport (ZRH) or in the city centre of Fribourg. Then you may decide to drive to cities near Fribourg, for example, Lausanne, where you can also return the car at the hireal stations. Use the online comparison service to find the best fitting offer for your stay in Fribourg.
Choose fully comprehensive insurance without excess when hiring a car
As insurance, we recommend that you take out fully comprehensive insurance without excess. In the event of damage, you will be completely insured. In the case of fully comprehensive insurance without excess, no insurance fee is incurred when booking. If you cause a scratch, the hireal company will deduct the cost of repairing the damage from your deposit. You can contact your broker after that and submit the damage invoice and damage report to the car hire company in due time. You will find the deadlines in the hireal conditions. The agent will then reimburse you the fee paid. In the case of fully comprehensive insurance without excess, there are no further costs for you. Use our comparison portal to find favourable offers for the required insurances.
Car hireal Switzerland: What do I need to consider when making a deposit?
When you pick up your hireal car at the car hire company, you have to pay the deposit at the same time. It is usually debited directly from your credit card, but can also be paid in cash. The amount of the deposit varies and depends on factors such as the landlord and the vehicle. Compare all offers on Driveboo.com to hire your dream car at a good price on our portal. Brokers who offer a hireal car without a deposit should be avoided. These are usually dubious offers, as the deposit serves the landlord as security. If you return the car in time and without damage to the hireal company, the entire deposit will be refunded within a few days.
Speed limits in Switzerland
Switzerland is known for its high fees when exceeding the speed limits. In order to avoid these fees, you should adhere to the limits. The speed limit in urban areas is 50 km/h, in rural areas, it is 80 km/h and on the motorway, the limit is 120 km/h.