Hireal car French Polynesia: Flexible travel in paradise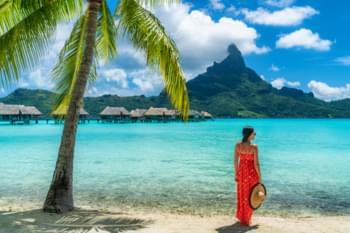 Fantastic beach in French Polynesia
Located in the South Pacific, French Polynesia is the perfect destination for a dream holiday. Hire a car in French Polynesia and explore the island paradise on your own. Find the right hireal car for your trip to French Polynesia on Driveboo.com. Discover blue shimmering lagoons, exotic cultures and dreamlike sandy beaches in French Polynesia. Whether Tahiti, Bora Bora or Moorea - French Polynesia is the dream par excellence if you are looking for a South Sea feeling.
Where can I get my hireal car in French Polynesia?
French Polynesia consists of 118 islands. However, you cannot book a hireal car on all islands. Below you will find an overview of places where car hire companies are located:
Activities in French Polynesia
French Polynesia is not only the perfect destination for those seeking peace and quiet, it also has lots of activities for sports enthusiasts. In the interior of the island, hiking fans will find what they are looking for. Enjoy the breathtaking nature of French Polynesia as you hike through the varied landscapes. If you prefer some water sports, you can try snorkelling, diving, surfing, kayaking or sailing.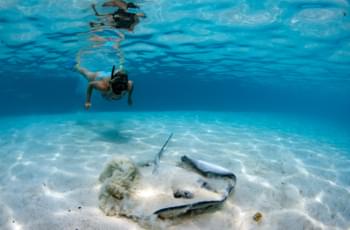 Snorkelling in French Polynesia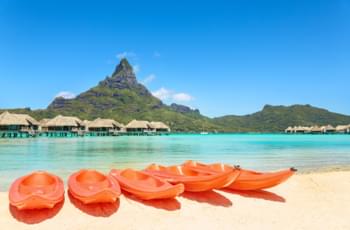 Kayaking in French Polynesia
Excursions with a hireal car in French Polynesia
French Polynesia convinces with numerous excursion destinations by hireal car. The larger islands in particular offer a wide range of leisure activities. Take your hireal car to the following places, for example:
When is the best time to travel to French Polynesia?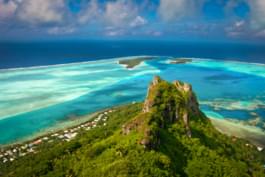 Green landscape in French Polynesia
Basically, you can travel to French Polynesia at any time of the year. A distinction is made between two seasons: The rainy season lasts from November to April. The perfect time to travel is from May to October (dry season), when it is cooler and drier. In these months the average temperature is still 29 degrees Celsius. Since there can be rain showers even in the dry months, the islands are lush green all year round.
Traffic rules when travelling in French Polynesia by hireal car
In French Polynesia, right-hand traffic applies.
The national EU driving licence is sufficient.
The maximum speed varies from island to island. On Bora Bora, for example, the speed limit is 60 km/h.
In an emergency you can reach the police, ambulance and fire brigade at the following emergency numbers:
People in French Polynesia are very relaxed, which is also reflected in their driving style. The traffic rules in the South Pacific Islands are a bit more relaxed. So always drive carefully when you are in French Polynesia by hireal car.
Explore diffehire Polynesian islands by hireal car
Samoa Islands
Mysterious To Sua Lagoon
Samoa consists of two big and many smaller islands. The main island is Opolu with the capital Apia, where you can find a lot of small shops. If you are looking for peace and quiet, then you should drive to one of the villages by hireal car. Take for example a hut at Lalomanu beach in the southeast of the island directly at the sea. The hut is an open wooden house on stilts, which you can close with coconut palm leaf curtains. This kind of living is not very luxurious, but you can hear the waves rushing at night and enjoy an incredible sunrise directly from your bed in the morning. Once you've had enough of relaxing and lounging on the beach you can hire a car and visit the green lagoon "To Sua", the little jewel of Opolus. You won't ever forget this trip, that's for sure.
Tonga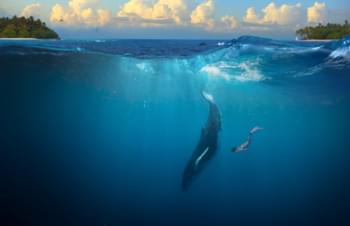 Swimming with whales
Do you dream of dream beaches, of swimming with whales, of diving in gigantic underwater worlds and of horseback rides by the sea? Welcome to Tonga! The Kingdom of Tonga is located south of Samoa, east of Fiji and north of New Zealand and offers you exactly what you're looking for. Spend a wonderful holiday on the Polynesian island state, where treasure island feeling is guaranteed. Hike on a volcano, snorkel with colourful fish and enjoy a breathtaking view from one of the mountain peaks. Tonga is guaranteed to leave you speechless.
What specialties does Polynesian cuisine have to offer?
Polynesian cuisine is characterised by a variety of specialities with Chinese and French influences. Fish, seafood and tropical fruits are always on the menu. Fish and seafood are prepared in a variety of ways: grilled, deep-fried, as tartare, on a skewer, cooked in leaves, etc. Instead of spices, Polynesian cuisine often uses ginger, lime, tamarind and coconut milk. Due to the tropical climate in French Polynesia, coconuts, pineapple, mango, papaya and the so-called "tropical peach" grow very well and are prepared as a dessert or salad refining.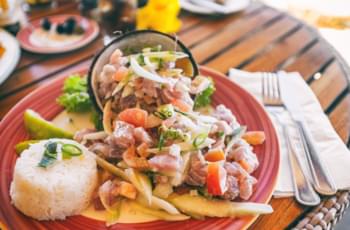 Typical dish in French Polynesia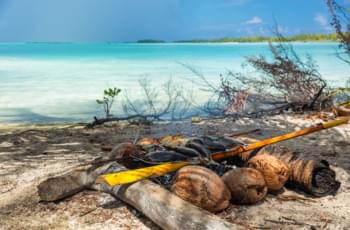 Grilled fish on the beach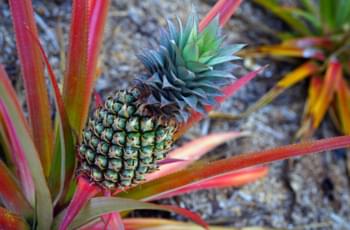 Pineapple plant