Discover Summer 2020 in Esslingen am Neckar by hired car
Driveboo compares you directly available rental cars for your summer journey to Esslingen am Neckar, in the state Baden-Württemberg. The medium-sized Swabian city is a highlight for every summer trip in Germany and offers beside a huge cultural heritage a convenient location to explore the rest of Baden-Württemberg. In only 10 minutes you reach the capital of the state Baden-Württemberg Stuttgart. Other cultural highlights in the south-west of Germany are waiting for you and are only a short hop away from Esslingen. The region is full of castles and beautiful landscapes, which are best to explore in the warm summer days. The good infrastructure and road system along this region makes it possible to have a pleasant journey between your way to the next sight. With Driveboo, you can choose to pick-up your car at one of varied stations throughout the city Esslingen am Neckar. We show you multiple places for a flexible pick-up to offer you the most convenient for your personal start of your journey.
Why Esslingen am Neckar is worth the journey
Let yourself captivate by the old German architecture which is full of typical half-timbered houses. You will find an old town, which especially wakes up during the summer months May, June, July, August and early fall months September and October which in previous years blessed the citizens with temperatures up to 20 degrees. Chances are high you will get lost in your thoughts while you wander in between the small alleys of Esslingen am Neckar back to a medieval time. You will have plenty of time to get back into reality with the little cafés you will come across, where you can rest and watch the locals participate in their daily life. Enjoy the famous Kessler Sekt, which is the countries oldest sparkling-wine and has its origin in Esslingen am Neckar. The journey to the Kessler Sekt wine cellar is the journey worth itself, as it is in a historical monastic building. Kessler is also the perfect beverage for a summer brunch in one of the many wonderful premises, the city has to offer.
What sights has Esslingen to offer?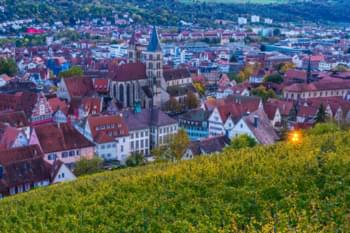 View over Esslingen from the Castle
The best thing you can do in a new city is first getting an overview. The best view of the city you can possibly get is from the famous Esslinger Castle, which is easy to reach by car and free of any entrance fees. You will have plenty cheap parking spaces for your hired car, which makes your journey up to the castle even more convenient by car. Enjoy the castle before sunset in a warm summer night, so you can get the most out of it. Share the space with locals who are enjoying the remote area apart from the pulsing city.
The Esslinger Castle is a convenient place for a picnic, which local ingredients for you can buy at the weekly market which is always held on Wednesday in the city center.
Esslingen medieval old town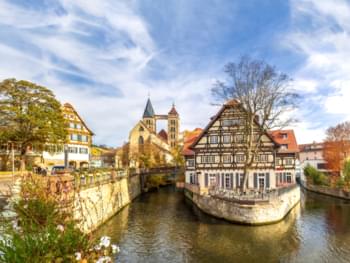 Esslingen old town
Once you are done with exploring the Esslinger Castle, it is time to spend time in the famous old town of Esslingen, which is an architectural masterpiece. Sights to explore in the Esslinger old town: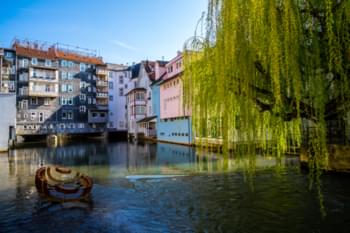 Houses near Little Venice
Like it says in the name, Esslingen lies on the river Neckar. One sight is definitely the contrast between river and half-timbered houses in the heart of the city, which is called "Klein Venedig" (Little Venice). A perfect place to relax where the Neckar, the Rossneckar and the Wehrneckar coming together like the Venetian canals. For sure one of the best places to enjoy the warm summer rays and let the day pass by.
Museums, theatres and galleries
A historical city, wouldn't be anything without cultural attractions. Esslingen am Neckar as one of the most historical cities in Baden-Württemberg has plenty occasions to fit your cultural preferences.
What are the best museums and galleries in Esslingen am Neckar?
Salemer Pflegehof/ J.F. Schreiber Museum

Yellow House - Esslingen´s City Museum

Villa Merkel (Municipal Art Gallery)

Excavations Museum
You will be able to find parking spaces for your hired car close-by.
Places close to Esslingen am Neckar and easy to reach by car
The Swabian area is full of magical places like Esslingen. We collected for you some ideas to extend your stay in the south-west of Germany.
Places worth to visit close to Esslingen am Neckar:
Important notes for driving a car in and around Esslingen am Neckar
Driving a car in and around the area of Esslingen am Neckar can be really fun and easy. To ensure you the best possible driving experience with your hired car, we collected you a few important notes to keep in mind.
The most common road you will use, will be the B10, where the speed limit is 80 km/h. Please be aware of the many fixed and mobile speed cameras along this road.
Within the city Esslingen, you have plenty of parking garages, where you pay an average fare of 1.50 € - 3.00 € per hour. Take advantage of the discounted night fares, which are normally starting by 6 or 7 PM.
Keep in mind that the rush hours in Esslingen are from 6:30 - 9:00 AM and 4:00 - 6:30 PM, try to avoid the B10 during this time, as it can become really crowded.
If you keep these 3 tips in mind, you should have a very pleasant journey. We wish you an amazing time in Esslingen am Neckar and the surroundings the Swabian area of Germany has to offer!
Use our flexible drop-off function and check if it is more convenient to drop-off your car in an alternative location.