Discover Conil de la Frontera in Andalusia with a cheap hireal car
If you plan to experience a special holiday in Spain, the city of Conil de la Frontera on the Costa de la Luz could be a great place to visit. Get yourself a hireal car and discover endless sandy beach and lively old towns with white houses. Unlike Mallorca, Conil de la Frontera offers a unique picture at any time of the year. Find a suitable hireal car on Driveboo and start your journey around Conil de la Frontera.
Hireal car: From the airport to Conil de la Frontera
The nearest airport is Jerez International Airport:
Get your hireal car directly after your arrival at the airport. If you booked the car in advance on Driveboo you just have to collect it from the car hire station. Follow the signs to the A-4, which will take you to Conil de la Frontera via the A-48.
On Driveboo you can choose your favourite car model. Either a small car for the city centre or an SUV to cruise around overland - the choice is up to you. You can even hire a convertible to feel the wind in your hair!
Must-sees in and around Conil de la Frontera by hireal car
Vejer de la Frontera
Lighthouse at Cape Trafalgar
Museo Raíces
Playa La Fontanilla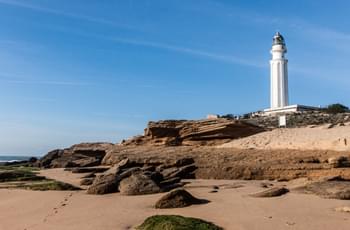 Lighthouse at Cape Trafalgar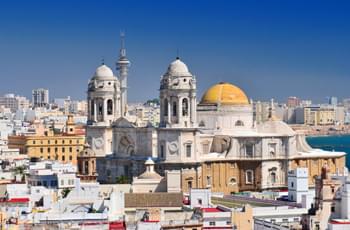 Càdiz
The largest city in the region: Jerez de la Frontera
Spain is a multifaceted holiday country, which has special tourist offers for each region. Jerez de la Frontera, for example, is the cradle of flamenco and home to the Royal Andalusian Riding School as well as to countless sherry bodegas. The city of Jerez, with about 250,000 inhabitants, is an hour's drive from Conil de la Frontera. You can reach the metropolis by hireal car via the A-4. Park your car in one of the streets and stroll through the city. Have a coffee or an ice cream in one of the cafés and enjoy your free time.
Find the optimal insurance for your hireal car in Conil de la Frontera
The choice of the best-suited insurance for your hireal car is up to you. Fully comprehensive insurance without deductible is the only insurance option that covers all damages and protects you from a dispute with your car hire company in the event of an accident. If, on the other hand, you choose one of the slightly cheaper offers with excess, the car hire company will demand a correspondingly high deposit.
Hireal car in Conil de la Frontera: One way hireal
If you pick up your hireal car at Jerez airport and plan to travel to another location in Spain, take advantage of the one-way hireal option. You can easily return the car at another car hire station of your choice. With this option you can go on a roadtrip and discover Andalusia. Start in Conil de la Frontera and move in south direction. Visit the Parque Natural del Estrecho by hireal car and continue to Gibraltar. Estepona could be your next stop and make sure to visit Marbella and Màlaga, where your journey could end.
Additional driver: Travel around Conil de la Frontera with friends
Are you going to travel to Conil de la Frontera with friends? Then take advantage of the option additional driver. Like that you can take turns driving the hireal car. The additional driver has to identify himself when taking over the hireal car and be in possession of a valid driving licence. Please do not forget to register the additional driver in order not to risk the protection of your insurance in the event of an accident.