Kefalonia Airport EFL: car hire booking
Book a hired car at Kefalonia Airport (EFL) and explore the Greek island on your own. Kefalonia is a true holiday paradise that you can visit optimally with your own hired car. Search for your desired car online in advance and compare the rates of car hire companies at Kefalonia Airport. This way you can pick the best deal and look forward to your holiday in Kefalonia. Kefalonia is the largest of the Ionian Islands and awaits you with some highlights.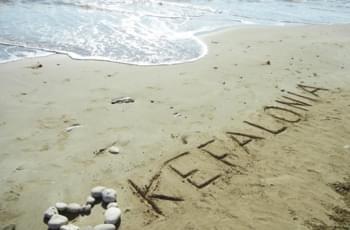 Vacations in Kefalonia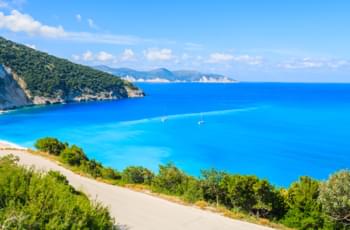 Discovering Kefalonia by hired car
Summer on Kefalonia: With the hired car to the most beautiful beaches
Everything you need to know about Kefalonia Airport
Full name: Kefalonia Airport "Anna Pollatou"
IATA code: EFL
Opening date: 1971
Distance from the island's capital Argostoli: 6 km to the southwest
Terminals: 1
Annual passenger volume: 774,000
Where do I get my hired car at Kefalonia Airport?
Book your hired car online in advance on Driveboo.com and pick it up directly after your arrival at Kefalonia Airport. At the airport, simply follow the signs to the car hire agencies and the staff will hand you the keys. With a hired car you are completely independent on Kefalonia and neither dependent on a cab nor on public transport. So you can start completely mobile and flexible in your well-deserved holiday on Kefalonia.
A hired car according to your wishes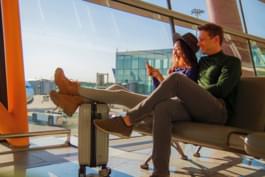 Book your desired hired car
If you book the hired car online in advance, you can not only choose the desired model, but also add other extras. Choose from SUV, minivan, small car, convertible and many more car hire models. If you are travelling with children, you should also book a child seat in advance. Other extras that you can choose from are air conditioning, additional driver, fair fuel regulation and much more. With Driveboo.com no wish remains open.
Which insurance should I select for the rented car?
When it comes to insurance, things often get complicated and local car hire companies often try to force unnecessary insurance services on unknowing vacationers. We want you to be spared that so you can enjoy your holiday from the first moment to the fullest. Therefore, we always recommend our customers to take out a fully comprehensive insurance without excess. In this case you don't have to worry in case of damage and you can continue to drive stress-free through Kefalonia. If you want to be on the safe side, you can add these insurance services in advance:
Glass and tire protection
Passenger insurance
Roof and underbody insurance
These are the most beautiful places on Kefalonia
Visit the most popular places on Kefalonia by hired car.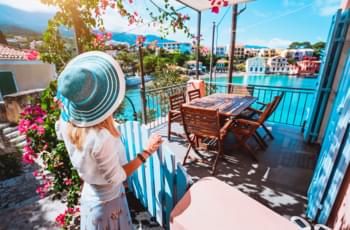 Exploring Argostoli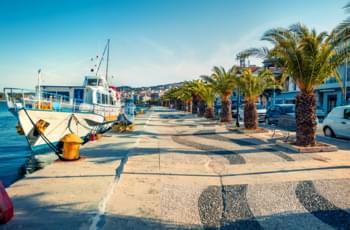 Strolling through Lixouri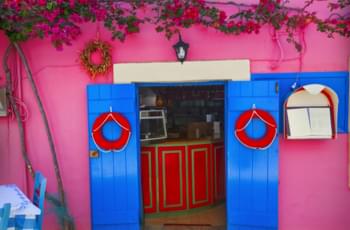 Colourful café in Fiskardo
Argostoli
Argostoli is the capital of the island of Kefalonia and definitely worth a visit. Here one highlight follows the next and the cafes are always well attended. Treat yourself to a cup of coffee and watch the colorful hustle and bustle.
Lixouri
A mix of tradition and modernity awaits you in Lixouri. The port city is a popular place where young and old meet. It is the second largest town on the island of Kefalonia and invites you to stroll and relax.
Fiskardo
Fiskardo is a traditional fishing village, which you can easily reach by hired car. The picturesque town awaits you with narrow streets and colorful flowers. Take a walk to the beach and then enjoy a coffee in one of the colorful cafes.
In the table below you can get an overview of the distance of the towns from Kefalonia Airport:
Sightseeing by hired car on Kefalonia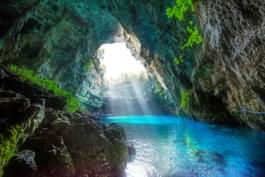 Melissani Cave on Kefalonia
If you are travelling by hired car on Kefalonia, be sure to visit these highlights:
Melissani Cave
Drongarati Grotto
Mount Ainos National Park
Enos
Karavomilos Lake