By hired car from Bolzano to Lake Garda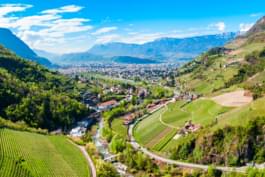 Discovering Bolzano
As the charming bicultural capital of South Tyrol between the Dolomites and the Sarentino Valley, Bolzano is easy to explore by hired car and is without doubt one of the most charming places north of Lake Garda. Enjoy the varied landscape, stroll through the beautiful alleys of the old town or visit some of the more than 400 castles and palaces in South Tyrol. With Driveboo.com you have the possibility to compare the offers of all car hire companies in Bolzano to book your hired car online from the comfort of your home.
It is summer in Bolzano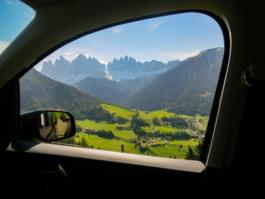 With a hired car through the summer in Bolzano
Summer in Bolzano means warm temperatures, long hikes and a cool down in one of the lakes. Take the cable car up the mountain and enjoy the summer from high above. If you want it a little more exciting, you can look forward to the numerous summer festivals in Bolzano and surroundings. Drive through the landscape in your hired car, turn on the radio and sing to the best summer hits. You can end the summer evenings in Bolzano with a delicious dinner and a good glass of wine. This is how summer is fun!
Bolzano, Innsbruck or Venice? Your hired car is already waiting for you!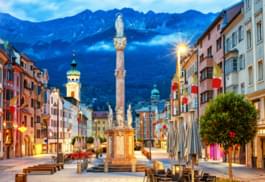 Innsbruck by night
Whether convertible, sports car or family van, there is no lack of hired car companies in Bolzano where you can hire your dream car. However, if you are travelling to Bolzano via the 98.6 km distant Innsbruck Airport (INN) or the 252 km distant Venice Airport (VCE), it is worth taking a look at the offers of the local car hire stations, which often attract with low prices and are usually staffed on weekends.
Is there a toll on the freeway?
No matter whether you plan your journey via Innsbruck or Venice, in most cases you will not be able to avoid a toll road or freeway. While the Austrian rental cars are usually equipped with an annual toll sticker, which means you don't have to pay any additional costs, in Italy you have to dig into your own pockets. Usually there are vending machines at the freeway entrances, from which you can take a ticket, which you pay at a counter at the end of your trip on the freeway or you purchase a rechargeable VIA-Card, from which you can easily drive the corresponding kilometers, whereby the average toll is approx. 0.07 EUR per kilometre driven.
These speed limits apply in Bolzano and Italy
Although Italians have a penchant for fast cars, this does not mean that you can accelerate on the motorway without restrictions. Please keep to the speed limits listed below to avoid unpleasant traffic tickets. However, if you did receive a speeding ticket, it is worth taking a look at our blog.The fines in Italy
Even if the wine in Italy still tastes delicious, if you want to sit behind the wheel of your hired car after a merry evening with good food, you should refrain from doing so just as much as in your home country, as you are sometimes threatened with severe penalties. Some of the offences, where the Italian Carabinieri do not take a joke, are listed below:
Running a red traffic light (from 170 Euro)
Reversing at toll booths (340 Euro)
Light not switched on (from 41 Euro)
No safety vest on board (from 38 Euro)
Telephoning without hands-free kit (from 160 EUR)
Per mille limit of 0.5 exceeded (from 530 EUR)
Fully comprehensive and liability insurance - what must be considered?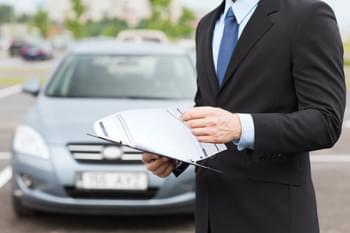 Hired car insurance
Even though Bolzano and its surroundings are quite rural, this does not mean that accidents cannot happen here. Braking quickly because a cow suddenly stands on the road and a sleeping backer can make a fast crash. For this reason, when hiring a hired car in Bolzano, you should definitely opt for a fully comprehensive insurance with no excess and a liability insurance with the highest possible coverage. Whether you also want to take out theft insurance or glass or floor protection insurance depends on where you want to go with your hired car.
To book an additional driver for your hired car in Bolzano
Flowery meadows and snow-covered peaks make a trip by hired car in Bolzano an unforgettable stay! If you don't want to sit alone behind the wheel of your hired car the whole time, you should choose a hired car offer that already includes an additional driver or gives you the possibility to book one. The prices for this are low and are usually only a few Euros per day or week.
Bolzano is worth a trip all year round!
No matter if family or active holiday, Bolzano is an attractive destination all year round. Go on a hike in the mountains in summer alone, with your partner or with the family, drive with your hired car to one of the clear mountain lakes or enjoy the glittering white splendor of the mountains in winter while skiing or cross-country skiing. With a hired car you are flexible to get the most out of your stay in Bolzano without having to rely on public transport.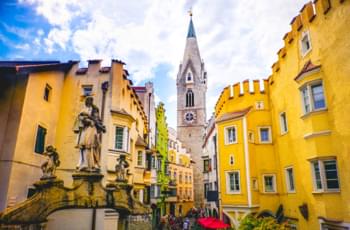 Discovering Bolzano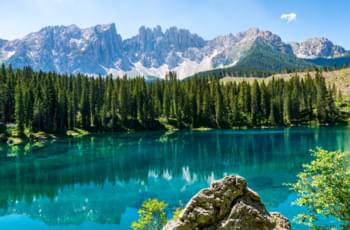 Lago di Carezza
Here are some more highlights at a glance: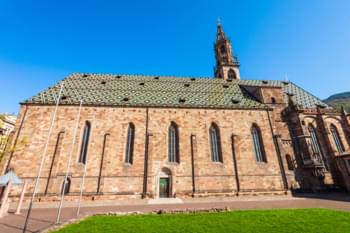 Duomo di Bolzano
Duomo di Bolzano
Runkelstein Castle
Maretsch Castle
Sigmundskron Castle
Haselburg
Ried Castle
Ansitz Klebenstein
Ansitz Thurn
Ruin Weineck